Current Affairs and Gk -March 2013 Part-2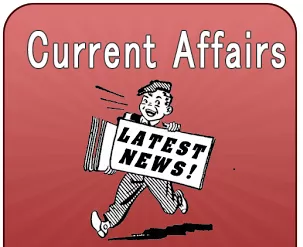 Current Affairs and Gk -March 2013
Important current affairs and Gk questions of march month for IAS, RAS, SSC CGL, UPSC, BANK PO, UPSC,RPSC, Bank exams and all other exams.If you like the post kindly give rating.This questions are useful for any competitive exam like IAS, bank PO, SSC CGL, RAS, CDS, UPSC exams and all state related exams.
65. Which among the following States does not has the special category status under the Gadgil formula for sharing Plan assistance among states?
[A]Uttarakhand
[B]Sikkim
[C]Himachal Pradesh
[D]Bihar


66. World Consumer Rights Day is celebrated on __________?
[A]March 12
[B]March 15
[C]March 18
[D]March 20


67. The 2012-13 Chameli Devi Jain Award for an Outstanding Woman Mediaperson has been given to _____________?
[A]Monalisa Changkija
[B]Vinita Deshmukh
[C]Alka Dhupkar
[D]Nirupama Subramanian


68. Which among the following is the second male cloned buffalo calf in the world?
[A]Shresth
[B]Swaran
[C]Garima II
[D]Shresth II


69. The Central Mine Planning & Design Institute Ltd (CMPDI) is located in ____________?
[A]Chennai
[B]Jaipur
[C]Ranchi
[D]Kolkata


70. . Who among the following has been chosen for this year's prestigious Abel Prize in Mathematics?
[A]Jean-Pierre Serre
[B]David Mumford
[C]Pierre Deligne
[D]Alexander Beilinson


71. The Elephanta cultural festival is organised by which among the following state governments?
[A]Gujarat
[B]Madhya Pradesh
[C]Maharashtra
[D]Karnataka


72. What is the correct full form of IDR, which is an instrument for foreign companies to raise funds from the Indian securities Markets?
[A]Indian Direct Receipt
[B]Indian Domestic Receipt
[C]Indian Deposit Receipt
[D]Indian Depository Receipt


If you like share the post and kindly comment and share Below.