Current affairts # November 2015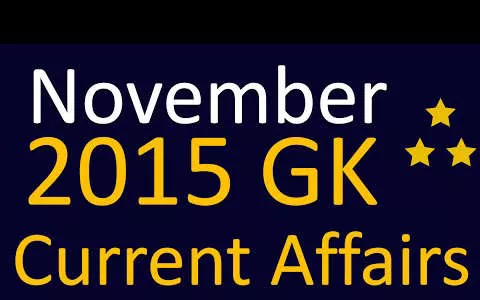 1. The Indian Navy's training establishment at Visakhapatnam for architect officers, shipwright officers, and shipwright sailors, which has been commissioned as INS Vishwakarma – Shipwright School.
2. The rank of India as per annual report on the world's most valuable nation brands of world's leading independent brand valuation and strategy consultancy, Brand Finance – Seventh.
3. The Bangladeshi publisher of secular books who has been hacked to death in the capital Dhaka by unidentified assailants – Faisal Arefin Dipon
4. The Argentine football player who has been chosen as the Global Brand Ambassador of Tata Motors – Lionel Messi
5. The city in Uttar Pradesh which has been chosen by Microsoft as the venue for a project to fund local entrepreneurs aiming to build devices that can overcome India's bandwidth crunch – Varanasi
6. The Airbus A321-231 carrying 217 passengers on its flight from Sharm el-Sheikh International Airport, Egypt, to Pulkovo Airport, Saint Petersburg, Russia which crashed in the Sinai region of Egypt was operated by – Metrojet Airlines (Kogalymavia)
7. The seniormost judge of the Supreme Court who has been nominated to be the next Chief Justice of India on 02 Dec 2015 – T.S. Thakur
8. The Indian cricketer who has become the first batsman to cross the 10,000 run mark in Ranji Trophy tournaments- Wasim Jaffer
9. The social media company which has crossed General Electric company in market valuation and has become the seventh most valuable company in the Standard & Poor's 500 – Facebook
10. The quantum of Swachh Bharat cess which the Govt of India has decided to levy on all services liable to service tax with effect from 15 November 2015- 0.5%
To stay updated download Examsbook andorid app now.