First in World - GK Questions
5c25e20be91a755e877db171
595217d8febf4b764b059d3a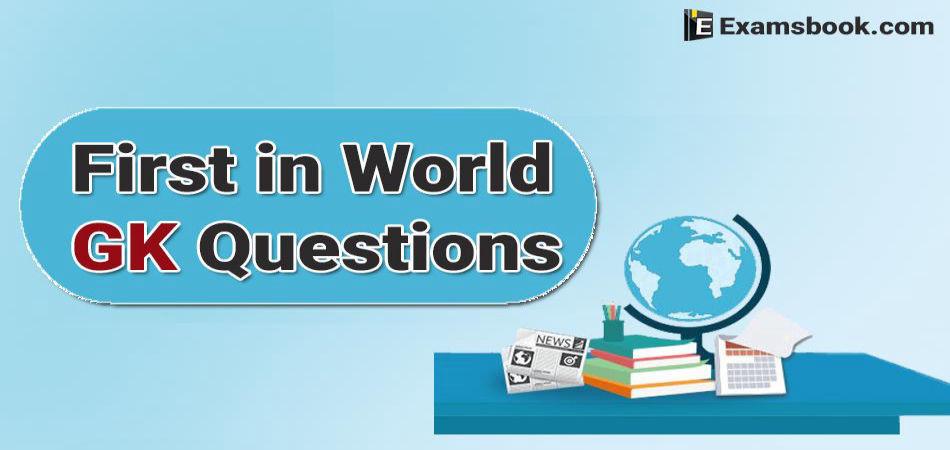 Here, I am providing First in World GK Questions for those learners who are preparing for competitive exams. In this post, I have updated the most important questions answers around the world with the latest news questions and answers about many topics covered.

I have prepared this blog to increase your World GK level as well as increase your confidence level for competitive exams.
First in World GK Questions
Q.1 Who was First secretary general of United Nations?
Ans: Trigve Li
Q.2 Name of the first country to launch the satellite into space?
Ans: Russia
Q.3 Which country won first World Cup Football?
Ans: Uruguay in 1930
Q.4 First Woman Prime Minister Of Any Muslim Country?
Ans: Benazir Bhutto (Pakistan)
Q.5 Name of the first country to issue paper currency?
Ans: China
Q.6 Name of the first Country to make a constitution?
Ans: USA
Q.7 Who was the first person to sail around the world?
Ans: Ferdinand Magellan
Q.8 First men to fly an airplane?
Ans: Wright Brothers
If you have any problem or doubt regarding First in World GK Questions for Competitive Exams, you can ask me in the comment section. To more practice for World General Knowledge Questions, Visit next page.
Showing page 1 of 4
en
https://www.examsbook.com/first-in-world---gk-questions
4
1
first-in-world---gk-questions