Model question papers Computer Awareness for Bank PO , IBPS , Bank Clerical Exams, SBI and all other exams paper-3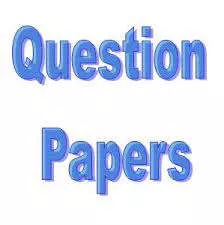 Model question papers Computer Awareness for Bank PO , IBPS , Bank Clerical Exams, SBI and all other exams Paper-3
Computer Awareness for Bank PO , IBPS , Bank Clerical Exams, SBI and all other Banking exams, RBI, SBI and other Banking Recruitment Examinations of 2013 and 2014.If you like the post kindly give rating.
1. A device that converts digital signals to analog signals is
A. A block
B. A packet
C. A modem
D. Both (B) and (C)
2. ROM is composed of
A. floppy disks
B. photoelectric cells
C. microprocessors
D. magnetic cores
3. Find the odd man out.
A. optical fibre
B. twisted pair wire
C. microwaves
D. coaxial cable
4. Find the odd man out
A. TCP
B. SAP
C. POP
D. FTP
5. VSNL stands for
A. Videsh Sanchar Nigam Ltd
B. Vigam System Nigar Ltd
C. Very Soft Network Link
D. Very Small Network Link
6. Find the odd one out?
A. INFORMIX
B. SYBASE
C. C
D. ORACLE
7. The Input device that is closely related to a touch screen is the
A. Joystick
B. Scanned
C. Keyboard
D. Light pen
8. Which of the following hardware components is the most volatile?
A. ROM
B. PROM
C. EPROM
D. RAM
9. State the valid schema objects.
A. tables
B. views
C. indexes
D. all the above
10. Software is
A. peripheral
B. equipment
C. computer program
D. none of these
If you like the post please give rating, share to your friends by clicking share button and comment below.

To stay updated download Examsbook andorid app now.