Multipurpose river valley projects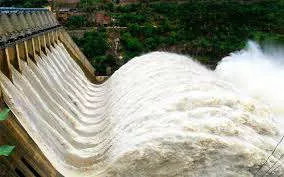 Multipurpose river valley project, once referred by Jawaharlal Nehru as 'Temples of Modern India', present an integrating system of controlling floods, generation of the hydroelectricity, irrigation, development of fishery and tourist spots, boating, navigation, and draining away extra water. These projects aim at all round development of river valleys.
1. BHAKHRA-NANGAL PROJECT: On river Sutlej 518m long, 226m high, highest dam in India.
Purposes: Irrigation, hydroelectricity generation, soil conservation
Name of Power Houses: Bhakhra, ganguwal, nangal, kotla
2. DAMODAR VALLEY PROJECT: On river Damodar, located in west bengal and jharkhand.
Purposes: Irrigation, generation of hydro and thermal power, navigation, flood control
Name of Power Houses: Maithon, tilaia, panchet hill, bokaro, durgapur, chandrapura
3. HIRAKUD PROJECT: On Mahanadi river in odisha; 4800m long.
Purposes: Irrigation, production of hydel power, navigation for over 480km
Name of Power Houses: Hirakud, chiplima
4. TUNGABHADRA PROJECT: At malappuram on the river Tungabhadra, it is 2441m long and 49.3m high; in andhra pradesh and karnataka.
Purposes: Irrigation, generation of hydroelectricity
Name of Power Houses: At Malappuram, at hampi, on the left side of malappuram
5. RIHAND PROJECT: On river rihand
Purposes: Hydroelectricity production
Name of Power Houses: Pimpri