ssc cgl tier 1 previous year papers 2017 pdf download
5b581ae9dfec1e500490b17b
5a673ccd63b436e8b899e064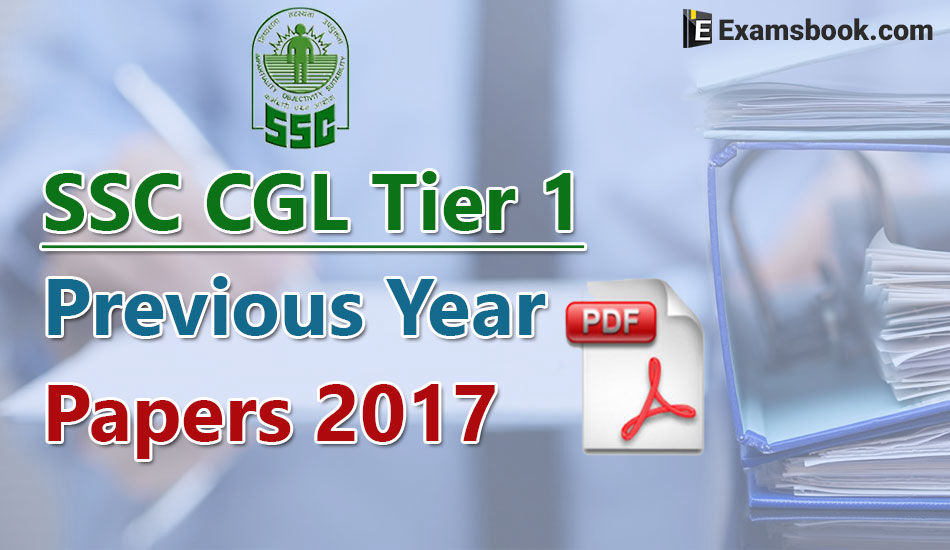 Hello students,
Previous year question papers are the reflection of the difficulty you are going to face in this exam. SSC CGL tier 1 exam conducts in many parts on different -2 timings for several days. In this post, you can download ssc cgl paper 2017 pdf for tier 1 exam.
Lots of student search for ssc cgl question paper 2017 tier 1, but they got confused where to find real ssc cgl tier 1 previous year papers.
So, here I am providing detailed ssc cgl paper 2017 pdf for better practice of exam. You can download SSC CGL tier 2 previous year questions papers.
SSC CGL exam 2017 tier 1 previous year papers PDF's overview:
These ssc cgl tier-1 papers are useful for the exam preparations. Previous year papers are the reflections of exam standards so you can prepare that level. You can also download these PDF's for offline preparations.
SSC CGL tier 1 exam conducts within one month in three shifts morning, afternoon and evening shift to manage students. Every student gets the different paper code and shifts having totally unique questions.
Here I am uploading complete one shift paper of all four subjects (GK, Aptitude, Reasoning and Verbal ability) and all GK papers date and shift wise. Students can download ssc cgl paper 2017 pdf easily by one click and take it to use for practice.
How to read or use ssc cgl previous year paper PDF's for better preparation for best results:
By solving SSC CGL tier 1 previous year papers you can get difficulty level of tier 1 exam. For better results or preparation download ssc cgl tier 1 previous year paper pdf's and solve them one by one with time and note down your answers.
Match your answers with provided answer keys to calculate your marks and try to improve your performance in the next PDF. Simply follow this.
SSC CGL Previous year question and answers PDF:
SSC CGL Previous year Gk question and answers PDF:
Benefits of solving ssc cgl previous years papers of tier 1 PDF:
Basically, every question is important for your preparation, but I want to share some benefits of previous year papers below:
There are many questions repeated as it is in ssc cgl tier 1 exam every year from previous year papers and some questions asked with little modification.
You can get the idea of exams difficulty level.
You can practice of time management for exam.
You can calculate your score before exams.
Can prepare GK deeply with other subjects.
Conclusion:
SSC CGL conducts tier one exam in lots of shifts and every shift has the different paper with different-2 questions. If you solve all the previous papers just before exam then it is also sufficient preparation to enhance confidence and performance for the exam.
If you are searching SSC cgl question papers for practice and you will get all these at one place then it will save your time. Download all the previous ssc cgl paper 2017 PDF to practice of tier 1 exam, these are not so easy to find online, ExamsBook is providing FREE for you.
Hope you found it helpful, so don't forget to share with friends and ask me in the comment section if you have any queries.
All the best for SSC Exam!