SSC CHSL 2019 Notification - Vacancies, Age Limit, Pay Scale, Apply Online
5c7e45cab089306ae6e9996f
5a673ccd63b436e8b899e064
NEW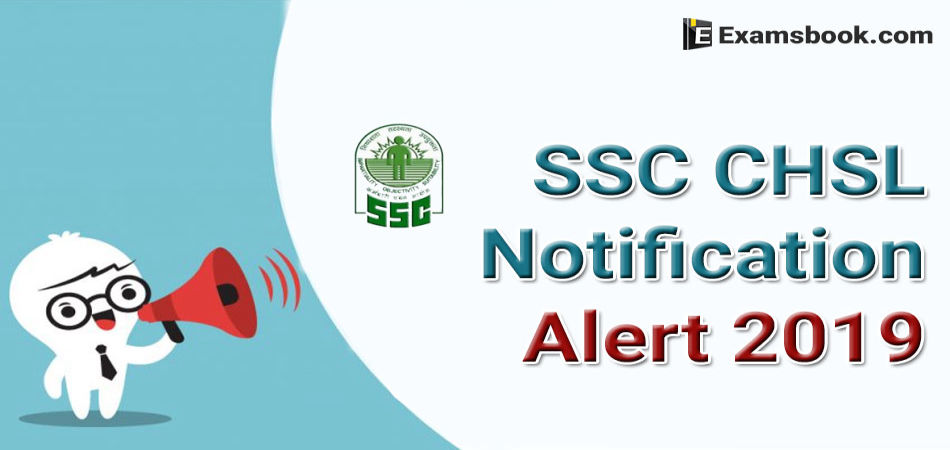 Hello, Students
If you are dreaming to going the post of LDC (lower division clerk), JSA (Junior Secretariat), PA (Postal Assistant), SA (Sorting Assistant) and DEO (data entry operator), then SSC CHSL is the best way to fulfill your dreams.
There is a good news for candidates who are preparing for ssc chsl exam. SSC has declared a notification related to different posts on ssc chsl with its apply dates. If you are preparing for SSC CHSL you should definitely read this SSC CHSL 2019 notification. I am sharing important information about SSC CHSL Exam dates and recruitment posts in this article.
SSC CHSL Exam Notification 2019
SSC CHSL Vacancies:
SSC CHSL Vacancies will be determined in due course. Updated vacancy position will be uploaded on the website of the Commission from time to time (https://ssc.nic.in->Candidate"s Corner-> Tentative Vacancy)
Pay Scale of SSC CHSL Posts:
You can get details about posts with SSC CHSL pay scale below:
(A) Lower Division Clerk (LDC)/ Junior Secretariat Assistant (JSA): Pay Band -1 (Rs. 5200-20200), Grade Pay: Rs. 1900 (pre-revised).
(B) Postal Assistant (PA)/ Sorting Assistant (SA): Pay Band -1 (Rs. 5200-20200), Grade Pay: Rs. 2400 (pre-revised).
(C) Data Entry Operator (DEO): Pay Band-1 (Rs. 5200-20200), Grade Pay: Rs. 2400 (pre-revised) and
(D) Data Entry Operator, Grade "A": Pay Band-1 (Rs. 5200-20200), Grade Pay: Rs. 2400 (pre-revised).
SSC CHSL Education Qualification Criteria:
Before applying you must know that what is the education Criteria of SSC CHSL which is below:
(A) For LDC/ JSA, PA/ SA, DEO (except DEOs in C&AG): The candidates must have passed 12th Standard or equivalent examination from a recognized Board or University.
(B) For Data Entry Operator (DEO) in the Office of Comptroller and Auditor General of India (C&AG): 12th Standard pass in Science stream with Mathematics as a subject from a recognized Board or equivalent.
Age limit criteria for SSC CHSL Exam:
Here I am explained about SSC CHSL age limit which is necessary to know you before applying.
As per SSC CHSL notification, the candidate should have the minimum age limit of 18 years and maximum age limit should be 27 years. A candidate age limit may be calculated on 1st August 2019.
Age Relaxation:
SSC CHSL allows for age relaxation in few categories.
(A) The upper age relaxation for the candidates of ST/SC is 5 years.
(B) The upper age relaxation for the candidates of OBC is 3 Years.
(C) The upper age relaxation for the ex-serviceman is 03 years after deduction of the military service rendered from the actual age as on the Closing date for receipt of application.
Application Fee:
(A) Fee payable: Rs 100/- (Rs one hundred only).
(B) Fee can be paid online through BHIM UPI, Net Banking, by using Visa, Mastercard, Maestro, RuPay Credit or Debit cards or in SBI Branches by generating SBI Challan.
(C) Women candidates and candidates belonging to Scheduled Castes (SC), Scheduled Tribes (ST), Persons with Disabilities (PwD) and Exservicemen (ESM) eligible for reservation are exempted from payment of fee.
(D) Online fee can be paid by the candidates up to 07-04-2019 (5.00 PM). However, candidates who wish to make the cash payment through challan of SBI, may make the payment in cash at the Branches of SBI within the working hours of bank up to 09-04-2019 provided the challan has been generated by them before 07-04-2019 (5.00 PM).
(E) Applications received without the prescribed fee shall not be considered and summarily rejected. No representation against such rejection will be entertained. Fee once paid shall not be refunded under any circumstances nor will it be adjusted against any other examination or selection.
Nationality criteria for SSC CHSL Exam
A candidate must be either:
(A) a citizen of India, or
(B) a subject of Nepal, or
(C) a subject of Bhutan, or
(D) a Tibetan refugee who came over to India, before the 1st January,1962, with the intention of permanently settling in India, or
(E) a person of Indian origin who has migrated from Pakistan, Burma, Sri Lanka, East African countries of Kenya, Uganda, the United Republic of Tanzania (Formerly Tanganyika and Zanzibar), Zambia, Malawi, Zaire, Ethiopia and Vietnam with the intention of permanently settling in India.
(F) Provided that a candidate belonging to categories (b), (c), (d) and (e) above shall be a person in whose favour a certificate of eligibility has been issued by the Government of India.
(G) A candidate in whose case a certificate of eligibility is necessary may be admitted to the Examination but the offer of appointment will be given only after, the necessary eligibility certificate has been issued to him/ her by the Government of India.
How to Apply Online:
SSC CHSL Online process is divided into three parts – Part 1, Part 2 and Part 3.
Part-1 is the first step of online registration. In this part, candidate generates an ID and Password.
The Candidate logs in part-2 through generate ID and password. The candidate selects the center name, category and other details in this part.
In part-3, candidate pay fees via online mode or offline mode. You will have 100 rupees as application fees. SC / ST / Women / Ex-servicemen are eligible for reservation exempted fees.
(A) Applications must be submitted in online mode only at the official website https://ssc.nic.in. For detailed instructions, please download the notification from the below link.
(B) The last date for submission of online applications is 05-04-2019 (5.00 PM). You can download also SSC CHSL notification as a PDF file by the given links below:
| | |
| --- | --- |
| SSC CHSL Notification Pdf | |
| Register/Login | |
Conclusion:
Hope this SSC CHSL 2019 Notification information will be helpful for you and you have understood all the details properly like SSC CHSL Vacancies, SSC CHSL Pay Scale, SSC CHSL Age limit, SSC CHSL Application, Nationality and about Apply online. So, keep in touch with Examsbook.com for more latest notifications or updates.