Current Affairs and Gk -June 2013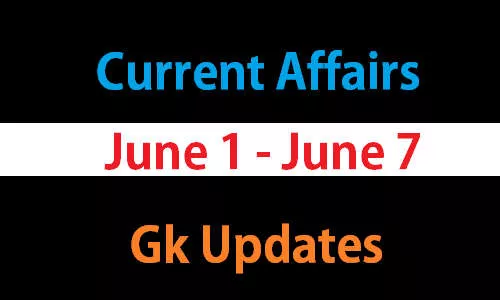 Current Affairs and Gk -June 2013
Important current affairs and Gk questions of June month for IAS, RAS, SSC CGL, UPSC, BANK PO, UPSC,RPSC, Bank exams and all other exams.If you like the post kindly give rating.
[important]This questions are useful for any competitive exam like IAS, bank PO, SSC CGL, RAS, CDS, UPSC exams and all state related exams.[/important]
1. Who among the following has been appointed as new Chairman of "Air Asia India"?
[A]Ratan Tata
[B]S Ramadorai
[C]R Venkata Raman
[D]Bharat Vasani
2. As per the United Nations, World Population Prospects-2012, India will become most populous country in the world by____?
[A]2030
[B]2028
[C]2045
[D]2050
3. According to Bureau of Immigration, which of the following country ranked top in the list of number of foreign tourist arrivals to India?
[A]UK
[B]USA
[C]Japan
[D]Russia
4. 5% from 6.30 millions in 2011 to 6.57 million in 2012. The United State continued as the top source country, reaching 1 million tourists in 2012. The top 10 countries are US, UK, Bangladesh, Sri Lanka,
[A]China
[B]Japan
[C]Russia
[D]USA
5. Who is the new Chairman of Life Insurance Corporation of India?
[A]S K Roy
[B]Thomas Mathew
[C]D K Mehrotra
[D]Sushobhan Sarkar
6. The much debated "Bangaru Thalli" scheme is related to which state?
[A]Karnataka
[B]Andhra Pradesh
[C]Tamil Nadu
[D]Maharastra
7. Who among the following has been elected as President of 68th session of UN General Assembly?
[A]John W. Ashe
[B]Vuk Jeremic
[C]Ban Ki Moon
[D]Evan Schneider
8. Recently, the construction of dam on Blue Nile River triggered the tension between which two countries?
[A]Egypt and Sudan
[B]Sudan and Kenya
[C]Ethiopia and Egypt
[D]Ethiopia and Kenya
If you like share the post and kindly comment and share Below.
To stay updated download Examsbook andorid app now.