GK Questions - Basic General Knowledge Questions and Answers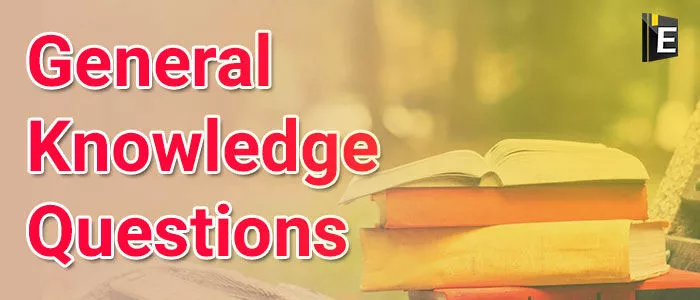 These are very important GK Questions for all competitive exams like IAS, Bank PO, SSC CGL, RAS, CDS, UPSC exams and all state-related exam. Practice with this huge collection of Basic General Knowledge Questions and Answers.
You can attempt gk questions for fun too. There are a lot of General Knowledge questions on this site. after reading the article go to below links to read more.
Now I am providing you very useful basic general knowledge questions and answers for SSC Exams, Rajasthan Police and many other Competitive Exams.
GK Questions 2018 - Basic General Knowledge questions and answers
1. Which crop is sown on the largest area in India?
A. Rice
B. Wheat
C. Sugarcane
D. Maize
2. The value of Gold is determined in
A. Rome
B. Washington
C. Teheran
D. London
3. The state which has the largest number of sugar mills in India is
A. Bihar
B. Haryana
C. Punjab
D. Uttar Pradesh
4. First University in India was founded at
A. Bombay
B. Chennai
C. Calcutta
D. Delhi
5. Tajmahal is on the banks of
A. Ganges
B. Jamuna
C. Tapti
D. Cauvery
Indian Constituion Questions and Answers
6. The currency notes are printed in
A. New Delhi
B. Nasik
C. Nagpur
D. Bombay
7. Which is the Land of the Rising Sun?
A. Japan
B. Australia
C. China
D. Taiwan
8. The largest ocean in the world is
A. The Indian Ocean
B. The Antarctic
C. The Atlantic Ocean
D. The Pacific Ocean
General Science GK Questions and Answers
9. The Kalahari Desert is in
A. India
B. Chile
C. South Africa
D. Saudi Arabia
10. Mica is available abundantly in
A. Bihar
B. Haryana
C. Karnataka
D. Rajasthan

These questions are useful for any competitive exam like IAS, bank PO, SSC CGL, RAS, CDS, UPSC exams and all state related exams.
Gk 2018: Basic General Knowledge questions and answers
11. Second World war began in
A. 1931
B. 1935
C. 1937
D. 1938



12. Kancheepuram was once the capital of
A. Pandiyas
B. Cholas
C. Cheras
D. Pallavas
General Awareness Questions and Answers
13. Chief Justice of the Supreme Court can hold office until the age of
A. 58
B. 60
C. 65
D. 62
14. The largest gland in the human body is
A. Liver
B. Adrenal
C. Pituitary
D. None of the above
15. The chemical name of common salt is
A. Potassium Chloride
B. Sodium Chloride
C. Calcium Carbonate
D. Sodium Carbonate
16. In the Parliamentary system of India, the Executive is subordinate to
A. The Press
B. The Judiciary
C. The Legislature
D. None of these
17. The Election Commission can be removed by
A. The President
B. The Parliament
C. Home Minister
D. Prime Minister

18. The system of dual citizenship exists in
A. India
B. France
C. United Kingdom
D. USA
19. Who are the guardians of Fundamental rights?
A. Parliament
B. The President
C. The Prime Minister
D. Supreme Court and High Court
Sports GK Questions and Answers
20. The President of the Constituent Assembly was
A. Dr. K.M. Munshi
B. Dr. Rajendra Prasad
C. Jawaharlal Nehru
D. Dr. B.R. Ambedkar
21. Who among the following got the Bharat Ratna award before becoming the president of India?
A. R Venkataraman
B. Dr. Rajendra Prasad
C. DR Zakir Hussian
D. W Giri
A. Martin Luther King
B. Mother Terasa
C. Khan Abdul Ghaffar Khan
D. Aubin Mehta
23. When did Mother Teresa win the Nobel Peace Prize?
A. 1975
B. 1979
C. 1981
D. 1982
Basic GK Questions and Answers
24. Which one of the following glasses is used in bullet proof screens?
A. Soda glass
B. Pyrex glasss
C. Jena glass
D. Reinforced glass
25. Which substance is used to retard the setting action of cement?
A. CaO
B. AlO
C. CaSO.2HO
D. NaO + KO
26. The mineral in which India depends largely on imports is
A. Iron Ore
B. Bauxite
C. Mica
D. Mercury
27. The last Mughal Emperor was
A. Akbar
B. Bahadur Shah
C. NoorJehan
D. Babur

28. The state which leads in agricultural production is
A. Haryana
B. Punjab
C. Karnataka
D. Tamil Nadu
29. The longest mountain range in the world is
A. The Alps
B. The Himalayas
C. The Andes
D. The Rockies
30. The most populous city in the world is
A. Paris
B. London
C. Peking
D. Tokyo