GK Questions - Basic General Knowledge Questions and Answers
58f51ef78f57a10c7572cabd
58873e50dd4df72728284be5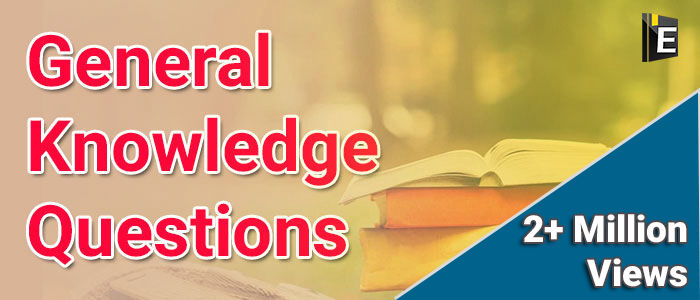 Choose any General Knowledge 2018 Topic for Preparation of Gk Questions:
These are very important and latest GK Questions and general awareness 2018 questions for all competitive exams like IAS, Bank PO, SSC CGL, RAS, CDS, UPSC exams and all state-related exam. Practice with this huge collection of Basic General Knowledge Questions and Answers.
You can attempt gk questions for fun too. There are a lot of General Knowledge 2018 questions on this site. after reading the article go to below links to read more.
Now you can practice with very useful basic general knowledge questions and answers for SSC Exams, Rajasthan Police and many other Competitive Exams.

For general knowledge 2018 and general awareness 2018 video tutorial, visit Examsbook YouTube channel.
GK Questions 2018 - Basic General Knowledge questions and answers

1. Which crop is sown on the largest area in India?
A. Rice
B. Wheat
C. Sugarcane
D. Maize

Ans .A


2. The value of Gold is determined in
A. Rome
B. Washington
C. Teheran
D. London

Ans .D

3. The state which has the largest number of sugar mills in India is
A. Bihar
B. Haryana
C. Punjab
D. Uttar Pradesh

Ans .D

4. First University in India was founded at
A. Bombay
B. Chennai
C. Calcutta
D. Delhi

Ans .C

5. Tajmahal is on the banks of
A. Ganges
B. Jamuna
C. Tapti
D. Cauvery

Ans .B

6. The currency notes are printed in
A. New Delhi
B. Nasik
C. Nagpur
D. Bombay

Ans .B

7. Which is the Land of the Rising Sun?
A. Japan
B. Australia
C. China
D. Taiwan

Ans .A

8. The largest ocean in the world is
A. The Indian Ocean
B. The Antarctic
C. The Atlantic Ocean
D. The Pacific Ocean

Ans .D

9. The Kalahari Desert is in
A. India
B. Chile
C. South Africa
D. Saudi Arabia

Ans .C

10. Mica is available abundantly in
A. Bihar
B. Haryana
C. Karnataka
D. Rajasthan

Ans .A

These questions are useful for any competitive exam like IAS, bank PO, SSC CGL, RAS, CDS, UPSC exams and all state related exams.
Gk 2018: Basic General Knowledge questions and answers