Top 500 GK Questions 2021-22
5c6ea4bba72df038adf5ff75
595217d8febf4b764b059d3a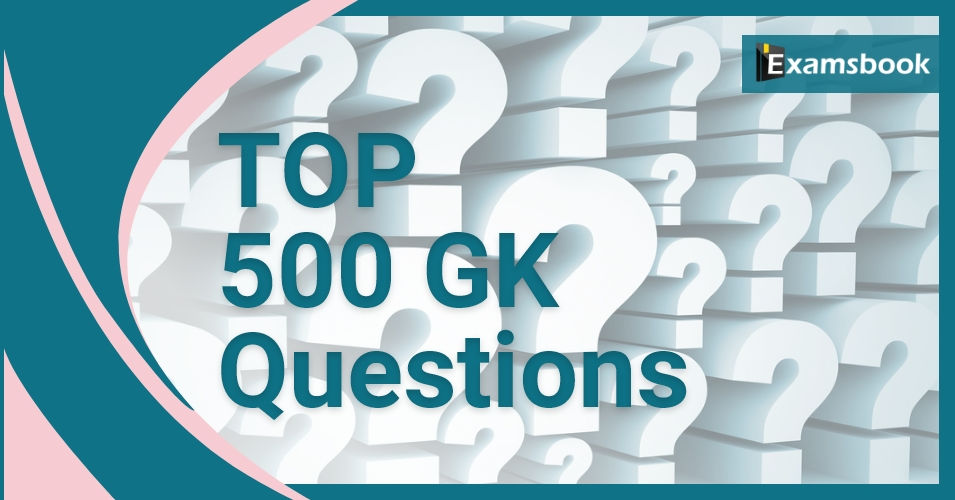 Are you looking for top GK questions? So, assume that your search is now completed. The GK question is useful for almost all students, and each student needs to read common knowledge questions. General Awareness acts an important role in passing the CBT test as well as a descriptive paper.
Here, I am providing the most important Top 500 general knowledge questions in English and Hindi for the students who are continuously trying for competitive exams. In this post, I have updated the most important GK questions around the world and have been answered about the latest current affairs of India and many topics.
If a maximum of 25 to 30 questions from the General Knowledge section is asked in your exam, this blog of 500 GK Questions will help you cover almost all the GK questions. You can also say the Bumper Blog of GK Questions.
To Get Current Affairs and General knowledge Mock Test, Practice Test, and Live Test, Click: General Knowledge Mock Test and Current Affairs Mock Test
Top GK Questions    
Q.1 The upper house of the Indian Parliament is known as –         
(A) The Rajya Sabha
(B) The Lok Sabha 
(C) The Vidhan Sabha
(D) The Vidhan Parishad

Ans .  A

Q.2 Which is the house where the Chairperson is not the member of that house –      
(A) Lok Sabha
(B) Vidhan Parishad
(C) Rajya Sabha
(D) Vidhan Sabha 

Ans .  C

Q.3 The first mid-term elections for Lok Sabha were held in –   
(A) 1971
(B) 1975
(C) 1976
(D) 1985

Ans .  A

Q.4 Finance bill of Indian Government is presented in – 
(A) Upper House
(B) Middle House
(C) Lower House
(D) Raw House

Ans .  C

Q.5 The Chairperson of the Lok Sabha is designated as – 
(A) Speaker
(B) President
(C) Vice-President
(D) Prime Minister

Ans .  A

Q.6 Which states has only one member of the Lok Sabha – 
(A) Rajasthan
(B) Madhya Pradesh
(C) Sikkim
(D) Uttar Pradesh

Ans .  C

Q.7 Which Indian state had the first woman Chief Minister – 
(A) Uttar Pradesh
(B) Madhya Pradesh
(C) Sikkim
(D) Arunachal Pradesh

Ans .  A

Q.8 Who appoints the Governor of Jammu & Kashmir – 
(A) Prime Minister of India
(B) Chief Minister
(C) The President of India
(D) Governor

Ans .  C

Q.9 Who has the right to transfer any case anywhere in India –
(A) Supreme Court
(B) High Court
(C) Local Court
(D) Panchayat

Ans .  A

Q.10 The Contingency Fund of the State is operated by – 
(A) Prime Minister of India
(B) Chief Minister
(C) The President of India
(D) Governor of the State

Ans .  D

If you have any problem or doubt regarding Top 500 GK Questions and Answers for Competitive Exams, you can ask me in the comment section. To more practice for General Knowledge Questions, Visit the next page.
Showing page 1 of 51
en
https://www.examsbook.com/top-500-gk-questions-2021
51
1
top-500-gk-questions-2021