Top 500 GK Questions 2021-22
5c6ea4bba72df038adf5ff75
595217d8febf4b764b059d3a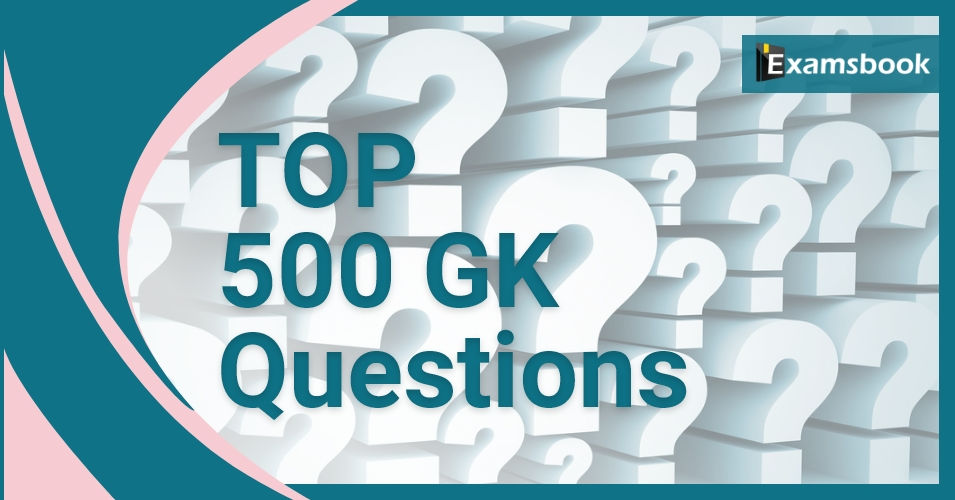 Are you looking for top GK questions? So, assume that your search is now completed. The GK question is useful for almost all students, and each student needs to read common knowledge questions. General Awareness acts an important role in passing the CBT test as well as a descriptive paper.
Top 500 GK Questions
Here, I am providing the most important Top 500 general knowledge questions in English and Hindi for the students who are continuously trying for competitive exams. In this post, I have updated the most important GK questions around the world and have answered the latest current affairs of India and many topics.
If a maximum of 25 to 30 questions from the General Knowledge section are asked in your exam, this blog of 500 GK Questions will help you cover almost all the GK questions. You can also say the Bumper Blog of GK Questions.
To Get Current Affairs and General knowledge Mock Test, Practice Test, and Live Test, Click: General Knowledge Mock Test and Current Affairs Mock Test
GK Questions and Answers
Q :  

When is the National Panchayati Raj Day celebrated?
(A) 28 March
(B) 22 March
(C) 28 April
(D) 24 April

Correct Answer : D


Q :  

In which name has Paytm launched its credit card?
(A) Paytm Digital Card
(B) Paytm First Card
(C) Paytm Green Card
(D) Paytm Payment Bank

Correct Answer : B


Q :  

Who prepared the April thesis?
(A) Trotsky
(B) Lenin
(C) Marks
(D) Stalin

Correct Answer : B


Q :  

Golden quadrilateral is related to?
(A) Rail Scheme
(B) Water Management
(C) Road Planning
(D) none of these

Correct Answer : D


Q :  

Which region receives rainfall throughout the year?
(A) Mediterranean
(B) Equatorial
(C) Tropical
(D) Temperate

Correct Answer : B


Q :  

What is the time difference between Indian Standard Time and Greenwich Mean Time?
(A) 5 hours 10 minutes
(B) 5 hours 30 minutes
(C) 5 hours 40 minutes
(D) 5 hours 20 minutes

Correct Answer : B


Q :  

In which state of India is Buxa Tiger Project located?
(A) Rajasthan
(B) Gujarat
(C) West Bengal
(D) none of these

Correct Answer : C


Q :  

What is the contribution of road transport in total passenger transport in India?
(A) 20%
(B) 45%
(C) 75%
(D) 80%

Correct Answer : D


Q :  

Where is the Prithudak Saraswati Tirtha situated?
(A) Uttar Pradesh
(B) Haryana
(C) Telangana
(D) Goa

Correct Answer : B


Q :  

Which state's Sabarimala temple board has accepted the court's decision to allow women of all ages to enter the temple?

(A) Maharashtra
(B) Kerala
(C) Andhra Pradesh
(D) Tamil Nadu

Correct Answer : B


Showing page 1 of 57
en
https://www.examsbook.com/top-500-gk-questions-2021
57
1
top-500-gk-questions-2021