Top 500 GK Questions 2021-22
5c6ea4bba72df038adf5ff75
595217d8febf4b764b059d3a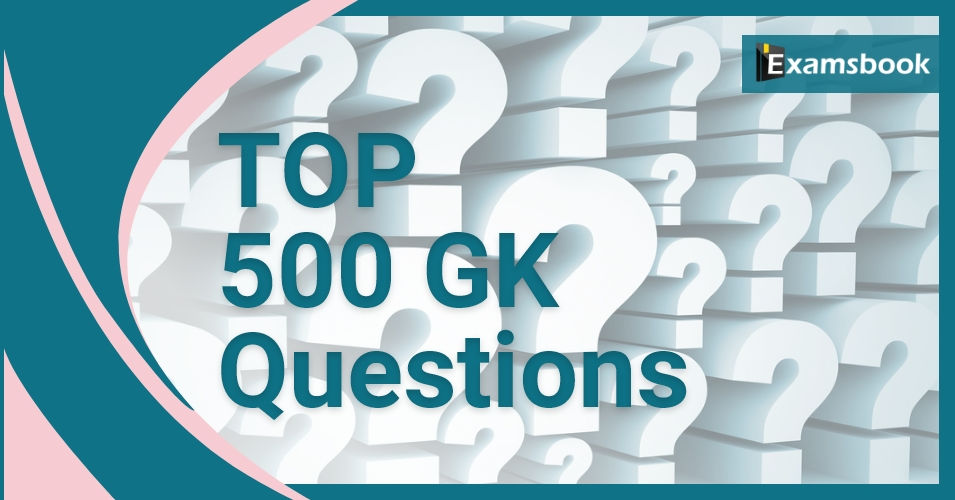 Are you looking for top GK questions? So, assume that your search is now completed. The GK question is useful for almost all students, and each student needs to read common knowledge questions. General Awareness acts an important role in passing the CBT test as well as a descriptive paper.
Top 500 GK Questions
Here, I am providing the most important Top 500 general knowledge questions in English and Hindi for the students who are continuously trying for competitive exams. In this post, I have updated the most important GK questions around the world and have answered the latest current affairs of India and many topics.
If a maximum of 25 to 30 questions from the General Knowledge section are asked in your exam, this blog of 500 GK Questions will help you cover almost all the GK questions. You can also say the Bumper Blog of GK Questions.
To Get Current Affairs and General knowledge Mock Test, Practice Test, and Live Test, Click: General Knowledge Mock Test and Current Affairs Mock Test
GK Questions with Answers
Q :  

In March 2022, who among the following became the Chief Minister of Punjab?
(A) Lal Chand Kataruchakk
(B) Laljit Singh Bhullar
(C) Bhagwant Mann
(D) Kuldeep Singh Dhaliwal

Correct Answer : C


Q :  

In Tennis, what is the score when the receiver wins the next point after deuce?
(A) 30-40
(B) Advantage out
(C) 40-30
(D) Advantage in

Correct Answer : B


Q :  

Which of the following combinations is NOT correct?
(A) Wular lake - Kashmir
(B) Naini lake - Uttarakhand
(C) Vembanad lake - Maharashtra
(D) Chilika lake - Odisha

Correct Answer : C


Q :  

Which state government decided to conduct a caste-based census called th'eJ aati Aadharit Ganana' exercise?
(A) Madhya Pradesh
(B) Rajasthan
(C) Bihar
(D) Tripura

Correct Answer : C


Q :  

All the ______ countries likely to have Constitution.
(A) democratic
(B) oligarchic
(C) communist
(D) totalitarian

Correct Answer : A


Q :  

Which of the following players is associated with billiards?
(A) Neeraj Chopra
(B) Sankalp Gupta
(C) Pankaj Advani
(D) Manish Narwal

Correct Answer : C


Q :  

Name an alkylbenzene widely used as a chemical intermediate in the production of phenol.
(A) Cumene
(B) Furan
(C) Styrene
(D) Toluene

Correct Answer : A


Q :  

Which Indian religious festival has recently been included in the representative list of intangible cultural heritage of humanity by UNESCO, an organisation of the United Nations?
(A) Durga Puja
(B) Ramnavami
(C) Janmashtami
(D) Mahashtami

Correct Answer : A


Q :  

On 5 April 2022, who was appointed as the Chairman of the Union Public Service Commission?
(A) S Raju
(B) Suman K Bery
(C) Manoj Soni
(D) Ashwin Yardi

Correct Answer : C


Q :  

Fundamental Duties are contained within which Article of the Constitution of India?
(A) Article 492
(B) Article 51A
(C) Article 50A
(D) Article 44

Correct Answer : B


Showing page 1 of 63
en
https://www.examsbook.com/top-500-gk-questions-2021
63
1
top-500-gk-questions-2021