RRB NTPC CBT 2 Exam 2022: CBT-2 Exam Date Announced
6257b8d1d2d5f2227568b9f7
5e5e0683e5ab73709fa28c7b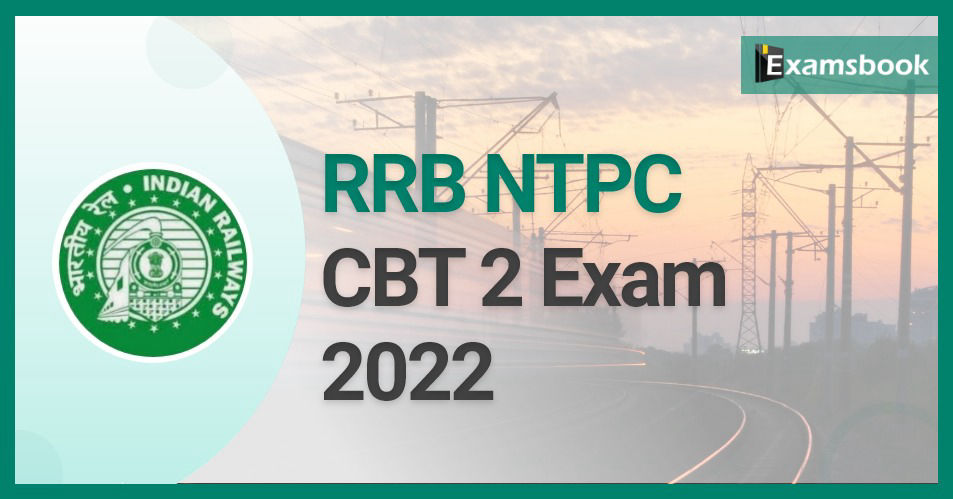 The biggest news for those candidates who were waiting for RRB NTPC CBT 2 Exam for a long time. Now you will be glad to know that the Railway Recruitment Board (RRBS) has declared the Computer Based Exam-2 Date for RRB NTPC Exam 2022  to be conducted on 9th & 10th May 2022. 
After conducting RRB NTPC CBT-2 Exam, the board will be announced soon Exam schedule for Pay levels 2,3, and 5.
Here, are providing RRB NTPC Exam Date Overview, RRB NTPC 2022 Important Dates, RRB NTPC CBT 2 Exam Date Notice, etc. Read the full blog for more updates on the NTPC vacancy 2022 ↴
RRB NTPC CBT-2 Exam Overview
RRB issued a recruitment notification to fill the 35,277 vacancies for the post of Junior Clerk, Account Clerk, Low typist, Junior & Senior timekeeper, Train Clerk, Ticket Clerk, Stationmaster, Traffic Assistant, Goods Guard, etc in 2019. 
Also, get the RSMSSB Computor Final Results 2022 here.
According to the selection process, Candidates will be selected for the above posts based on Computer-Based Tests (CBT-1, CBT-2), Typing Skill Test / Computer Based Aptitude Test, Document Verification / Medical Exam. Approximately 1.26 crore candidates had applied for the exam. Check essential dates from here -
RRB NTPC Online Application Date
01 to 31 March 2019
RRB NTPC CBT 1 Exam Date

Phase- I: 28 December 2020 to January 13, 2021
Phase- II: January 16 to 30, 2021
Phase- III: January 31 to February 12, 2021
Phase- IV: February 15 to March 3, 2021
Phase- V: March 4 to 27, 2021
Phase- VI: April 1 to 8, 2021
Phase- VII: July 23 to 31, 2021

RRB NTPC CBT 1 Answer Key
16 August 2021 
RRB NTPC Final Answer Key
January 2022
RRB NTPC CBT 1 Result & Cutoff Marks
30th March 2022
RRB NTPC CBT-2 Admit Card
May 2022
RRB NTPC CBT 2 Exam Date 
9th & 10th May 2022
RRB NTPC CBT 2 Exam Date Notice
Recently, Railway Recruitment Board (RRBs) has announced the latest notice for The 2nd Stage Computer-based Test (CBT-2). The candidates who get shortlisted for Pay Level-4 and 6 in CBT-1, are tentatively scheduled to be held on 09th and 10th May-2022 subject to the prevailing conditions. Check the notice given by RRB -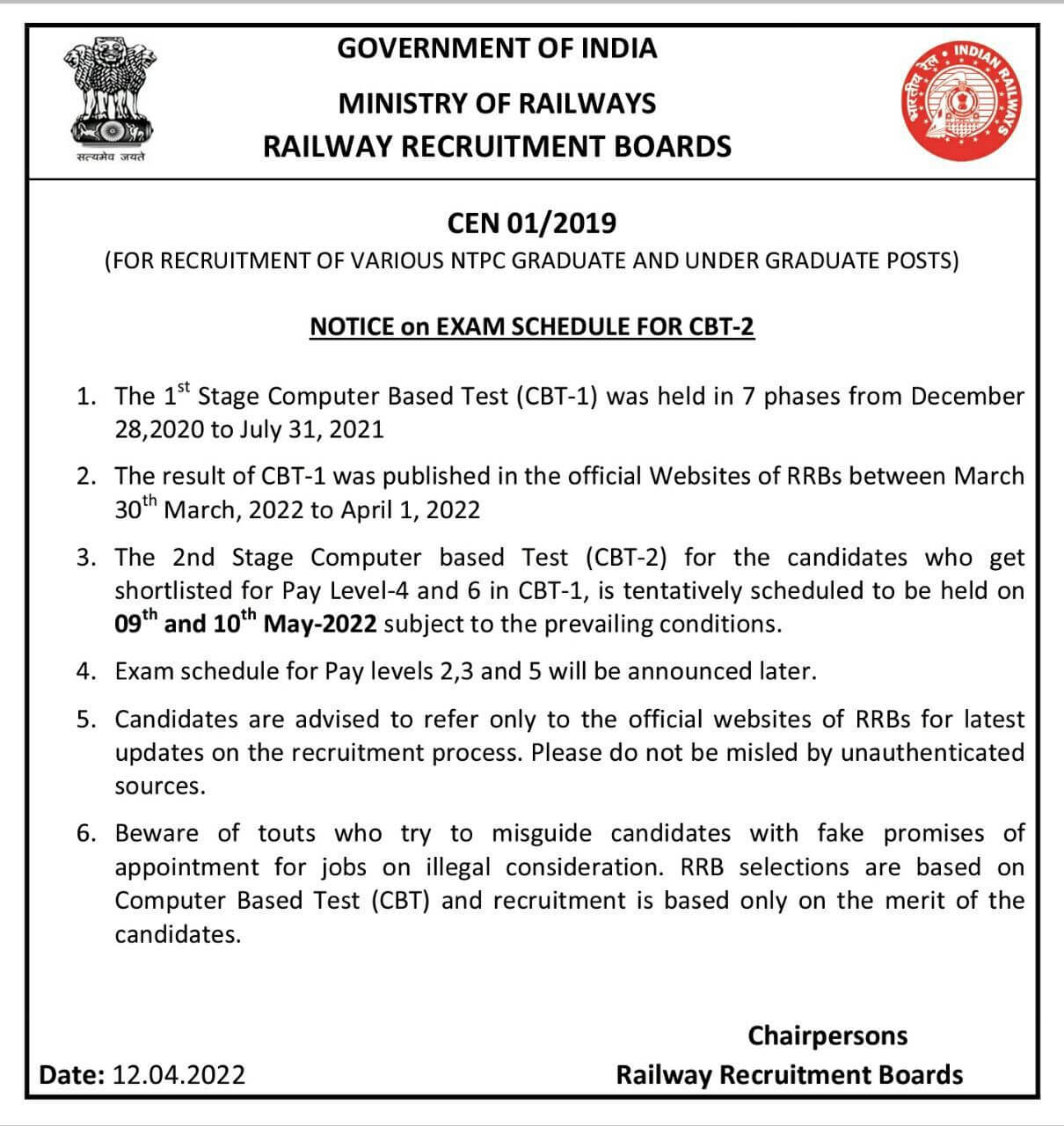 Important Links -
RRB NTPC 2022- FAQs
Q. What is RRB NTPC?
Ans. The RRB NTPC is a competitive exam for the non-technical posts conducted by Railway Recruitment Board (RRBs) for graduate pass candidates.
Q. What is the total number of vacancies in RRB NTPC 2022?
Ans. There are 35281 vacancies in RRB NTPC, wherein 24,649 vacancies are for graduate posts and 10,628 vacancies are for graduate posts.
Q. Does RRB have negative markings in CBT stages 1 and 2?
Ans. Yes, RRB will follow negative marking for an incorrect answer in CBTs. 1/3rd of the marks will be deducted for every mistake or wrong answer.
All the Best for the upcoming NTPC exam!!