RSMSSB Patwari Answer Key 2021: Download Here!!
619cd3242f80a134c8149d25
5e5e0683e5ab73709fa28c7b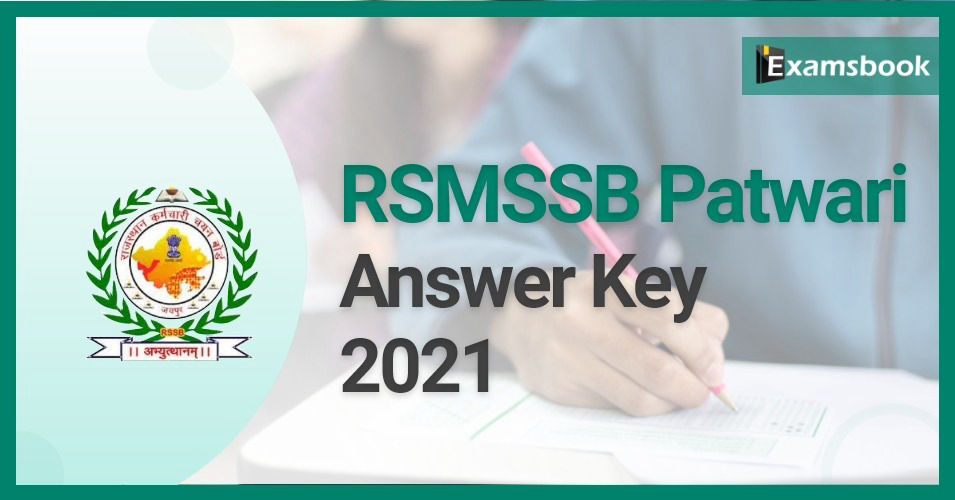 RSMSSB Patwari Answer Key 2021 Out: Rajasthan Subordinate and Ministerial Service Selection Board (RSMSSB) has issued the Answer Key for Patwari Exam 2021. All candidates involved in the Patwari Direct Recruitment Exam 2021 can check the Answer Key from the Official website of RSMSSB - rsmssb.rajasthan.gov.in.
However, RSMSSB Patwari Exam 2021 was organized on 23 & 24 October, for which the application process of vacancy was reopened from 15 to 29 July 2021.
Patwari Direct Recruitment - 2021
If you have any problem with the Patwari Answer key, you can also file an objection. The last date to register a complaint is 26 November 2021.
Significantly, 5378 vacancies will fill in the state through Rajasthan Patwari Exam 2021.
According to the table provided below, candidates can download Answer-Key and master's question letters according to the exam code 104A, 104B, 104C, and 104D.
Details for Patwari Recruitment 2019 here -
| | |
| --- | --- |
| Event | Dates |
| Exam Name | RSMSSB Patwari Recruitment Exam 2019 |
| Total Vacancies | 4421 + 957 = 5,378 |
| Date of submission of examination fee and filling online application form | 15 to 29 July 2021 |
| Patwari Exam 2021 | 23 and 24 October 2021 |
| Patwari Answer-Key 2021 | 23 November 2021 |
Rajasthan Patwari Answer Key - How to Check?
Patwari Answer-Key can be downloaded till 26 November 2021; after that, the link's time limit will expire. Here are easy steps to download Answer Key: -
First, visit the Official Website rsmssb.rajasthan.gov.in to download the Answer key.
Go to the News & Notifications sections on the website's home page.
Click on the link to Download Answer Key 2021 of Direct Recruitment of Patwari – 2021.
A New Window will open where you will get the PDF of the same
You must take Print Out for Patwari Answer Key because the board will remove it after some time.


Patwari Selection Process 2021-
By the previous year, the selection of the Patwari exam included two phases, which in this year, only one phase - merged into a single written exam.
Multiple objective-type questions were included in the paper. 
The marks received in the exam were counted for final eligibility. 
Negative marking was made and 1/3 points were cut for each wrong answer.
Important Links -
| | |
| --- | --- |
| Detail | Link |
| Patwari Exam Answer-Key | |
| Rajasthan Patwari Exam 2019-20 | Exam Date Released!! | |
| RSMSSB Official Website | |
Conclusion:
Congratulations to all candidates who passed(almost) in RSMSSB Patwari Exam 2021; although there is little time in the coming of Patwari Exam Result 2021, you have assessed their results through Answer Key. After examining the exam, candidates need to see an answer key for their question paper. Through which candidates can check their answer, and if you have any objection to the Answers key, you can register your objection with the prescribed fee on the Official website of RSMSSB. Apart from this, the candidates who are unsuccessful in this year's Rajasthan Patwari exam, with new hope, take part in the RSMSSB Patwari Examination 2022.