Rajasthan History Questions for Competitive Exams
6479d53d88eeb5476929427a
618279e4d1d2fd61946fce53
NEW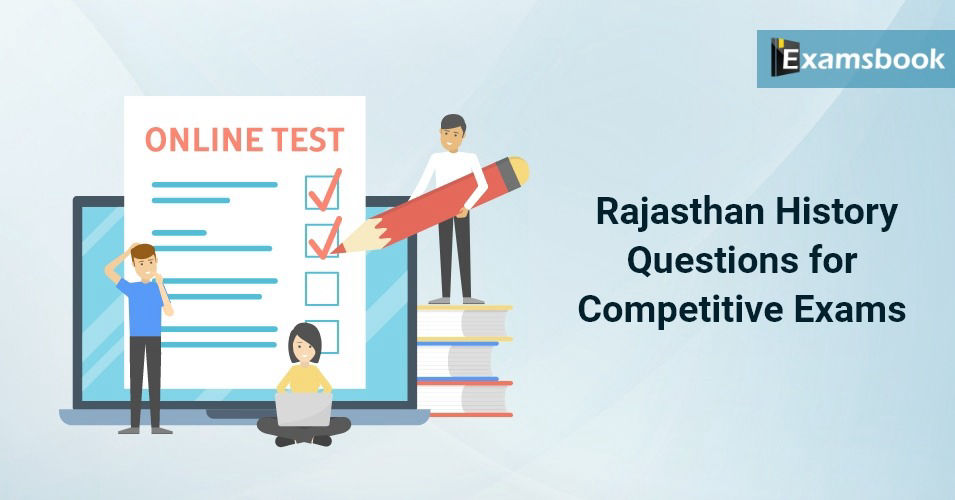 Today in this era of unemployment, the importance of government jobs has increased even more and due to this Rajasthan history is an important subject of all competitive examinations of Rajasthan. That's why Examsbook gives you important Rajasthan History Questions and Answers blog including questions of all chapters of Rajasthan History like description of all important events of Rajasthan History, all Rajput rulers chronology, all civilizations of ancient times, war and administration in medieval period. All the main points of the methods, all the movement events of the modern period, etc. have been included.
Keeping in view all the competitive examinations of Rajasthan, here in this blog, we are providing a list of about 50 objective type questions related to the history of Rajasthan. Which is very important question for all competitive exams like - RPSC Exams, RSMSSB Exams, CET Exams, RAS, 1st grade, 2nd grade, REET, Patwari, Rajasthan SI, Rajasthan police, LDC, UDC, Gram Sevak, High court, your Exams can prove to be very useful.
Rajasthan History Questions
Q :  

Read the following statements carefully-

(i) In the late 19th century, the Desh Hiteshini Sabha was established in Mewar.

(ii) Social reform was the core objective of the Sabha.

Choose the correct code -

(A) Only statement (i) is true

(B) Only statement (ii) is true

(C) Neither (i) nor (ii) is true

(D) Both the statements are true

Correct Answer : D


Q :  

Which of the following (Political Activist - Related Princely State) is not correctly matched?
(A) Krishna Dutt Paliwal - Dholpur
(B) Harimohan Mathur - Karauli
(C) Mathura Das Mathur - Marwar
(D) Gopilal Yadav - Bharatpur

Correct Answer : B


Q :  

Prithviraj Chauhan was married to………. She was the daughter of his enemy Jaichand Garhwal.
(A) Samyukta
(B) Soumyavati
(C) Krishnavati
(D) Purvavati

Correct Answer : A


Q :  

Through which newspaper did Vijay Singh Pathik propagate the Bijolia farmer movement all over India?
(A) Naveen Rajasthan
(B) Tarun Rajasthan
(C) Yugantar
(D) Pratap

Correct Answer : D


Q :  

Antyodaya Yojana was started in Rajasthan during the office tenure of which Chief Minister-
(A) Haridev Joshi
(B) Shivcharan Mathur
(C) Bhairon Singh Shekhawat
(D) Jagannath Pahadiya
Correct Answer : C
Explanation :
1. Antyodaya Scheme in Rajasthan was started in 1977 in the Chief Minister's office of Bhairo Singh Shekhawat. This scheme was launched to provide assistance to the poorest families of Rajasthan. Under this scheme, poor families are provided access to basic amenities like food grains, education, health, and housing.
2. Bhairo Singh Shekhawat was the Chief Minister of Rajasthan from 1977 to 1980. He was a member of the Bharatiya Janata Party. He initiated many important schemes and policies in Rajasthan, including Antyodaya Yojana.
Q :  

Which civilization of Rajasthan was spread over the banks and the valleys of Banas, Berach, Vagan, Gambhiri and Kothari rivers?
(A) Kalibangan
(B) Ahar
(C) Ganeshwar
(D) Bairath

Correct Answer : B


Q :  

Which queen of Maldeo got 'Bahuji - Ro - Talab' constructed near Mandore?
(A) Hira-De- Jhali
(B) Swarup-De-Jhali
(C) Uma-De-Bhatiyani
(D) Parbati Sisodeni

Correct Answer : B


Q :  

Which civilization of Rajasthan is also known as "Tamrasanchayi"?
(A) Ganeshwar
(B) Bagor
(C) Ahar
(D) Gilund
Correct Answer : A
Explanation :
1. Ganeshwar Civilization -
- Location - Ganeshwar (Sikar) Police Station "Neem Police Station"
- River - Kantli River: It is an internal flowing river. That's why Kantli says. Because it causes more erosion.
2. Ganeshwar Civilization Nickname-
- Also called copper-accumulating civilization.
The oldest civilization among the Copper Age civilizations is the Ganeshwar Civilization.
- India, the mother of all Copper Age civilizations, is also called "Ganeshwar Civilization". Copper is found in maximum quantity here.
Q :  

Match the following and select the correct answer from the code given below -

Newspapers                       Place of Publication

(i) Praja Sevak                      (1) Jaipur

(ii) Naveen Rajasthan          (2) Ajmer

(iii) Lokvani                           (3) Jodhpur

(iv) Sajjan Kirti Sudhakar    (4) Udaipur

Code -
(A) (i)-1, (ii)-2, (iii)-3, (iv)-4
(B) (i)-3, (ii)-2, (iii)-1, (iv)-4
(C) (i)-4, (ii)-3, (iii)-2, (iv)-1
(D) (i)-4, (ii)-3, (il)-1, (iv)-2

Correct Answer : B


Q :  

Swami Dayanand Saraswati first came to in 1865 AD as a state guest of Rajasthan
(A) Jaipur
(B) Jaisalmer
(C) Udaipur
(D) Karauli

Correct Answer : D


Showing page 1 of 5
en
https://www.examsbook.com/rajasthan-history-questions
5
1
rajasthan-history-questions