SBI PO Syllabus and Exam Pattern 2022
624d6ddabadeb679cf09073e
5e5e0683e5ab73709fa28c7b
NEW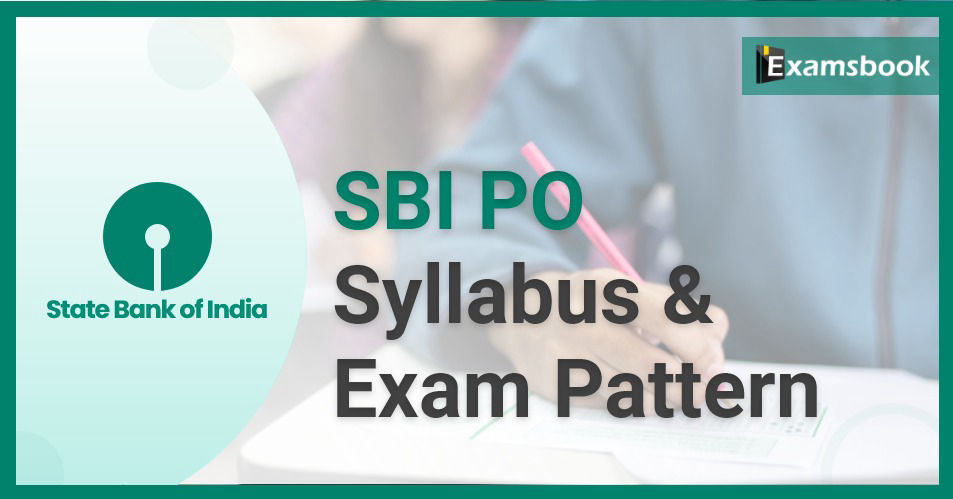 SBI Probationary Officer Exam is one of the most popular bank exams along with SBI SCO and SBI Clerk. Every year, thousands of applications are invited from eligible and interested Indian citizens for appointment as Probationary Officers (PO) in the State Bank of India. Also, The SBI PO exam syllabus & pattern is quite similar to any other bank exam syllabus. Hence, the level of competition among lakhs of candidates increases greatly.
In this article, we shall discuss the complete SBI PO Syllabus & Exam Pattern. Meanwhile, the candidates need to go through the Exam Pattern and Syllabus in detail first before appearing in the exam. Aspirants can also download the SBI PO Syllabus PDF for Prelims and Mains given here. let's move: -
SBI PO  Exam Pattern
Candidates are selected in 3 phases: -
Preliminary exam
Main exam
Interview and Group Exercise 
Phase-I: Preliminary exam -
A preliminary Examination consisting of an Objective Test for 100 marks will be conducted online. 
There will be a negative marking of 0.25 marks for every incorrect answer.
There won't be any sectional cut-off marks.
The test will have Three Sections (with separate timings for each section) as follows:
Test name

Number of questions

Marks

Time Duration

Reasoning Ability 

35

Total Maximum Marks 100

20 Minutes

Quantitative Aptitude

35

20 Minutes

General English

30

20 Minutes

Total

100

1 Hours
Phase-II: Main exam -
(i) Objective Test: 
The duration of the objective test is 3 hours and it consists of 4 Sections of a total of 200 marks. 
The objective test will have separate timing for every section.
There will be no sectional cut-off. There will be only an overall cut-off.
There will be a penalty of 0.25 marks for every incorrect Multiple Choice Question.
| | | | |
| --- | --- | --- | --- |
| Test name | Number of questions | Marks | Time Duration |
| Reasoning & Computer Aptitude | 45 | 60 | 15 Minutes |
| Data Analysis & Interpretation | 35 | 60 | 15 Minutes |
| General English | 35 | 40 | 15 Minutes |
| General/ Economy/ Banking Awareness | 40 | 40 | 15 Minutes |
| Total | 155 | 200 | 3 Hours |
(ii) Descriptive Test:
After the Objective Test, The Descriptive Paper of 50 marks is compulsory to attempt.
The candidates will have to complete the test in 30 minutes.
Check the table below for more details: -
| | | | | |
| --- | --- | --- | --- | --- |
| S.No | Name of the Test | Number of Questions | Maximum Marks | Duration |
| 1 | English Language (Letter Writing & Essay) | 2 | 50 | 30 Minutes |
Phase-III: Interview and Group Exercise -
This is the final stage of selection for successful candidates who qualify for the first two phases of the SBI PO exam.
| | | |
| --- | --- | --- |
| S.No | Name of the Test | Maximum Marks |
| 1 | Group Exercise | 20 |
| 2 | Interview | 30 |
| | Total | 50 |
Candidates will have to score minimum qualifying marks in Phase III to be considered for final selection. The minimum qualifying marks will be decided by the Bank.
What is the Syllabus of the SBI PO Exam?
The SBI PO Syllabus for the Prelims and the Mains Exam is almost the same. There are only three sections in the mains exam such as Quantitative Aptitude, Reasoning, and English but in the Mains exam, two extra sections are added i.e. General and Banking Awareness. Also, the level of difficulty of the SBI PO Mains Paper is a little higher than the Prelims Exam.
Prelims Exam Syllabus -
The complete detail of section and sub-topics of the sections asked in the Preliminary Exam of the SBI PO exam is discussed below:
Quantitative Aptitude
Reasoning
English
Simplification/ Approximation
Alphanumeric Series
Reading Comprehension
Profit & Loss
Directions
Fill in the blanks
Mixtures & Alligations
Logical Reasoning
Cloze Test
Permutation, Combination & Probability
Data Sufficiency
Para jumbles
Work & Time
Ranking & Order
Vocabulary
Sequence & Series
Alphabet Test
Paragraph Completion
Simple Interest & Compound Interest
Seating Arrangement
Multiple Meaning /Error Spotting
Surds & Indices
Coded Inequalities
Sentence Completion
Mensuration – Cylinder, Cone, Sphere
Puzzle
Tenses Rules
Time & Distance
Syllogism
 
Data Interpretation
Blood Relations
Ratio & Proportion
Coding-Decoding
Number Systems
Input-Output
Percentage
Tabulation
Main Exam Syllabus -
The subject-wise topics that need to be covered for preparing for SBI PO Mains Exam have been listed below.
Data Analysis & Interpretation
Reasoning
General/Economy/Banking Awareness
English Language
Computer 
Tabular Graph
Verbal Reasoning
Current Affairs
Reading Comprehension
Internet
Line Graph
Syllogism
Financial Awareness
Grammar
Memory
Bar Graph
Circular Seating Arrangement
General Knowledge
Verbal Ability
Keyboard Shortcuts
Charts & Tables
Linear Seating Arrangement
Static Awareness
Vocabulary
Computer Abbreviation
Missing Case DI
Double Lineup
Banking Terminologies Knowledge
Sentence Improvement
Microsoft Office
Radar Graph Caselet
Scheduling
Banking Awareness
Word Association
Computer Hardware
Probability
Input Output
Principles of Insurance
Para Jumbles
Computer Software
Data Sufficiency
Blood Relations
 
Error Spotting
Computer Fundamentals /Terminologies
Let it Case DI
Directions and Distances
Cloze Test
Networking
Permutation and Combination
Ordering and Ranking
Fill in the blanks
Number System
Pie Charts
Data Sufficiency
 
Operating System
 
Coding and Decoding
Basic of Logic Gates
Code Inequalities
 
Course of Action
Critical Reasoning
Analytical and Decision Making
Bottom Line:
After verifying the SBI PO syllabus & Exam Pattern, Candidates should revise from previous year's papers for the SBI PO exam. It will help them to get a grip on the SBI PO exam pattern. However, The SBI PO syllabus isn't such that you will not be able to finish the syllabus but more important is to revise the syllabus time and again before the real exam so that you are well acquainted with the exam pattern and the topics that can be asked in the Prelims & Mains exam. 
The Examsbook team will come up with innovative and unique study materials to help you constantly in your efforts. 
I really hope that the detailed SBI PO syllabus explained above will be of help to all of you. If you have any doubts, you can ask the same in the Comments section below. 
Sharing is caring...