Useful Keys to Succeed in Competitive Exams - Must Know!!
5fb51b49eedd4578acdf4c2e
5e5e0683e5ab73709fa28c7b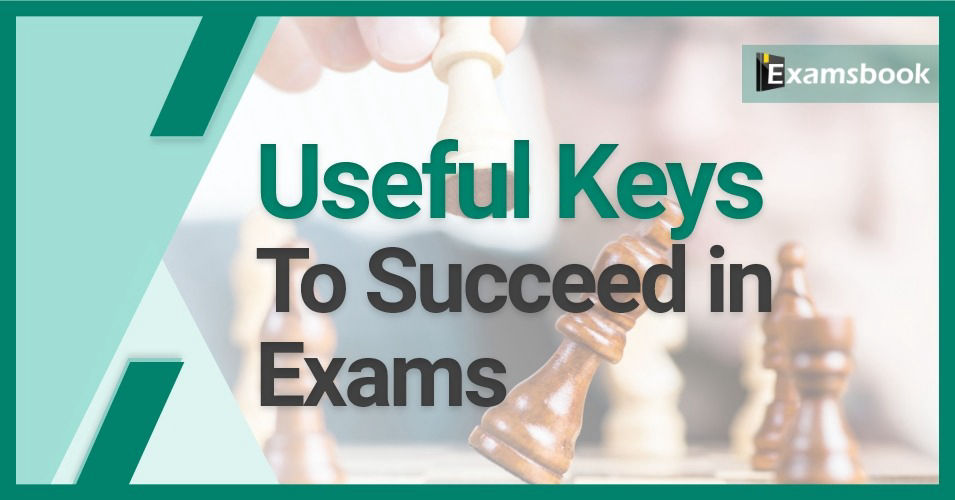 Hello Candidates,
In India, lakhs of vacancies are released every year in various government departments, ministries, and institutes through exams like IAS, IES, SSC CGL/CHSL, RRB, Bank PO/SO/Clerk, and so many more. The purpose behind them remains the same- to recruit young talented minds on various posts, like Officers (Grade I, II, & III), Engineers, Assistant, Clerks, Inspector, Translator, and the list goes on and on. Likewise, crores of male and female candidates work hard for years to get placed on one of these posts. It is a very hard, but worthy, goal. 
We have often seen that there are many people in this world who want to succeed but do not want to work hard to be successful.
"I want to top the exam; I want to crack the competitive exam in the first attempt!!" Millions of such desires are ready to take the form of reality.
To be successful, it is necessary to 'continuously strive and stay strong'. To increase your level of hard work, you have to think about where you are lacking and why. Acknowledging your weakness is the first and a very important step toward finding its solution. So, once you identify the problem, then you need to work on it, and to keep working. In case it doesn't work, then change your tactics to reach your goal. One thing you're not allowed to do is to QUIT. 
If you want to know how to succeed in a competitive exam, then keep reading this blog as we have just the right tips for you to make it happen -
Some Useful Keys to Succeed in Competitive Exams
Let us know some special facts –
Set up Your Goals -
Life is a struggle and life can be made easy only by struggle. If you want to take part in any competitive exam, first know your interest. Think about the field you want to choose and build your career in. So, it is important to set your goal first, so that you can test your aptitude and determine the appropriate path for success in competitive exams. A goal draws your attention and sets up your mind towards a single path- your destination.
If you want to succeed, you must know in which direction you are going and where is your finishing line (goal)? To achieve this, you have to do the planning.
Manage your time -
When you set your goal towards a competitive exam, the maximum time available after that seems very short for exam preparation. In such a situation, you need to manage your time because it is going to be your biggest and most valuable asset. Make the most of your time and learn to be more productive. Manage your time in such a way so that you have enough time to revise after preparing each subject effectively.
Take responsibility -
Take responsibility to fulfill your purpose and avoid the tendency to postpone today. Always keep in mind that successful individuals control themselves and feel that they are only responsible for their results. Therefore, use a planner to organize yourself for the entire day, an entire week, and a whole month for exam preparation. Instead of avoiding the topic which you find most difficult at the time of preparation, try to study first and stick with determination. 
Know your qualifications -
If you consider yourself more secure in returns (instead of learning and speaking), then you can get a high score with good preparation under the returned exam in the Competition exam. Also, to be successful in the exam, it is also important that you check your own aptitude, dexterity, and ability. Self-confidence is essential for success and preparation for self-confidence. Before you start preparing for the exam, you should know all the information about your exam like - exam syllabus, exam date, eligibility criteria etc. You can take advantage of your full ability by getting the information on what to read and what not.
Hard work with focus -
Success requires hard work and this is true because no person can achieve success in just one day, it takes a lot of time, patience and hard work. Never let your focus become weak. If you want to crack a competitive exam, then it is important to work hard with focus.
Never forget this -
"With strong will and hard work you can find what you want."
The more you try, the greater will be your chances of succeeding.
Do one thing at a time -
If you think that you can do multiple tasks at the same time as professional, personal work and preparation of competitive exam then it will not be easy. Many successful people have also said that if you are working on one task at a time, your productivity and ability to do more work will increase. To improve your exam preparation, you can also make a time-table according to the exam syllabus.
Sharpen memory with meditation -
Meditation is the best way to release your stress, it gives you a clear mind and sharpness. Exam preparation with meditation can sharpen your memory, as well as increase your meditative memory and concentration. Most students feel fear and stress while preparing for a competitive exam. Meditation can relieve stress to a great extent with a positive environment. Also, which topic you find difficult or which you find difficult to understand and remember, then you can link it to something, so that it can be easy to understand.
Try, learn & grow -
Once you choose the journey to the goal, you cannot retreat, you must not give up. During this journey, you try many things and learn from them. You can fail many times in a competitive environment under the exam, but this is not the end. Every successful person has to go through many failures before achieving their goal. You should not be afraid of failure, rather you can take failures as a lesson. Try to learn something new every day and do not stop and always try to move on.
"Winners don't stop until they accomplish their goal."
Conclusion:
If you want to stand out from the crowd and make your mark and your eyes are only on your goal, then you will reach your destination without hitting anyone in the crowd and achieve your goal.
We hope you have liked this blog, if you have any question in your mind or want any other information related to success in a competitive exam, then you can ask and comment in the comment box given below, we will help you in full.
Also share it with your friends .....
Many thanks for reading!!