Daily GK Current Affaris Questions June 04
5cf60ab84d0026752b94bf89
595217d8febf4b764b059d3a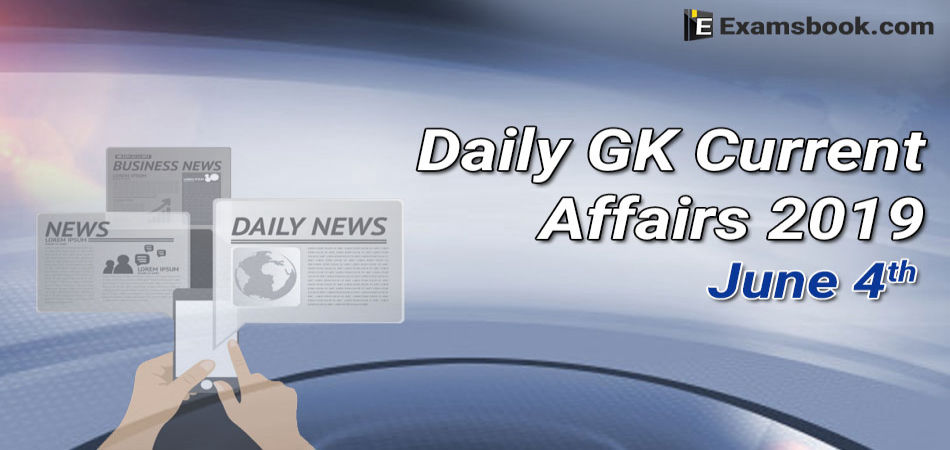 I have prepared Daily GK Current Affairs Questions for competitive exam blog to increase your General Knowledge level as well as increase your confidence level for competitive exams.
Here, I am providing Daily GK Current Affairs Questions (June 04) for those learners who are preparing for competitive exams. In this post, I have updated the most important questions answers around the Daily GK with latest current affairs questions and answers about many topics covered.
Daily GK Current Affairs Questions June 04
Q.1 Every year, 31st May was celebrated as World No Tobacco Day. The focus of World No Tobacco Day 2019 is;
(A) Tobacco breaks hearts
(B) Tobacco and lung health
(C) Tobacco-free youth
(D) Tobacco kills, don't be duped

Ans . B

Q.2 Who among the following has been appointed as the Prime Minister of Papua New Guinea?
(A) Michael Somare
(B) Belden Namah
(C) Don Polye
(D) James Marape

Ans . D

Q.3 Which state/UT govt has recently announced to build a water museum?
(A) Maharashtra
(B) Kerala
(C) Delhi
(D) Puducherry

Ans . C

Q.4 Who among the following was named as the defense minister of Modi's Cabinet?
(A) Rajnath Singh
(B) Ramvilas Paswan
(C) Dr. Harsh Vardhan
(D) Piyush Goyal

Ans . A

Q.5 The resolution plan of Tata Steel to acquire Bhushan Energy Ltd was approved by ___________
(A) NCLT
(B) NCDRC
(C) CESTAT
(D) SEBI

Ans . A

Q.6 US President Donald Trump announces tariffs on all goods from which country?
(A) Brazil
(B) Italy
(C) Canada
(D) Mexico

Ans . D

Q.7 When did the World Milk Day observe?
(A) 1st June
(B) 3rd June
(C) 31st May
(D) 29th May

Ans . A

If you have any problem or doubt regarding Daily GK Current Affairs Questions for Competitive Exams, you can ask me in the comment section. To more practice for Current Affairs Questions, Visit next page.
Showing page 1 of 3
en
https://www.examsbook.com/daily-gk-current-affaris-questions-june-04
3
1
daily-gk-current-affaris-questions-june-04