Latest and Important Current Affairs Questions January 21
5e27dfcec388925cd558c5eb
595217d8febf4b764b059d3a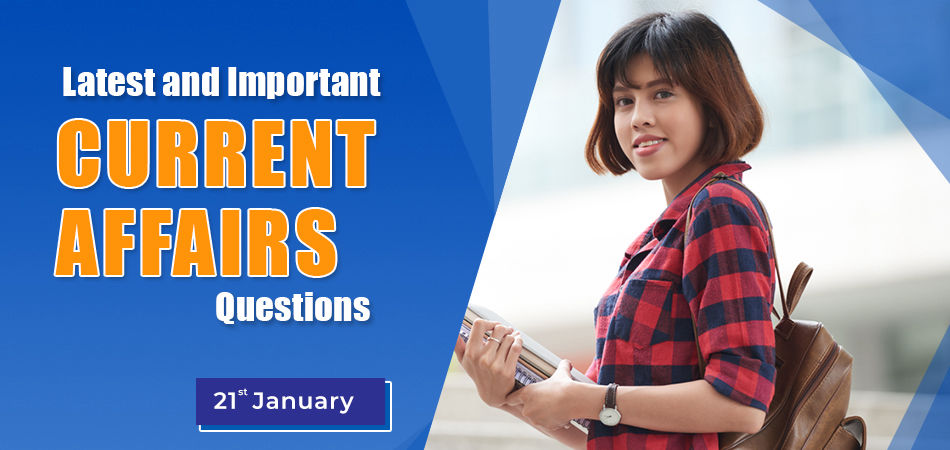 I have prepared the Latest and Important Current Affairs Questions to increase your General Knowledge level as well as increase your confidence level for competitive exams. 
Here, I am providing the Latest and Important Current Affairs Questions (January 21st) for those learners who are preparing for competitive exams. In this post, I have updated the most important questions, answers around the Daily GK with the latest Current Affairs Questions about many topics covered.    
To get previous day questions about current affairs to click on GK Current Affairs.   
Students can easily get free general knowledge questions on this platform for online exam practice to obtain good marks in the competitive exams. Current Affairs Mock Test 2019 and Monthly Current Affair 
Current Affairs Questions
Q :  

Who has been appointed new Prime Minister of Russia?
(A) Mikhail Mishustin
(B) Anton Siluanov
(C) Herman Gref
(D) Dmitry Kozak

Correct Answer : A


Q :  

Bapu Nadkarni, who recently died at 96 was a famous player of which game?
(A) Golfer
(B) Hockey Player
(C) Cricketer
(D) Athlete

Correct Answer : C


Q :  

Mohun Bagan has recently merged with which football club?
(A) ATK FC
(B) Kerala Blasters FC
(C) Chennaiyin FC
(D) NorthEast United FC

Correct Answer : A


Q :  

Who is to acquire manufacturing facility of General Motors in Talegaon, Maharashtra?
(A) Jac Motors
(B) Changan Automobile
(C) Kia Motors
(D) Great Wall Motors

Correct Answer : D


Q :  

Who won the women doubles title of WTA International trophy at Hobart?
(A) Abigail Spears and Maryna Zanevska
(B) Shuai Peng and Shuai Zhang
(C) Sania Mirza and Nadiia Kichenok
(D) Ankita Raina and Alicja Rosolska

Correct Answer : C


Q :  

According to UN WESP 2020 report, how much global economy grew in 2019?
(A) 1.6%
(B) 2.3%
(C) 2.8%
(D) 3.4%

Correct Answer : B


Q :  

Ashwini Kumar Chopra, who recently passed away was a famous person of which field?
(A) Lawyer
(B) Journalist
(C) Architect
(D) Flute Player

Correct Answer : B


Showing page 1 of 3
en
https://www.examsbook.com/latest-and-important-current-affairs-questions-january-21
3
1
latest-and-important-current-affairs-questions-january-21