Monthly Current Affairs Questions of April 2019
5cc95e79c971e6393e1da9ac
595217d8febf4b764b059d3a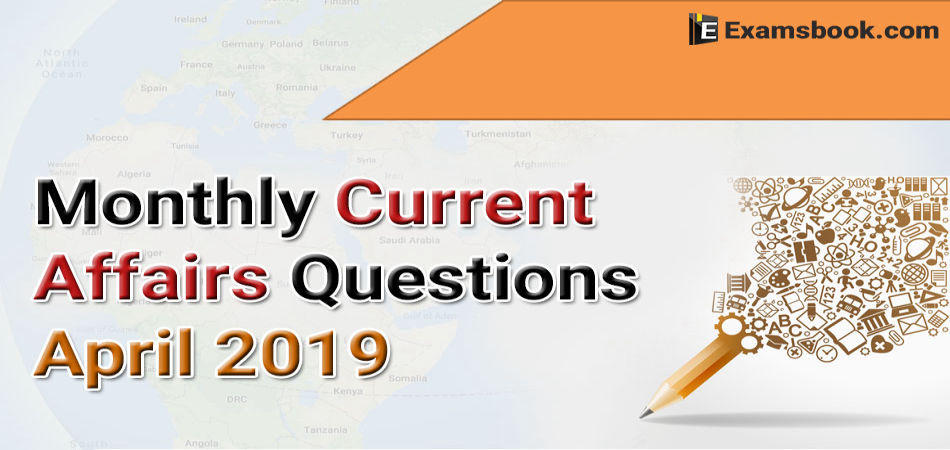 Here, I am providing Monthly Current Affairs Questions of April 2019 for those learners who are preparing for competitive exams. In this post, I have updated the most important questions answers around the Daily GK with latest current affairs questions and answers about many topics covered.

I have prepared Monthly Current Affairs Questions of April for competitive exam blog to increase your General Knowledge level as well as increase your confidence level for competitive exams.
Monthly Current Affairs Questions with Answers
You can choose Current Affairs Questions blogs from below:
Q.1 Who has been conferred with the Best Sportsperson award by the Calcutta Sports Journalists Club?
(A) Jhulan Goswami
(B) Sambaran Banerjee
(C) Neelash Saha
(D) Pritam Kotal

Ans . A

Q.2 World Day for Laboratory Animals is observed on ________.
(A) 24th April
(B) 23rd April
(C) 22nd April
(D) 21st April

Ans . A

Q.3 Who won assembly elections in Japan?
(A) Yukio Edano
(B) Yasuhiro Nakasone
(C) Yuriko Koike
(D) Puranik Yogendra

Ans . D

Q.4 Iran and which country have decided to set up a Joint Border Reaction Force (JBRF)?
(A) India
(B) Pakistan
(C) Russia
(D) Bangladesh

Ans . B

Q.5 Where was the Indian Coast Guard Vessel ICGS C-441 commissioned?
(A) Mumbai, Maharashtra
(B) Vizhinjam, Thiruvananthapuram
(C) Paradip, Odisha
(D) Visakhapatnam, Andhra Pradesh

Ans . B

Q.6 World Malaria Day is observed on April 25. The theme of the 2019 World Malaria Day is;
(A) Invest in the future: defeat malaria
(B) Zero malaria starts with me
(C) Ready to beat malaria
(D) End Malaria For Good

Ans . B

Q.7 Which financial inclusion program of India is set to cross Rs 1 lakh crore accounts?
(A) Pradhan Mantri Jan Dhan Yojana
(B) Pradhan Mantri Vaya Vandana Yojana
(C) Pradhan Mantri Mudra Yojana
(D) Sukanya Samriddhi Account

Ans . A

Q.8 Who introduced the first Indian Platform for Wholesale Cryptocurrency Trading?
(A) Koinex
(B) WazirX
(C) BuyUcoin
(D) Zebpay

Ans . C

Q.9 Who has been honored with the Master Deenanath Mangeshkar Lifetime Award 2019?
(A) Salim Khan
(B) Helen
(C) Shabana Azmi
(D) Javed Akhtar

Ans . A

Q.10 The panel which is formed after revamping the high-level 'anti-hijack panel' to include top officials especially National Security Advisor Ajit Doval.
(A) Committee on Aircraft Hijack(COAH)
(B) Committee of Secretaries on Aircraft Hijack (COSAH)
(C) Secretaries of anti-hijack panel(SOAHP)
(D) Secretaries on Aircraft Hijack(SOAH)

Ans . B

If you have any problem or doubt regarding Daily GK Current Affairs Questions for Competitive Exams, you can ask me in the comment section. To more practice for Current Affairs Questions, Visit next page.
Showing page 1 of 5
en
https://www.examsbook.com/monthly-current-affairs-questions
5
1
monthly-current-affairs-questions