New GK Question 2020
5e80b903d063766356903d04
595217d8febf4b764b059d3a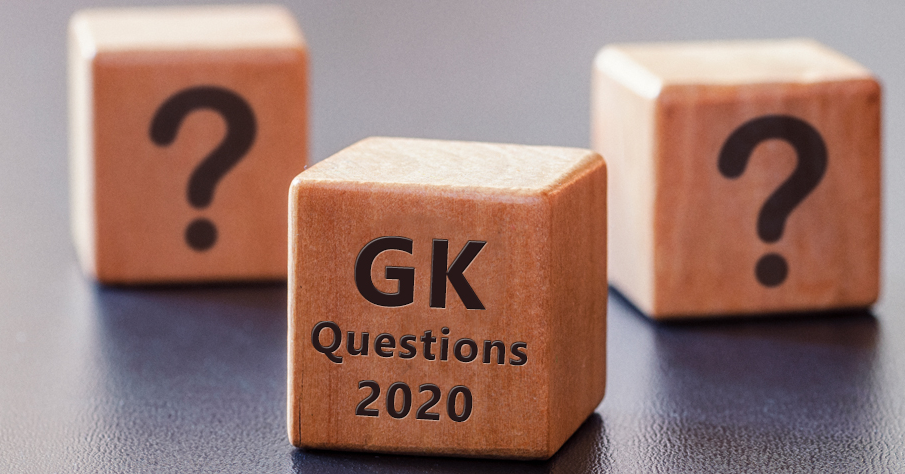 General Knowledge Quiz 2020 - If you want to do a government job under central government then you can fulfill your dream by passing the exam of SSC. As you all know that SSC has many competitive examinations every year like - CGL, CHSL, MTS appoints staff for Steno, JE, CAPF, JHT etc. General knowledge (GK) has special importance on all these posts. Because the purpose of GK is to understand the basic understanding of the candidate, the issues currently occurring and information.
Therefore, today through this block, we are providing you all the important questions like economy, science and technology, Hindi, geography, politics, history, sports, computer, environment etc. questions and answers related to GK subject. Which will help you score good in the exam by clearing your doubts and confusion. Therefore, keep practicing these questions regularly for better preparation.
If you are finding a platform for SSC exam preparation online, click on SSC CGL maths questions and start your preparation with SSC CGL Important Questions. Current Affairs Mock Test 2019 and Monthly Current Affair 
GK Questions 2020
Q :  

Gahirmatha marine sanctuary recently seen in news is in which state?
(A) Bihar
(B) Odisha
(C) West Bnegal
(D) Gujarat

Correct Answer : B


Q :  

The Board of Approval on Special Economic Zones has approved how many cases of de-notification between April 1, 2008 & February 29, 2020?
(A) 99
(B) 101
(C) 100
(D) 200

Correct Answer : B


Q :  

The Defence Ministry has acquired land from which two states for defence corridors to increase defence production?
(A) Kerala and Tamil Nadu
(B) Uttar Pradesh and Tamil Nadu
(C) Uttrakhand and Tamil Nadu
(D) Bihar and Odisha

Correct Answer : B


Q :  

Shaheedi Diwas was observed in India on which date?
(A) March 21
(B) March 20
(C) March 22
(D) March 23

Correct Answer : D


Q :  

The Carissa kopilii, which is recently declared under threat, is found in which India state?
(A) Manipur
(B) Assam
(C) Maghalaya
(D) Sikkim

Correct Answer : B


Q :  

What is the chemical name of Chalk?
(A) Calcium Sulphate
(B) Calcium Nitrate
(C) Calcium Phosphide
(D) Calcium Carbonate

Correct Answer : D


Q :  

What is the number of women matches officials across different International Cricket Council panels?
(A) 10
(B) 12
(C) 14
(D) 8

Correct Answer : B


Q :  

What is the name of pre-paid card launched by Karur Vysya Bank ?
(A) Pre- Ekasu
(B) Karur Card
(C) Enkasu
(D) None of these

Correct Answer : C


Q :  

Which country has confirmed as the co-chair of the governing council of India-led global Coalition for Disaster Resilient Infrastructure (CDRI)?
(A) Japan
(B) USA
(C) UK
(D) Australia

Correct Answer : C


Q :  

What is the rank of India in 8th World Happiness Report 2020?
(A) 144
(B) 89
(C) 105
(D) 70

Correct Answer : A


Showing page 1 of 11
en
https://www.examsbook.com/new-gk-question-2020
11
1
new-gk-question-2020