Quiz on current affairs 2015 #Series 4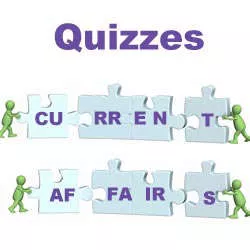 1. Recently, Tropical Storm Etau caused extensive and destructive floods in which of the following countries?
[A]Australia [B]Japan
[C]China [D]Sri Lanka
2. Which state government of India has rechristened its e-governance architecture as "e-Pragati"?
[A]Himachal Pradesh [B]Madhya Pradesh
[C]Uttar Pradesh [D]Andhra Pradesh
3. Which among the following is India's highest foreign exchange earner sector?
[A]Engineering Exports [B]Jewellery Export
[C]Petroleum Products Export [D]Tourism
4. Which among the following is the correct full form of AMRUT?
[A]Atal Mission for Renovation and Urban Technology
[B]Atal Mission for Road and Urban Transport
[C]Atal Mission for Rejuvenation and Urban Transformation
[D]None of them
5. Which African city will host the 2022 Commonwealth Games?

[A]Pretoria [B] Kimberley
[C]Johannesburg [D]Durban
6. Which state government of India launched One Stop Centre "Sakhi" to help women in distress?
[A]Chattisgarh [B]Haryana
[C]Uttar Pradesh [D]Madhya Pradesh
7. The "Buchi Babu Memorial Trophy" is associated with which sports?
[A]Cricket [B]Badminton
[C]Hockey [D]Football
8. Which of the following banks has been declared by Reserve Bank of India (RBI) as Domestic Systemically Important Banks (D- SIBs)?
[A]HDFC and ICICI [B]ICICI and SBI
[C]SBI and HDFC [D]PNB and SBI
9. Which Union Ministry launched the Smart National Common Mobility Card (NCMC), recently?

[A]Ministry of Railways [B]Ministry of Home Affairs
[C]Ministry of Foreign Affairs [D]Ministry of Urban Development
10. Who has been appointed as CMD of India Trade Promotion Organisation (ITPO)?
[A]R J Mishra [B]L K Jha
[C]L C Goyal [D]Anil Goswami
To stay updated download Examsbook andorid app now.