SSC Stenographer General Awareness Questions-Answers
6323051be3985052c81219a7
5a673ccd63b436e8b899e064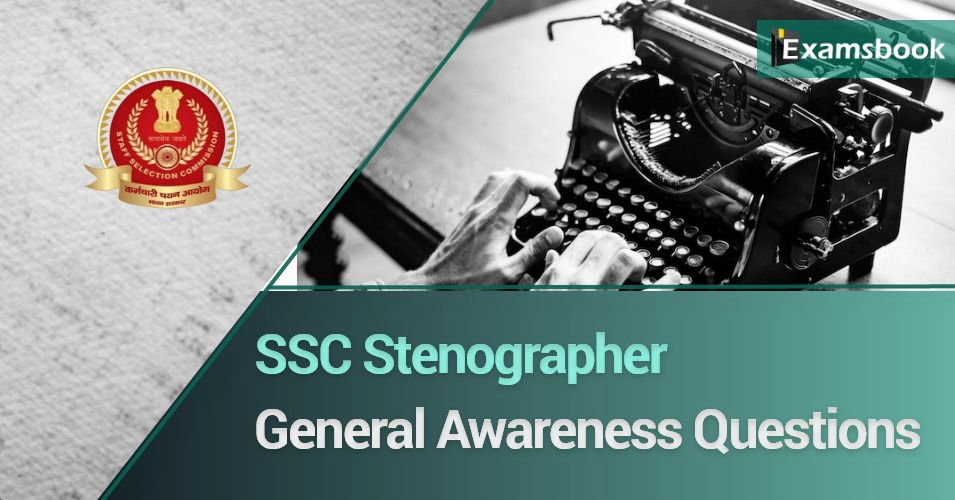 General knowledge is considered the most scoring subject in any exam. If you are preparing for SSC Stenographer Exam then you need to pay more attention to General Knowledge topic. Keeping this in mind, we are presenting questions from important topics like Geography, History, Science, and Constitution coming under this subject. 
Start your practice below with general knowledge questions for you.
SSC Stenographer General Awareness Questions
Q :  

Who will launch the Cheetah re-introduction project on 17th September 2022?
(A) Narendra Modi
(B) Bhupender Yadav
(C) Amit Shah
(D) Piyush Goyal

Correct Answer : A


Q :  

Who is the author of the book titled 'Forging Mettle: Nrupender Rao and the Pennar Story'?
(A) Aradhana Johri
(B) Ratnakar Shetty
(C) Navdeep Singh Gill
(D) Pavan C. Lall

Correct Answer : D


Q :  

Who was conferred Singapore's prestigious military award, the Pingat Jasa Gemilang (Tentera) or Meritorious Service Medal (Military)?
(A) Sunil Lanba
(B) Robin K. Dhowan
(C) Karambir Singh
(D) R. Hari Kumar

Correct Answer : A


Q :  

Aaron Finch retired from one-day international cricket on 11 September 2022.From which of the following countries does he belong?
(A) England
(B) Australia
(C) New Zealand
(D) West Indies

Correct Answer : B


Q :  

Krishnam Raju passed away in September 2022. He was a recipient of ________ Filmfare south awards.
(A) 2
(B) 3
(C) 4
(D) 5

Correct Answer : D


Q :  

Which day is celebrated as World Suicide Prevention Day?
(A) 17 July
(B) 23 August
(C) 9 September
(D) 10 September

Correct Answer : D


Q :  

Who has been named as the Prince of Wales, in September 2022?
(A) Prince Andrew
(B) Prince William
(C) Prince Harry
(D) Prince Philip

Correct Answer : B


Q :  

Who among the followings has been conferred with the annual Sahitya Puraskar of the Lok Nayak Foundation in September 2022?
(A) Tanikella Bharani
(B) Joseph Vijay
(C) Suriya
(D) Mahesh Babu

Correct Answer : A


Q :  

Which company has entered into an agreement to supply Renewable Energy Power to the armed forces (Military Engineering Services)?
(A) Adani Green Energy Limited
(B) TATA Power
(C) Suzlon Energy
(D) NTPC Ltd

Correct Answer : D


Q :  

Where the two-day Centre-State Science Conclave be organised ?
(A) Chennai
(B) Pune
(C) New Delhi
(D) Ahmedabad

Correct Answer : D


Showing page 1 of 10
en
https://www.examsbook.com/ssc-stenographer-general-awareness-questions
10
1
ssc-stenographer-general-awareness-questions