Current Affairs on Sports for Competitive Exams
5bbdac6321452e6a9d3b9b1d
595217d8febf4b764b059d3a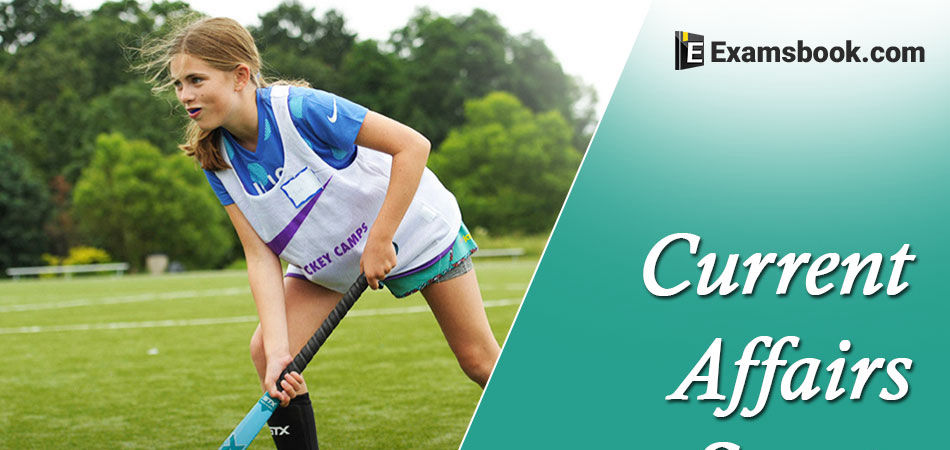 Sports Current Affairs.
9. India, Russia play out draw in 6th round of Chess Olympiad in Georgia
India's Five-time world champion Viswanathan Anand helped made a draw match with Russia in the sixth round of the 43rd Chess Olympiad at Batumi, Georgia. Koneru Humpy and Tania Sachdev won their respective games, D Harika and Eesha Karavade suffered defeats to let the US remain in the joint lead.
10 Raegan and Ishita won junior titles in East Zone National Ranking table tennis tournament.
The top seed, Albuquerque Raegan claimed the junior boys crown and Ishita Gupta won the junior girls' title in the East Zone National-ranking table tennis tournament at the R.G. Baruah Sports Complex's Indoor Stadium.  Raegan outplayed  Manush Shah of Gujarat, seeded two, and secured 11-9, 8-11, 11-5, 3-11, 11-9, 11-8. Ishita, seeded eighth, put it across the top seed Prapti Sen of West Bengal 11-3, 11-8, 11-8, 11-6.
11. Manipur won the 24th Senior Womens National football championships.
Manipur won the 24th Senior Women's National football championships for the 19th time in Cuttack, Odisha. Manipur beat Odisha by securing 2-1 in the final.  In the semifinals, Manipur had beaten Railways 4-3 in a penalty shootout, while Odisha dethroned Tamil Nadu 4-3.
12. Adithya and Pranathi bagged titles in Sub junior boys and girls singles titles
Adithya Joseph, Ernakulam K.R. Pillai Academy's and Pranathi P. Nair, Thiruvananthapuram YMCA Academy, won the Sub-junior boys and girls singles titles in the Thiruvalla YMCA-P.O. John memorial all Kerala table tennis tournament at the YMCA.  Palakkad's Muhammed Nafil and Alappuzha SDV Academy's B. Sheethal bagged the cadet boys and girls titles.
13. Yuvraj Wadhwani Lifts Asian Junior Squash Title.
He defeated Anas Ali Shah of Pakistan by 13-11, 11-5, 6-11, 12-10 in the final in Chennai.  He is the second Indian to win the Under-13 title after Veer Chotrani.  
14. Croatia's Luka Modric wins FIFA's best player of the year award.
Luka Modrić, who led Croatia to their first-ever FIFA World Cup final, won this year's The Best FIFA Men's Player award, finishing ahead of Cristiano Ronaldo and Mo Salah. On the other hand, Brazilian captain Marta won the award for FIFA Best Women's Player of the Year. The rest of the FIFA 2018 award winners are: ♦ Best Goal of the Year: Mohamed Salah (Liverpool, Egypt) ♦ Best Men's Coach: Didier Deschamps (France) ♦ Best Goalkeeper: Thibaut Courtois (Belgium, Chelsea) ♦ Best Women's Coach: Reynald Pedros (Lyon) ♦ Best Fan Award: Peru fans, who travelled to the 2018 FIFA World Cup in Russia ♦ FIFA Fair Play Award: Lennart Thy (VVV-Vento)
15. France Football launches Womens Ballon
This award is annually for men since 1956.  It is the first time it has been introduced for women. About France France officially the French Republic (French: République f is a country whose territory consists of metropolitan France in Western Europe, as well as several overseas regions and territories.[XIII]  The metropolitan area of France extends from the Mediterranean Sea to the English Channel and the North Sea, and from the Rhine to the Atlantic Ocean.
16. Sinisuka Ginting and Carolina Marin Won China Open
Indonesia's Anthony Sinisuka Ginting beat Japan's Kento Momota to take the Men's singles China Open title in Changzhou.   Spain's Carolina Marin beat China's Chen Yufei to take the women's singles title.  Ginting last beat Momota at the Asian Games in Jakarta last month.  
Showing page 2 of 3
en
https://www.examsbook.com/current-affairs-on-sports-for-competitive-exams/2
3
2
current-affairs-on-sports-for-competitive-exams