Current Affairs Question August 24
5d6298f75b14ef6bc0b04dc2
595217d8febf4b764b059d3a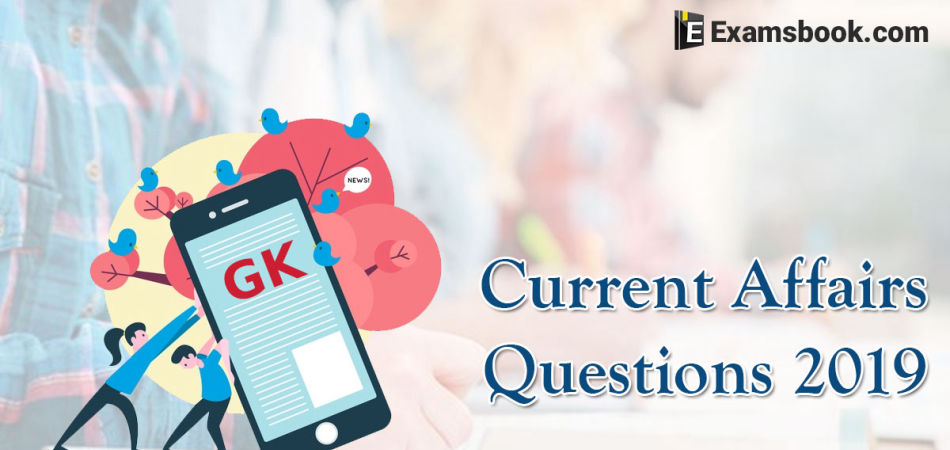 Here, I am providing Current Affairs Questions 2019 (August 24) for those learners who are preparing for competitive exams. In this post I have updated the most important questions answers around the Daily GK with latest current affairs questions and answers about many topics covered.  
I have prepared Current Affairs Questions 2019 for competitive exam blog to increase your General Knowledge level as well as increase your confidence level for competitive exams.
Current Affairs Questions August 24
Q.1 Apart from Venus, which planet rotates from east to west?
(A) Jupiter
(B) Mars
(C) Uranus
(D) Neptune

Ans .C

Q.2 Which Asian mountain is also known as the Savage Mountain due to the extreme difficulty of ascent?
(A) Kanchenjunga
(B) K2
(C) Lhotse
(D) Pamir

Ans .  B

Q.3 Name the Indian Para Swimmer who has become the first Asian swimmer to cross the Catalina Channel of America.
(A) Sharath M. Gayakwad
(B) Prasanta Karmakar
(C) Satendra Singh Lohia
(D) MurlikantPetkar

Ans .C

Q.4 When is Parsi New Year 'Navroz or JamshediNavroz' celebrated?
(A) August 19
(B) August 17
(C) August 18
(D) August 20

Ans .  B

Q.5 Name the Union Minister who met Australian delegation for the cooperation in the Disability Sector.
(A) Shri Prakash Javadekar
(B) Shri Narendra Singh Tomar
(C) Shri Thaawarchand Gehlot
(D) Shri Harsh Vardhan

Ans .C

Q.6 Who launches tree plantation drive at Rashtrapati Bhavan?
(A) Shri Nitin Gadkari
(B) Shri Venkaiyah Naidu
(C) Shri Narendra Modi
(D) Shri Ram Nath Kovind

Ans .D

Q.7 Who has been recently honoured with A.P.J. Abdul Kalam Award?
(A) Manjul Bhargav
(B) Pranav Mukherjee
(C) K. Sivan
(D) Anil Kakodkar

Ans .C

If you have any problem or doubt regarding Daily GK Current Affairs Questions for Competitive Exams, you can ask me in the comment section. To more practice for Current Affairs Questions, Visit next page.
Showing page 1 of 3
en
https://www.examsbook.com/current-affairs-question-august-24
3
1
current-affairs-question-august-24