Current Affairs Questions 2019 August 22
5d5e5ba556f28c182831d13a
595217d8febf4b764b059d3a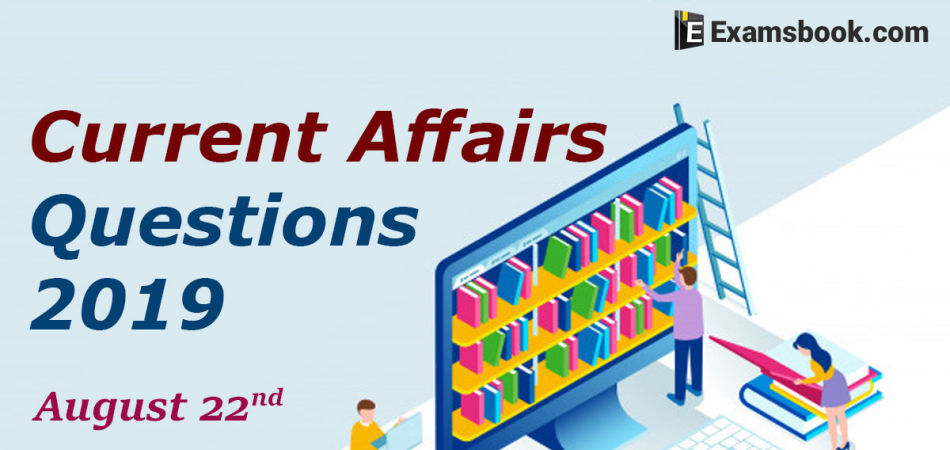 Here, I am providing Current Affairs Questions 2019 (August 22) for those learners who are preparing for competitive exams. In this post, I have updated the most important questions answers around the Daily GK with latest current affairs questions and answers about many topics covered. 
I have prepared Current Affairs Questions 2019 for competitive exam blog to increase your General Knowledge level as well as increase your confidence level for competitive exams.
As well as students can get the SSC CGL Result Tier 1 2018-19, who appear in SSC CGL Tier 1 Exam 2018.
Current Affairs Questions August 22
Q.1 India stands at ....... out of 157 nations in terms of its commitment to Reducing Inequality Index 2018.
(A) 139
(B) 142
(C) 145
(D) 147

Ans .  D

Q.2 India ranks ....... in World Bank's Human Capital Index 2018.
(A) 112
(B) 113
(C) 114
(D) 115

Ans .  D

Q.3 India's rank on Global Logistics Performance Index 2018 stands at -
(A) 42nd
(B) 43rd
(C) 44th
(D) 45th

Ans .  C

Q.4 Isarda Dam project is being implemented in the state of -
(A) Andhra Pradesh
(B) Gujarat
(C) Rajasthan
(D) Jharkhand

Ans .  C

Q.5 Which country was recently affected badly by yellow vest protests?
(A) United Kingdom
(B) France
(C) Italy
(D) Japan

Ans .  B

Q.6 Zero Defect, Zero Effect is the mantra of -
(A) Ministry of MSMEs
(B) Ministry of Textiles
(C) Ministry of Heavy Industries
(D) Ministry of Food Processing

Ans .  B

Q.7 An 'e-Drishti' interface has been unveiled for -
(A) Railway Board
(B) National Highways Authority of India
(C) Ministry of Health and Family Welfare
(D) ISRO

Ans .  A

If you have any problem or doubt regarding Daily GK Current Affairs Questions for Competitive Exams, you can ask me in the comment section. To more practice for Current Affairs Questions, Visit next page.
Showing page 1 of 3
en
https://www.examsbook.com/current-affairs-questions-2019-august-22
3
1
current-affairs-questions-2019-august-22