Current Affairs Questions 2019 July 16
5d2d8f00d6671322b60b28ac
595217d8febf4b764b059d3a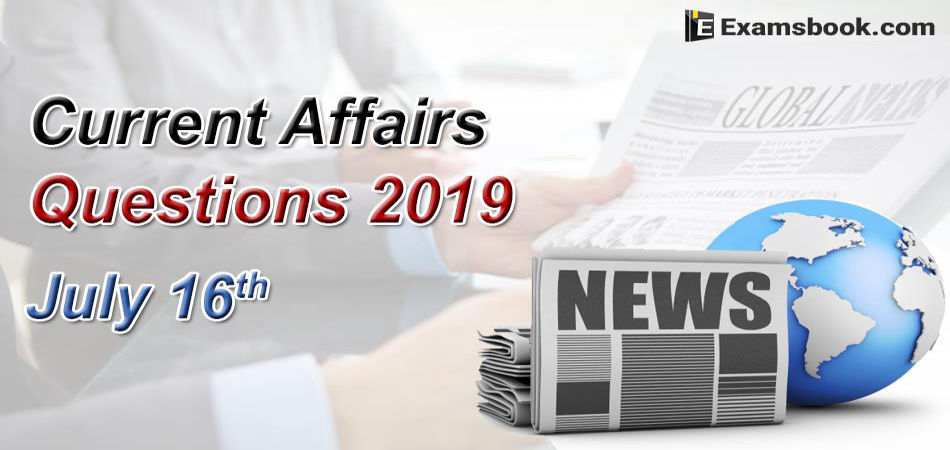 I have prepared Current Affairs Questions 2019 for competitive exam blog to increase your General Knowledge level as well as increase your confidence level for competitive exams.
Here, I am providing Current Affairs Questions 2019 (July 16) for those learners who are preparing for competitive exams. In this post, I have updated the most important questions answers around the Daily GK with latest current affairs questions and answers about many topics covered.
Current Affairs Questions 2019 July 16
Q.1 Dinesh Bhatia has been concurrently accredited as the next Ambassador of __________.
(A) Bolivia
(B) Argentina
(C) Uruguay
(D) Paraguay

Ans .  A

Q.2 Phase-II of the Direct Benefit Transfer (DBT) of Fertilizer Subsidy was launched by;
(A) Amit Shah
(B) Narendra Modi
(C) D.V. Sadananda Gowda
(D) Nirmala Sitharaman

Ans .  C

Q.3 Who brought Green revolution in India?
(A) MS Swaminathan
(B) Durgesh Patel
(C) Hiralal Chaudhari
(D) Vishal Tewari

Ans .  A

Q.4 Who was the first Indian to win an Academy Award?
(A) A.R. Rehman
(B) Bhanu Athaiya
(C) Satyajit Ray
(D) Mohammad Rafi

Ans .  B

Q.5 Who is the head of the IMF(International Monetary Fund)?
(A) Guy Ryder
(B) Christine Lagarde
(C) Juan Somavia
(D) Gita Gopinath

Ans .  B

Q.6 What is the full form of M.R.F.?
(A) Madras Rubber Factory
(B) Mexico Rubber Factory
(C) Macedonia Rubber Factory
(D) Manhattan Rubber Factory

Ans .  A

Q.7 Which is not the power of Securities and Exchange Board of India(SEBI) as per the Finance Bill 2019 presented during the Union Budget 2019?
(A) Removal of Directors & Supersession of board
(B) The alteration, Destruction, etc. of records and failure to protect the electronic database
(C) Checks and Balances on SEBI's Expenses
(D) Clarification on Electronic Communication & penalty on the broker

Ans .  A

If you have any problem or doubt regarding Daily GK Current Affairs Questions for Competitive Exams, you can ask me in the comment section. To more practice for Current Affairs Questions, Visit next page.
Showing page 1 of 3
en
https://www.examsbook.com/current-affairs-questions-2019-july-16
3
1
current-affairs-questions-2019-july-16