Current Affairs Questions April 27
5cc58671b670042139ea5038
595217d8febf4b764b059d3a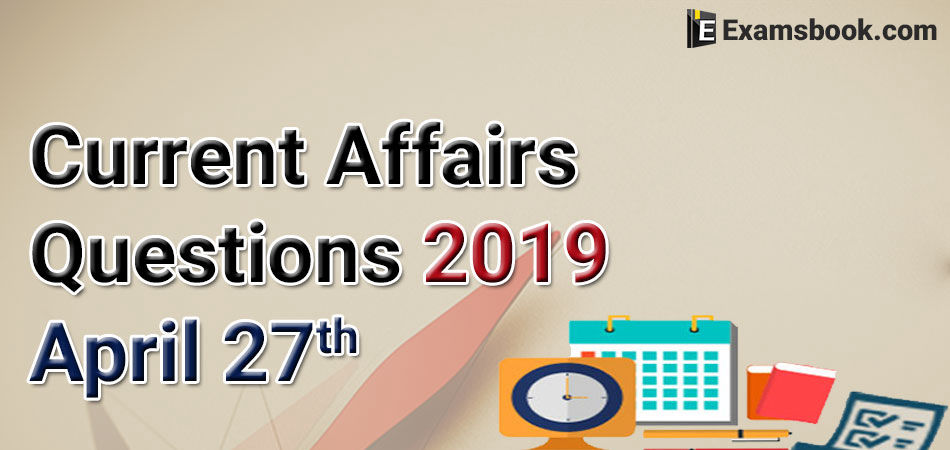 Current Affairs Questions
Q.8 Who plans to launch #VaccinesWork to emphasize on the importance of vaccines?
(A) UNICEF
(B) WHO
(C) Care International
(D) Save the Children

Ans .  A

Q.9 Name the organization which has developed a new guideline on physical activity for children under five years.
(A) UNDP
(B) WHO
(C) UNICEF
(D) FDA

Ans .  B

Q.10 Israeli Prime Minister Benjamin Netanyahu has announced to name this region after Donald Trump.
(A) Kursi Beach
(B) Mount Bnei Rasan
(C) Jan Dhan Account
(D) Golan Heights

Ans .  D

Q.11 Gomathi Marimuthu has clinched India's first Gold in the 2019 Asian Athletics Championships in Doha. She is from which state?
(A) Telangana
(B) Andra Pradesh
(C) Tamil Nadu
(D) Karnataka

Ans .  C

Q.12 Name the Bank which got RBI approval for holding up to 9.9 percent stake in Bandhan Bank.
(A) SBI
(B) Yes
(C) Axis
(D) HDFC

Ans .  D

Q.13 Who signed an MoU with Moscow School of Management, Skolkovo?
(A) Kellogg School of Management
(B) Columbia Business School
(C) Indian School of Business
(D) London Business School

Ans .  C

Q.14 Name of the nation that successfully test-fired an indigenous cruise missile on April 23, 2019?
(A) Pakistan
(B) China
(C) North Korea
(D) India

Ans .  A

If you have any problem or doubt regarding Daily GK Current Affairs Questions for Competitive Exams, you can ask me in the comment section. To more practice for Current Affairs Questions, Visit next page.
Showing page 2 of 3
en
https://www.examsbook.com/current-affairs-questions-april-27/2
3
2
current-affairs-questions-april-27