Current Affairs Questions December 05
5de8c9060c76b7071ade867e
595217d8febf4b764b059d3a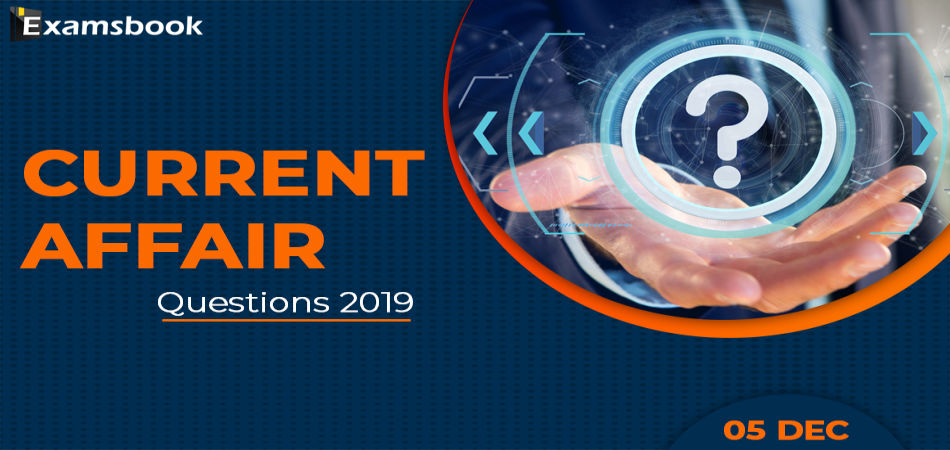 I have prepared the Current Affairs Questions for competitive exams to increase your General Knowledge level as well as increase your confidence level for competitive exams. 
Here, I am providing the Current Affairs Questions (December 05th) for those learners who are preparing for competitive exams. In this post, I have updated the most important questions answers around the Daily GK with the latest Current Affairs Questions about many topics covered.  
For more questions of Daily, GK Current Affairs visit: Current Affairs Questions
Students can easily get free general knowledge questions on this platform for online exam practice to obtain good marks in the competitive exams: Current Affairs Mock Test 2019 and Monthly Current Affair
Current Affairs Questions December 05 
Q :  

On which date did Lok Sabha pass the Taxation Laws(Amendment) Bill 2019?
(A) 3rd Dec 2019
(B) 2nd December 2019
(C) 4th December 2019
(D) 29th November 2019

Correct Answer : B


Q :  

Who launched The Bhartiya Poshan Anthem in New Delhi?
(A) Narendra Modi
(B) Rajnath Singh
(C) Amit Shah
(D) Venkaiah Naidu

Correct Answer : D


Q :  

According to Skymet, private weather monitoring company, Kharif Crop Production is to dip by ______ in 2019-20.
(A) 12%
(B) 15&
(C) 7%
(D) 18%

Correct Answer : A


Q :  

India and are to sign the Polar Science Cooperation Agreement.
(A) Japan
(B) Sweden
(C) China
(D) USA

Correct Answer : B


Q :  

Who won the 55th Jnanpith Award-2019?
(A) A P Gaur
(B) Vikram Seth
(C) Piyush Govind
(D) Akkitham Achuthan Namboothiri

Correct Answer : D


Q :  

First India-________ and 2+2 Foreign and Defence Ministerial Meeting held in New Delhi.
(A) China
(B) Sri Lanka
(C) Japan
(D) Pakistan

Correct Answer : C


Q :  

Who among the following inaugurated the Pension Week Campaign?
(A) Santosh Gangwar
(B) Rajnath Singh
(C) Amit Shah
(D) Venkaiah Naidu

Correct Answer : A


Showing page 1 of 3
en
https://www.examsbook.com/current-affairs-questions-december-05
3
1
current-affairs-questions-december-05