Current Affairs Questions January 10
5e183f184052ea54bf0a9235
595217d8febf4b764b059d3a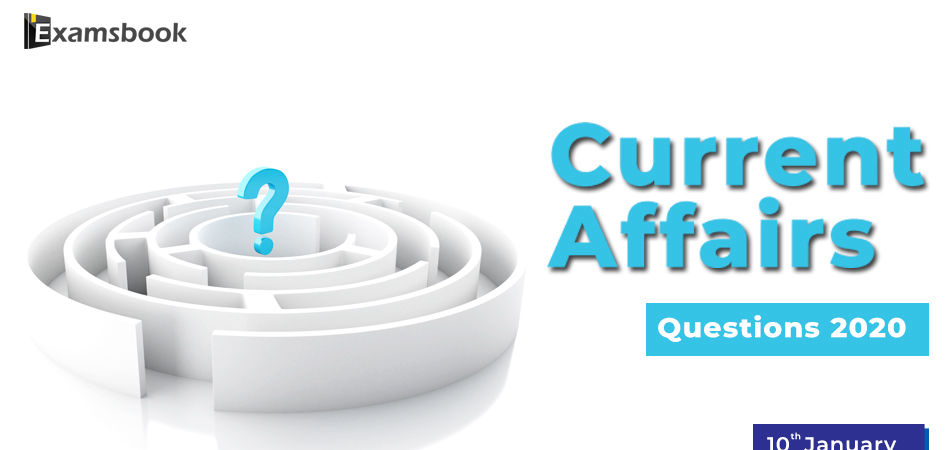 Here, I am providing the Current Affairs Questions (January 10th) for those learners who are preparing for competitive exams. In this post, I have updated the most important questions, answers around the Daily GK with the latest Current Affairs Questions about many topics covered.    
I have prepared the Current Affairs Questions to increase your General Knowledge level as well as increase your confidence level for competitive exams. 
To get previous day questions about current affairs to click on GK Current Affairs.   
Practice here with more mock tests and practice tests from this best website of GKwebsites for competitive exams. Free Practice Test. 
Current Affairs Questions January 10     
Q :  

Who won Croatia's presidential election?
(A) Kolinda Grabar-Kitarovic
(B) Andrej Plenkovic
(C) Miroslav Skoro
(D) Zoran Milanovic

Correct Answer : D


Q :  

Which NASA satellite has discovered an Earth-sized world within the habitable range of its star?
(A) TESS
(B) AQUA
(C) CALIPSO
(D) JUNO

Correct Answer : A


Q :  

According to NSO, what is India's estimated GDP growth rate for 2019-20?
(A) 4.5%
(B) 5%
(C) 5.5%
(D) 6%

Correct Answer : B


Q :  

The first edition of Khelo India University Gamesis to be held in which state?
(A) Gujarat
(B) Maharashtra
(C) Odisha
(D) Kerala

Correct Answer : C


Q :  

How much amount has been approved by Punjab for the rejuvenation of Budah Nallah?
(A) Rs.650 crores
(B) Rs.1000 crores
(C) Rs.850 crores
(D) Rs.1200 crores

Correct Answer : A


Q :  

Who has been appointed as the new chairman of APEC?
(A) Ramesh Krishnamurthy
(B) Sanjiv Agarwal
(C) A Sakthivel
(D) Ashok Dwivedi

Correct Answer : C


Q :  

2nd National GST Conference was held in which city?
(A) Kolkata
(B) Gurugram
(C) New Delhi
(D) Lucknow

Correct Answer : C


Showing page 1 of 3
en
https://www.examsbook.com/current-affairs-questions-january-10
3
1
current-affairs-questions-january-10