Current Affairs Questions January 19
5e2447dd6c10bc5b8b06c8d2
595217d8febf4b764b059d3a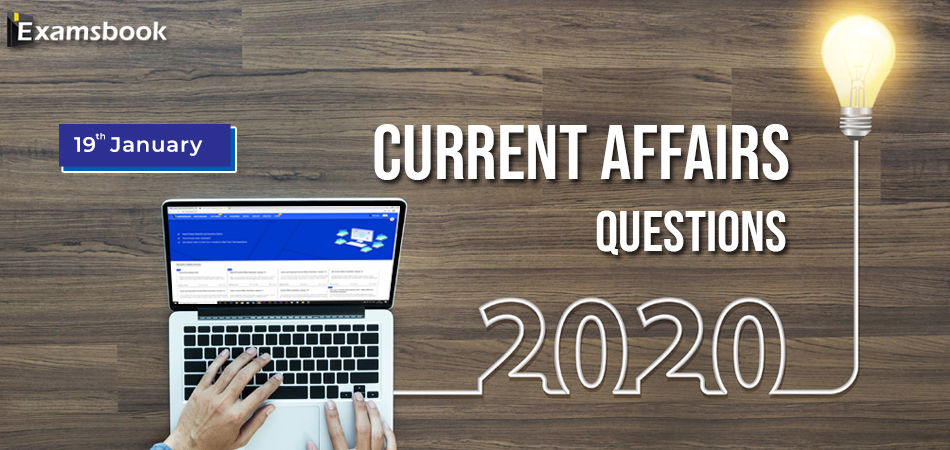 I have prepared the Current Affairs Questions to increase your General Knowledge level as well as increase your confidence level for competitive exams. 
Here, I am providing the Current Affairs Questions (January 19th) for those learners who are preparing for competitive exams. In this post, I have updated the most important questions, answers around the Daily GK with the latest Current Affairs Questions about many topics covered.    
To get previous day questions about current affairs to click on GK Current Affairs.   
Students can easily get free general knowledge questions on this platform for online exam practice to obtain good marks in the competitive exams. Current Affairs Mock Test 2019 and Monthly Current Affair 
Current Affairs Questions January 19       
Q :  

Who has been appointed as the Director-General of CRPF?
(A) Manish Shanker Sharma
(B) Sanjukta Parashar
(C) AP Maheshwari
(D) Shivdeep Lande

Correct Answer : C


Q :  

How much amount has been approved by Punjab for the rejuvenation of Budah Nallah?
(A) Rs.650 crores
(B) Rs.1000 crores
(C) Rs.850 crores
(D) Rs.1200 crores

Correct Answer : A


Q :  

What is India's rank in the Travel & Tourism Competitiveness Index (TTCI) of the World Economic Forum for the year 2019?
(A) 26
(B) 34
(C) 47
(D) 53

Correct Answer : B


Q :  

Which of the following will observe 2020 as 'year of mobility' for troops' welfare, housing?
(A) CRPF
(B) BSF
(C) CISF
(D) SSB

Correct Answer : C


Q :  

Name the Indian organization which has collaborated with Ministry of Health to conduct largest pan-India oral health survey, recently.
(A) Tata memorial
(B) Sanjeevan Hospitalw
(C) Apollo Hospitals
(D) AIIMS

Correct Answer : D


Q :  

Which edition of the Indian Science Congress was recently inaugurated in Bengaluru?
(A) 90th
(B) 107th
(C) 116th
(D) 129th

Correct Answer : B


Q :  

Which network launched to promote environmental and ecological research in India?
(A) ReSO
(B) EChO
(C) eNVo
(D) CarB

Correct Answer : B


Showing page 1 of 3
en
https://www.examsbook.com/current-affairs-questions-january-19
3
1
current-affairs-questions-january-19