Current Affairs Questions November 11
5dc92537f7c0852c44746c70
595217d8febf4b764b059d3a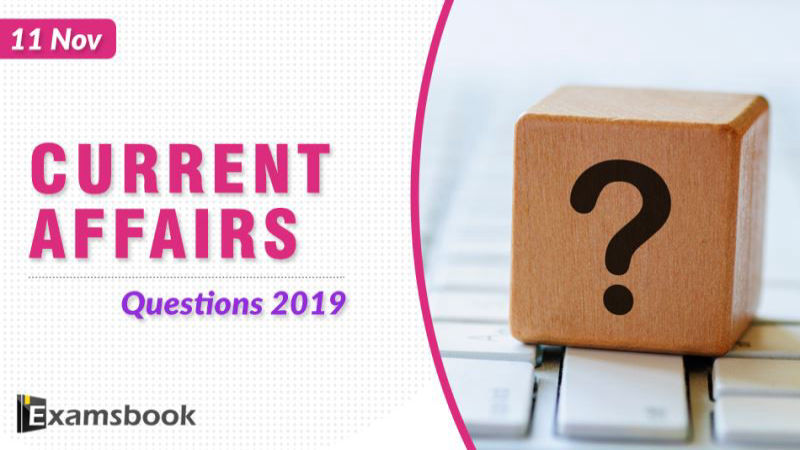 Here, I am providing Current Affairs Questions 2019 (November 11) for those learners who are preparing for competitive exams. In this post, I have updated the most important questions answers around the Daily GK with the latest current affairs questions and answers about many topics covered.  
I have prepared  Current Affairs Questions 2019 for a competitive exam blog to increase your General Knowledge level as well as increase your confidence level for competitive exams. 
Current Affairs Questions November 11   
Q :  

Which country was referred to as 'Not Free' status in the Freedom on the Net-2019?
(A) China
(B) India
(C) Vietnam
(D) Iceland

Correct Answer : A


Q :  

Regional level Search and Rescue Workshop and Exercise-2019 is concerned with which force?
(A) Coast Guard
(B) Indian Army
(C) Indian Airforce
(D) Delhi Police Department

Correct Answer : A


Q :  

Which country is the venue of the 19th IORA Council of Ministers Meeting?
(A) Sudan
(B) Peru
(C) Russia
(D) UAE

Correct Answer : D


Q :  

National Cancer Awareness Day is observed on which date ?
(A) November 7
(B) November 6
(C) November 8
(D) November 10

Correct Answer : A


Q :  

Who has won the Raja Ram Mohan Roy at the National Awards For Excellence in Journalism?
(A) Ghulab Kothari
(B) Rajesh Attri
(C) Shiv Sinha
(D) Arunima Singh

Correct Answer : A


Q :  

Name the person, who got the red carpet treatment at Japan's Imperial Palace where he made history, becoming the first world leader to meet with the new emperor of Japan Naruhito?
(A) Angela Merkel
(B) Dmitry Medvedev
(C) Vladimir Putin
(D) Donald Trump

Correct Answer : D


Q :  

Which of the following country has won the badminton world mixed-team championship, Sudirman Cup 2019?
(A) Russia
(B) China
(C) Japan
(D) India

Correct Answer : B


Showing page 1 of 4
en
https://www.examsbook.com/current-affairs-questions-november-11
4
1
current-affairs-questions-november-11