Current Affaris Questions June 03
5cf4c8e97374762a1ad280ad
595217d8febf4b764b059d3a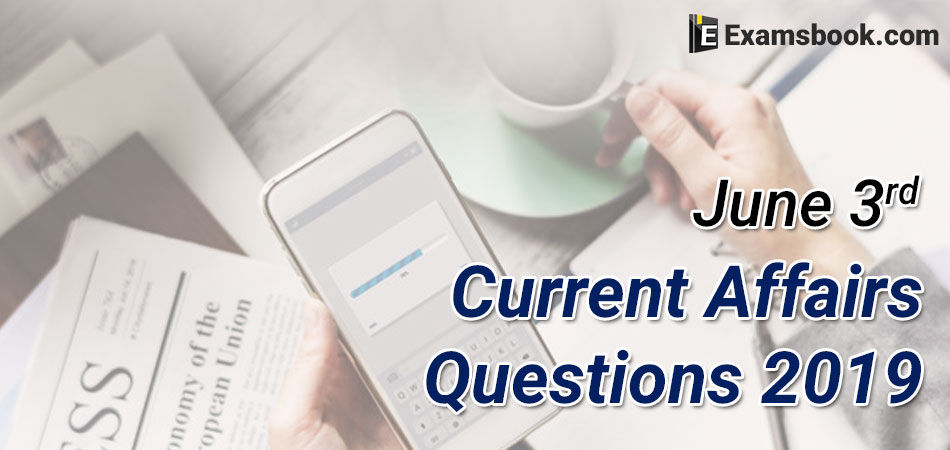 Current Affairs Questions and Answers
Q.8 What is the theme of 2019 International Day of United Nations Peacekeepers?
(A) Honoring our Heroes
(B) Investing in Peace around the world
(C) Protecting Civilians, Protecting Peace
(D) 70 Years of Service and Sacrifice

Ans .  C

Q.9 Who among the following become the next Navy Chief?
(A) Karambir Singh
(B) Harish Bisht
(C) G. Ashok Kumar
(D) Girish Luthra

Ans .  A

Q.10 RBI sets up a committee on corporate loans to increase the efficiencies of the debt market. It consists of how many members?
(A) 6
(B) 8
(C) 7
(D) 12

Ans .  A

Q.11 When did International Everest Day celebrate?
(A) 31st May
(B) 30th May
(C) 29th May
(D) 28th May

Ans .  C

Q.12 The National Small Industries Corporation Limited has signed a pact with this ministry to provide enhanced services for 2019-2020 to provide enhanced services.
(A) Ministry of Micro, Small and Medium Enterprises
(B) Ministry of Corporate Affairs
(C) Ministry of Minority Affairs
(D) Ministry of Skill Development and Entrepreneurship

Ans .  A

Q.13 Name the American basketball player who launched a new book titled 'Darkness to light'.
(A) Kareem Abdul-Jabbar
(B) Magic Johnson
(C) Lamar Odom
(D) Draymond Green

Ans .  C

Q.14 __________ launched Integrated Database on Infrastructure Projects.
(A) IIT Bengaluru
(B) IIT Mumbai
(C) IIT Kanpur
(D) IIT Madras

Ans .  D

If you have any problem or doubt regarding Daily GK Current Affairs Questions for Competitive Exams, you can ask me in the comment section. To more practice for Current Affairs Questions, Visit next page.
Showing page 2 of 3
en
https://www.examsbook.com/current-affaris-questions-june-03/2
3
2
current-affaris-questions-june-03