Daily Current Affairs Questions June 25
5d11b4dbc579304e75982988
595217d8febf4b764b059d3a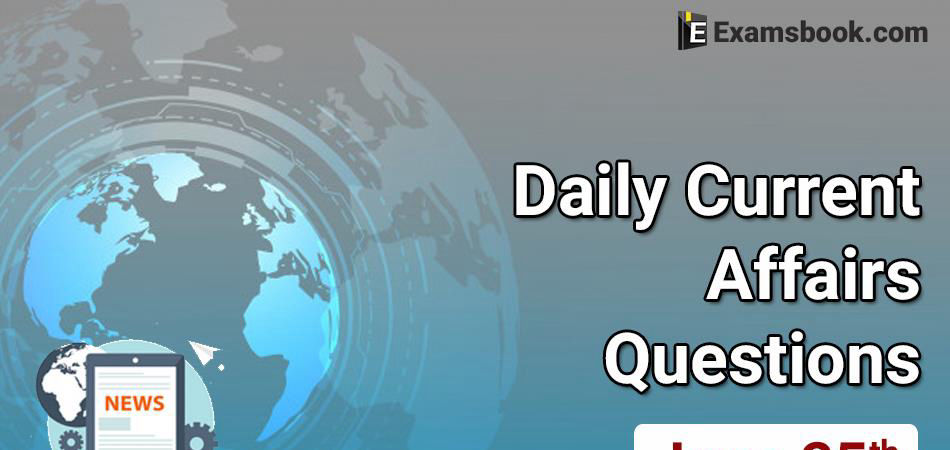 Current Affairs Questions and Answers
Q.8 Where was the Folksam Grand Prix 2019 held?
(A) Sollentuna, Sweden
(B) Karlstad, Sweden
(C) Gothenburg, Sweden
(D) Stockholm, Sweden

Ans .  A

Q.9 Name the world famous handcrafted footwear, which gets a Geographic Indication (GI) tag from the Controller General of Patents, Designs and Trade Mark.
(A) Kolhapuri
(B) Dharwad
(C) Solapur
(D) Satari

Ans .  A

Q.10 Who became the second Indian bowler to take a hat-trick in ICC one-day international cricket world cup?
(A) Jasprit Bumrah
(B) Mohammad Shami
(C) Ravinder Jadeja
(D) Yajuvendra Chahal

Ans .  B

Q.11 When was the central bank of India, the RBI got nationalized?
(A) 1st Jan 1949
(B) 28th Aug 1947
(C) 1st Jan 1947
(D) 28th Aug 1947

Ans .  A

Q.12 Which of the following countries have the most Internally displaced persons as per the United Nations High Commissioner for Refugees(UNHCR)'s annual report titled "Global Trends"?
(A) Iraq and Ukraine
(B) Syria and Colombia
(C) Libya and Israel
(D) Venezuela and Turkey

Ans .  B

Q.13 International Olympic Committee(IOC) has provisionally lifted the ban from this country regarding hosting international sports events?
(A) India
(B) Pakistan
(C) Srilanka
(D) Bangladesh

Ans .  A

Q.14 Which country in the world hosted World Environment Day 2019?
(A) France
(B) United States
(C) China
(D) India

Ans .  C

If you have any problem or doubt regarding Daily GK Current Affairs Questions for Competitive Exams, you can ask me in the comment section. To more practice for Current Affairs Questions, Visit next page.
Showing page 2 of 3
en
https://www.examsbook.com/daily-current-affairs-questions-2019-june-25/2
3
2
daily-current-affairs-questions-2019-june-25