Current Affairs Questions June 30
5d18ce6b9d9f301d81e146ea
595217d8febf4b764b059d3a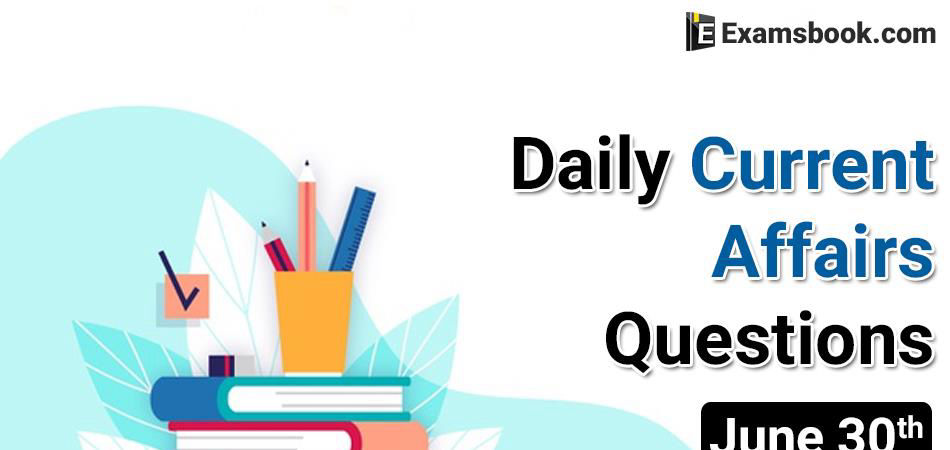 Current Affairs Questions and Answers
Q.8 Which company will create an independent Institute for Ethics in Artificial intelligence (AI) with an investment of $7.5 million?
(A) Microsoft
(B) Google
(C) Facebook
(D) Netflix

Ans .  C

Q.9 SitanshuYashashchandra has been awarded SaraswatiSamman, 2017, for his poetry collection "Vakhar". He belongs to the state of;
(A) Odisha
(B) Gujarat
(C) Assam
(D) Maharashtra

Ans .  B

Q.10 The government has constituted a high power committee to monitor the pricing of medicines and healthcare products. It will be headed by;
(A) NITI Aayog
(B) Ministry of Human Resource Development
(C) Ministry of Home Affairs
(D) Ministry of Health and Family Welfare

Ans .  A

Q.11 Who has become the first woman IPS DIG and Indo-Tibetan Border Police (ITBP) officer to successfully complete the South Pole expedition?
(A) Susheela Das
(B) Aniksha Gupta
(C) Aparna Kumar
(D) Roopali Seth

Ans .  C

Q.12 Who conferred the Pradhan Mantri Rashtriya Bal Puraskar 2019.
(A) Shri Venkaiah Naidu
(B) Shri Narendra Modi
(C) Shri Ram Nath Kovind
(D) Shri Arun Jaitley

Ans .  C

Q.13 India ranks __________ in the global talent competitive index.
(A) 80
(B) 72
(C) 65
(D) 44

Ans .  A

Q.14 World's oldest man who died due to natural causes in Japan at the age of 113.
(A) Jiroemon Kimura
(B) Nami Nagamatzu
(C) HizuiSherza
(D) Masazo Nonaka

Ans .  D

If you have any problem or doubt regarding Daily GK Current Affairs Questions for Competitive Exams, you can ask me in the comment section. To more practice for Current Affairs Questions, Visit next page.
Showing page 2 of 3
en
https://www.examsbook.com/daily-current-affairs-questions-june-30/2
3
2
daily-current-affairs-questions-june-30