Daily GK Current Affairs 2019-March 26
5c99abeb6b568049cd7cfaec
595217d8febf4b764b059d3a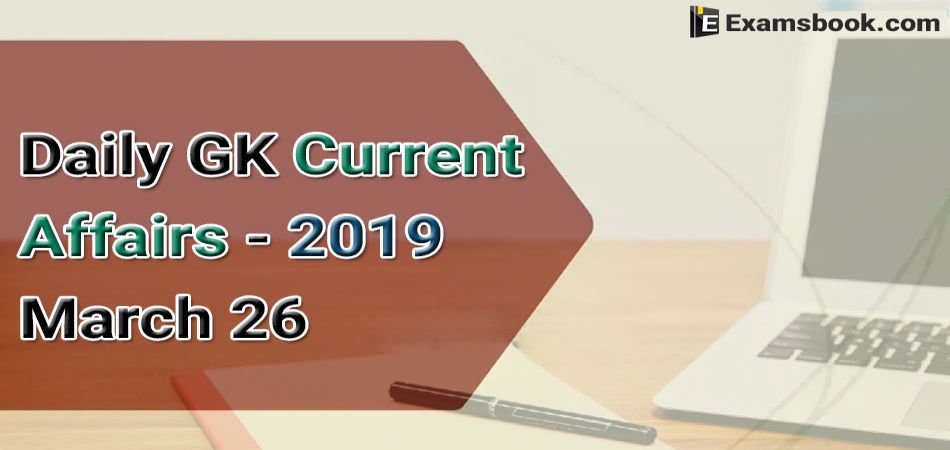 Current Affairs
Q.7 Kassym-Jomart Tokayev was sworn in as president of which country?
(A) Kazakhstan
(B) Mongolia
(C) Belarus
(D) Georgia

Ans .  A

Q.8 Which country bans Assault Weapons recently?
(A) New Zealand
(B) Russia
(C) South Africa
(D) Canada

Ans .  A

Q.9 Vodafone Idea has approved ₹25,000 crore rights issue at how much percentage of discount?
(A) 60%
(B) 42%
(C) 55%
(D) 65%

Ans .  A

Q.10 Organisers of the Tokyo 2020 Olympics unveiled which shaped torch for the 2020 Olympics?
(A) Trumpet-Shaped
(B) Cherry-Blossom
(C) Stellate-Shaped
(D) Cruciform-Shaped

Ans .  B

Q.11 Which state government plans to introduce caravans in major spots to boost tourism?
(A) Himachala Pradesh
(B) Tamil Nadu
(C) Kerala
(D) Uttarakhand

Ans .  D

Q.12 This IPL team donates IPL opener proceeds to families of Pulwama attack.
(A) CSK
(B) RCB
(C) Delhi Capitals
(D) Kolkata Knight Riders

Ans .  A

If you have any problem or doubt regarding Daily GK Current Affairs Questions for Competitive Exams, you can ask me in the comment section. To more practice for Current Affairs Questions, Visit next page.
Showing page 2 of 7
en
https://www.examsbook.com/daily-gk-current-affairs-2019-march-26/2
7
2
daily-gk-current-affairs-2019-march-26