Current Affairs Question July 14
5d2c2fe340a93b3eb992dc41
595217d8febf4b764b059d3a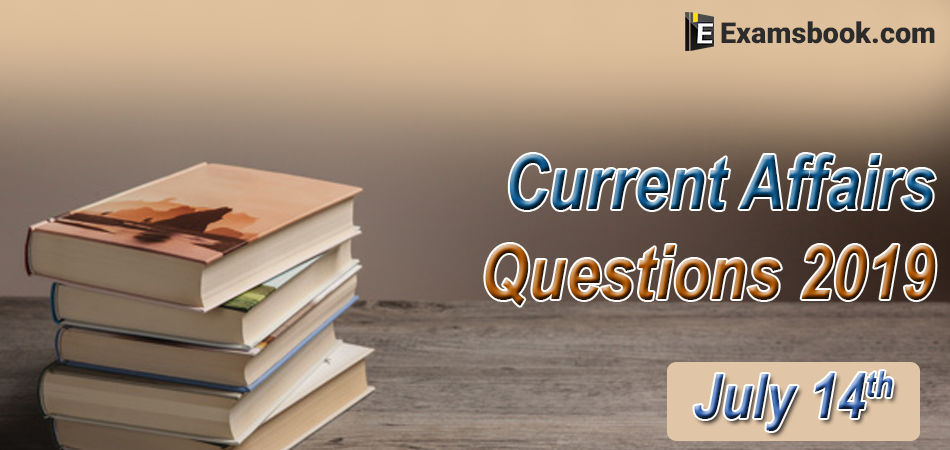 I have prepared GK Current Affairs Questions 2019 for competitive exam blog to increase your General Knowledge level as well as increase your confidence level for competitive exams.
Here, I am providing GK Current Affairs Questions 2019 (July 14) for those learners who are preparing for competitive exams. In this post I have updated the most important questions answers around the Daily GK with latest current affairs questions and answers about many topics covered. 
Current Affairs Questions 2019 July 14
Q.1 What is the full name of a airline company 'IndiGo'?
(A) IndianGiobe Aviation Limited
(B) International & Global Aviation Limited
(C) lnterGiobe Aviation Limited
(D) IndianGlobal Aviation Limited

Ans .  D

Q.2 Who is the CEO of Byju's?
(A) Byju Raveendran
(B) Byju Chandran
(C) Byju Bhatia
(D) Byju Ramalingam

Ans .  A

Q.3 Which of the following plant to be turned into solar park?
(A) Pragati Thermal Power Plant
(B) Rajghat Thermal Power Plant
(C) Indraprashtha Power Generation Company Limited
(D) Badarpur Thermal Power Station

Ans .  B

Q.4 Who launches UDIN to improve corporate governance?
(A) ESIC
(B) BHEL
(C) ICSI
(D) NTPC

Ans .  D

Q.5 Which among the following is not an Indian Credit rating agency?
(A) ICRA
(B) CARE
(C) CRISIL
(D) Fitch

Ans .  D

Q.6 Who is the aviation minister of India?
(A) Hardeep Singh Puri
(B) Ashok Gajapathi Raju
(C) Suresh Prabhu
(D) Ajitsingh

Ans .  A

Q.7 Which Indian city will host women Startup Summit on August 1, 2019?
(A) Pune
(B) New Delhi
(C) Kochi
(D) Hyderabad

Ans .  D

If you have any problem or doubt regarding Daily GK Current Affairs Questions for Competitive Exams, you can ask me in the comment section. To more practice for Current Affairs Questions, Visit next page.
Showing page 1 of 3
en
https://www.examsbook.com/daily-gk-current-affairs-question-july-14
3
1
daily-gk-current-affairs-question-july-14