Daily GK Current Affairs Questions May 30
5cef73a5c97a225730e3ae56
595217d8febf4b764b059d3a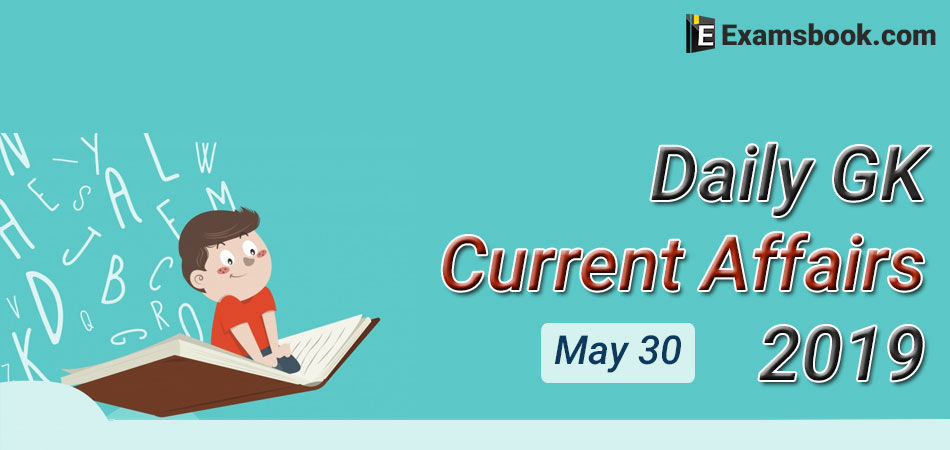 Daily GK always help to improve your knowledge and keeps update to yourself. There are losts of sources from which you can get daily gk current affairs questions on daily basis. So, here I am providing Daily GK Current Affairs Questions (May 30) for those learners who are preparing for competitive exams. In this post, I have updated the most important questions answers around the Daily GK with latest current affairs questions and answers about many topics covered.
 These Current Affairs Questions will help you to increase your General Knowledge level as well as increase your confidence level for competitive exams.
Daily GK Current Affairs Questions May 30
Q.1 Which country has manufactured IAF's AN-32 aircraft that formally certified to operate on indigenous bio-jet fuel?
(A) Japan
(B) China
(C) Russia
(D) United States

Ans .  C

Q.2 Adani Ports & Special Economic Zone signed an agreement to develop and operate a container terminal in which country?
(A) Myanmar
(B) Nepal
(C) SriLanka
(D) Bangladesh

Ans .  A

Q.3 Where was the Border Personnel Meet(BPM) of Indian and Chinese army held?
(A) Ladakh
(B) New Delhi
(C) Mumbai
(D) Kolkata

Ans .  A

Q.4 Which of the following Russian-made aircraft of Indian Air Force (IAF) has formally certified to operate on indigenous Bio-Jet fuel?
(A) AN-31
(B) AN-33
(C) AN-32
(D) AN-35

Ans .  C

Q.5 Name the Indian compound team, that won the Archery World Cup Stage 3 2019.
(A) Sumangala Sharma, Dhulchand Damor and Limba Ram
(B) Mangal Singh Champia, Dola Banerjee and Satyadev Prasad
(C) Abhishek Verma, Rajat Chauhan, and Aman Saini
(D) Rahul Banerjee, Tarundeep Rai, and Jayanta Talukdar

Ans .  C

Q.6 Recently, who among the following was appointed as one of the judges of Supreme Court?
(A) Justice Sanjay Kumar Seth
(B) Justice Ramalingam Sudhakar
(C) Justice Vijaya Tahilramani
(D) Justice A S Bopanna

Ans .  D

Q.7 Which Industrial equipment supplier has collaborated with the Satish Dhawan Space Centre to manufacture India's largest liquid hydrogen storage tank?
(A) Reliance Industries Limited
(B) Hindusthan Unilever Limited
(C) Nittan India Tech Private Limited
(D) VRV Asia Pacific Private Limited

Ans .  D

If you have any problem or doubt regarding Daily GK Current Affairs Questions for Competitive Exams, you can ask me in the comment section. To more practice for Current Affairs Questions, Visit next page.
Showing page 1 of 3
en
https://www.examsbook.com/daily-gk-current-affairs-questions-may-30/1
3
1
daily-gk-current-affairs-questions-may-30