Daily GK Questions 2018 with Answers
5b2205da9867ef8ff86fb629
595217d8febf4b764b059d3a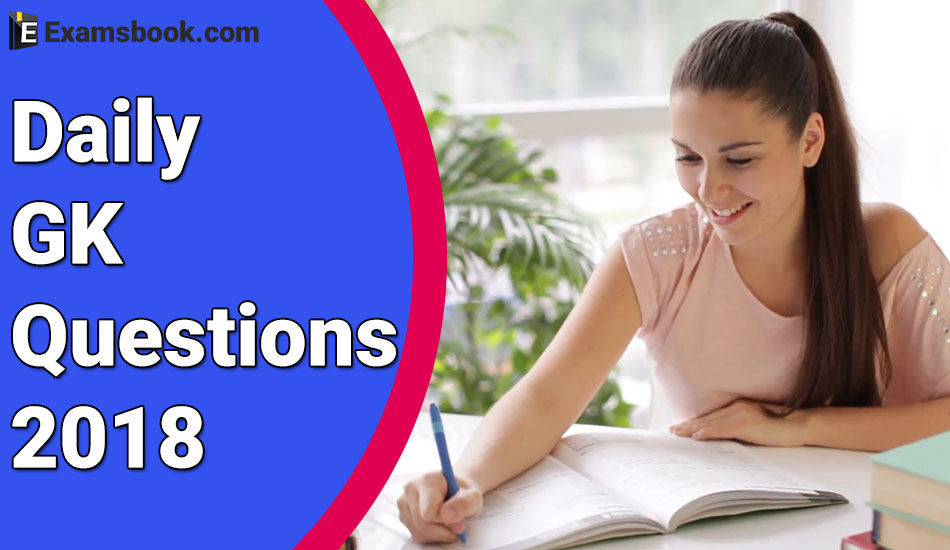 Daily GK Questions 2018 for the Competitive Exams are available here. Aspirants who are in search of the daily GK questions can fetch the details here. We have updated the top 40, daily gk questions for the examination aspirants. Also, practice the Basic General Knowledge daily to get the complete grip on General Knowledge.
Daily GK Questions 2018
Q.1 Name the suitable material for purify the water?
(A) Zeolites
(B) Hydrogen
(C) oxygen
(D) sulphur

Ans .  A

Q.2 Who wrote the 'Man in the Iron Mask'?
(A) Alexander Dumas
(B) Lawrence Gill
(C) Robert Hill
(D) Reyan 

Ans .  A

Q.3 Who discovered the radium?
(A)The Curies
(B) Lawrence Gill
(C) Robert Hill
(D) Reyan 

Ans .  A

Q.4 What was the world's first high level programming language in 1957?
(A) IBM FORTRAN
(B) CON
(C) Del
(D) Indic

Ans .  A

Q.5 What weapon was invented by Ernest Swinton which used in 1916?
(A) Tank
(B) Gun
(C) Machine Gun
(D) Pistol

Ans .  A

Q.6 King Zog ruled which of the country?
(A) Albania
(B) Australia
(C) India
(D) China

Ans .  A

Q.7 What is the staple food of one third of the worlds total population?
(A) Rice
(B) Wheat
(C) Pulses
(D) Vegetables

Ans .  A

Q.8 Who was the first man into space?
(A) Yuri Gagarin
(B) Lawrence Gill
(C) Robert Hill
(D) Reyan 

Ans .  A

Showing page 1 of 16
en
https://www.examsbook.com/daily-gk-questions-2018
16
1
daily-gk-questions-2018