GK Current Affairs Questions 2019 July 01
5d1b1d088a754124194a758d
595217d8febf4b764b059d3a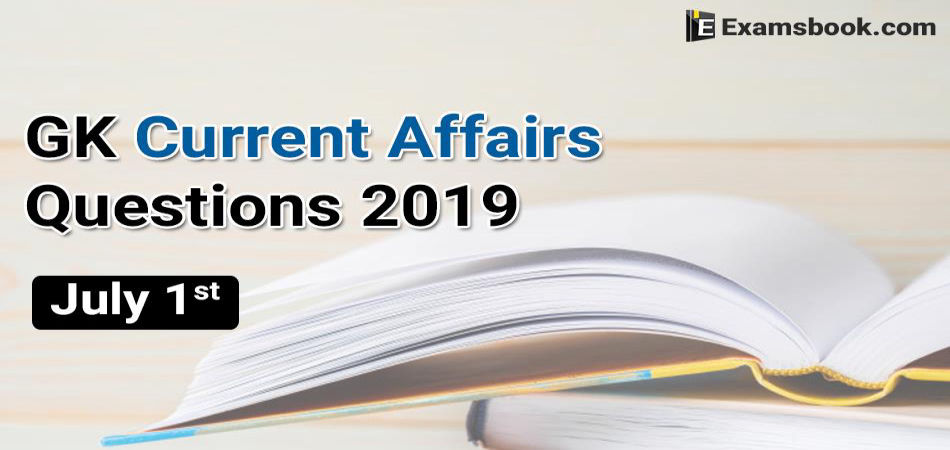 Here, I am providing GK Current Affairs Questions 2019 (July 01) for those learners who are preparing for competitive exams. In this post, I have updated the most important questions answers around the Daily GK with latest current affairs questions and answers about many topics covered.
I have prepared GK Current Affairs Questions 2019 for competitive exam blog to increase your General Knowledge level as well as increase your confidence level for competitive exams.
GK Current Affairs Questions July 01
Q.1 Name the CM who announced annual financial assistance of Rs 5 lakh to "loktantra senanis" of the state?
(A) Arvind Kejriwal
(B) Manohar Lal Khattar
(C) Y. S. Jaganmohan Reddy
(D) Devendra Fadnavis

Ans .  B

Q.2 An Eminent Social Activist, Jharna Dhara Chowdhury passed away recently. She belongs to the country of;
(A) Sri Lanka
(B) India
(C) Bangladesh
(D) Nepal

Ans .  C

Q.3 ICC and __________ partners to deliver 'One Day for Children' at Men's Cricket World Cup 2019.
(A) UNESCO
(B) UNICEF
(C) Save the Children
(D) World Vision International

Ans .  B

Q.4 Which Indian state has highest stunted children under 5 years of age as per the report on Food & Nutrition Security (FNS)?
(A) Jharkhand
(B) Uttar Pradesh
(C) Bihar
(D) Meghalaya

Ans .  C

Q.5 India signs USD __________ loan agreement with World Bank to help treat and eliminate Tuberculosis from the country.
(A) 400M
(B) 350M
(C) 410M
(D) 500M

Ans .  A

Q.6 From when will be 'One Nation One Ration Card' scheme, available across the country?
(A) 30th June
(B) 1st July
(C) 2nd July
(D) 5th July

Ans .  B

Q.7 What is the currency of Switzerland?
(A) Euro
(B) Sterling
(C) Swiss franc
(D) Yen

Ans .  C

If you have any problem or doubt regarding Daily GK Current Affairs Questions for Competitive Exams, you can ask me in the comment section. To more practice for Current Affairs Questions, Visit next page.
Showing page 1 of 3
en
https://www.examsbook.com/gk-current-affairs-questions-2019-july-01
3
1
gk-current-affairs-questions-2019-july-01