GK Current Questions for Competitive Exams
5ba0efe4e4c9f1076ae7fe10
595217d8febf4b764b059d3a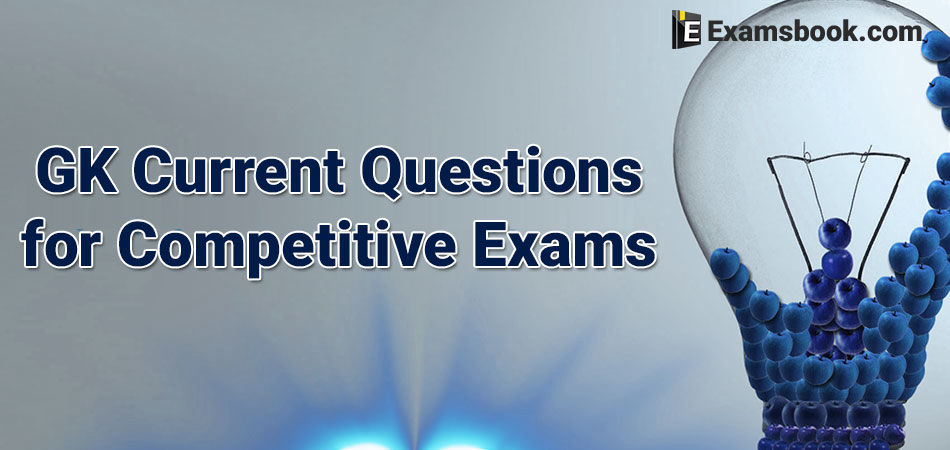 General Knowledge plays an important role while preparing for any competitive examinations like UPSC, State Services, SSC, and the banking (IBPS & SBI) which is on way too fast-evolving and moving around three-term speed, accuracy, and confidentiality. 
Here, we are giving GK Current Questions for All Competitive Exams" that consists of questions on current affairs.
GK Current Questions for Competitive Exams
Q.1 Who has appointed as 46th Chief Justice of India recently?
(A) Rajan Sharma
(B) Dipak Sharma
(C) Ranjan Gogoi
(D) Pranika Sharma

Ans .  C

Q.2 Which Sector Awarded as contribution to National Economy?
(A) Primary Steel Sector
(B) Secondary Steel Sector
(C) Union Sector
(D) Territory Sector

Ans .  B

Q.3 Which ministry launches National Scholarship Portal Mobile App?
(A) Union Minister for Minority Affairs
(B) Ministry of internal Affairs
(C) Ministry of finance
(D) Education Ministry

Ans .  A

Q.4 Which hockey Player announced retirement from international hockey?
(A) Harendra Singh
(B) Sardar Singh
(C) Dhyan Chand
(D) Manpreet Singh

Ans .  B

Q.5 Cabinet approves continuation of Which Scheme for the period 2017-18 to 2019-20?
(A) Improvement Scheme
(B) Capacity Development Scheme
(C) National Scheme for welfare
(D) Education Scheme

Ans .  B

Q.6 National Hindi Day is observed on which Date?
(A) 12 September
(B) 13 September
(C) 14 September
(D) 15 September

Ans .  C

Q.7 Union Minister of Health and Family Welfare, flags off the Battery Operated Bus services at AIIMS in Which City?
(A) Mumbai
(B) New Delhi
(C) Goa
(D) Ludhiana

Ans .  B

Q.8 Vice President embarks on three-nation visit to Serbia, Malta and Romania. Which is the aim of his Visit?
(A) Economy
(B) Environment
(C) Trade and culture
(D) All of these

Ans .  D

Q.9 Who is the Chairman of Rajya Sabha ?
(A) Narendra Modi
(B) M.Venkaiah Naidu
(C) Sushma Swaraj
(D) Arun Sharma

Ans .  B

Q.10 Justice Ranjan Gogoi appointed as ______Chief Justice of India?
(A) 44th
(B) 45th
(C) 46th
(D) 47th

Ans .  C

If you have any problem or doubt regarding GK Current Questions for Competitive Exams, you can ask me in the comment section. To more practice for Current Affairs Questions, Visit next page.
Showing page 1 of 5
en
https://www.examsbook.com/gk-current-questions-for-competitive-exams
5
1
gk-current-questions-for-competitive-exams