How to Crack SSC CGL in First Attempt - Must Read!
5b692e31971cb4a107062fb0
5a867731a9d1f08c66dbc8d8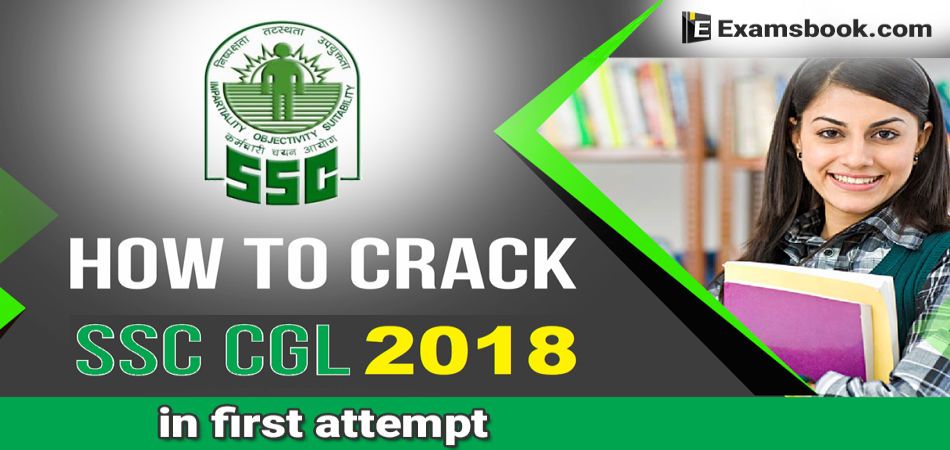 Don't you want to crack SSC CGL exam in first attempt? Let's discuss step by step in this blog how to crack SSC CGL in first attempt this year.
Staff Selection Commission Combined Graduate Level Examination is one of the most popular tests conducted in the government examination sector in India. The dates of the 2018 Tier I examination are yet to be announced by the Commission and most of you are on the last leg of your preparation. 
Many of you are first timers in this examination and you must be apprehensive of the fact that it is very difficult to clear this examination in the first attempt itself. While it is not impossible to crack SSC CGL in the very first attempt, it certainly requires proper planning and more importantly, the execution of such planning with a determined enthusiasm. 
If you want to crack SSC CGL 2018, should know how to crack SSC CGL in one month day by day process to follow for sure shot success this year
In this article, we shall try to find out how to crack SSC CGL in first attempt.
Sure shot guide to success for how to crack SSC CGL in first attempt:
SSC CGL is an examination that tests your ability to apply your knowledge and also to stick to your planning for the examination. However, it is not rocket science to clear this examination but it is proper strategy and planning that can lead you to success. 
If SSC CGL 2018 selection is your aim, you can achieve your aim with yearly study plan for SSC CGL 2018 to follow for your sure shot success.
Must read tips to follow to crack SSC CGL Exam 2018:
Here I am sharing important tips to crack SSC CGL exam in your first attempt. So simply read and note down these tips to follow for success.
Start very early for the examination: 

If you are serious about cracking the examination in the first attempt, you have to start at least one year in advance. First you have to study the exam pattern and after that only you can embark on your journey. Keep sufficient time in your hand so that you never have to hurry for anything.
Study about the exam pattern: 
It is all about understanding what to study and how to study. If you are proficient about the pattern and difficulty level of the examination, it becomes easier to face the challenge. 
Study the Previous Year Papers: 
SSC CGL examination sees repetition from previous year papers and also such papers are very useful in understanding the difficulty level of the examination. Hence, start with analyzing these papers. 
Finish the syllabus diligently: 

At the beginning of your preparation, you should focus on finishing the syllabus first. Take your time and finish all the chapters. In case you find something difficult, give it more time but don't leave that. 
Revision is very important: 
It is not enough to just go through the syllabus once but you need to revise it time and again so that the answers just come to you naturally. Especially for the General Awareness part, revision plays an important role. 
Practice more than you study: 
Practice is the ultimate medicine to anything. So, keep on practicing as much as possible before the examination so that the actual examination also becomes another practice session for you. 
Talk to the successful candidates: 

Nowadays it is very easy to interact with the successful candidates through various platforms. Talk to them and ask your doubts but keep in mind that you should follow what suits you and not what was best for them. 
Be yourself throughout the preparation phase: 

It is very important to analyze yourself and your strengths and weaknesses. One strategy may not fit everybody but you need to customize the same according to your requirements. 
Relax properly: 
Do not take too much stress about the examination since that will spoil your chances of success. Take time off from studies and chill out with friends and family. It is OK to relax. 
Follow a routine: 

It is very important to be disciplined in this journey and the best way to do that is to follow a routine. You should have in mind the timeframe by which you wish to finish something and you should strictly abide by that under all circumstances.
Don't doubt your strategy: 

With so many experts around, you may sometimes feel that your strategy may not be good enough to crack the examination. Any self-doubt of this kind may be harmful for the final result. So, keep faith in yourself all the time. 
Don't think of the result all the time: 
These devices seem to be philosophical but in order to succeed, your mental health is also very necessary along with your physical condition. Never think that you have to clear it in the first attempt but enjoy the preparation phase and be thorough with it. Success will definitely come to you. 
Take mock tests: 
There are many mock tests available in the market. Choose wisely and take one mock test at least per day after you are done with the whole syllabus of the examination. However, do not read too much into it if you are scoring well. Don't be over-confident in any situation. However, you may compare your preparation with others to understand your standing in this stiff competitive arena. 
Be Patient: 
SSC Examination with cancellations and postponements has a notorious name among the candidates. It may be that you have to take an examination twice because of no fault of your own. In such situations, keep your calm and remain patient since others are also facing the same situation. 
Don't always think about 160+ or 500+ marks: 
Aspirants are always worried about scoring 160+ in Tier I and 500+ after Tier II. Don't stress about your marks all the time since the cut-off doesn't remain the same every year and it depends on the difficulty level of questions each year. If you keep on thinking that you have to score this much or that much, it will affect your performance in the test. 
Conclusion:
Well, it is not difficult to clear the SSC CGL examination in your very first attempt but keep in mind that just like UPSC, people re-appear in this examination to improve ranking to get the desired post. It may be that you haven't got the desired post in your first attempt but you have got a job, this implies you have succeeded and are working in the right direction. 
You can be a topper also of SSC CGL exam this year with the help of 7 SSC CGL preparation Tips by Toppers revealed that how to prepare for SSC exam for Better Results.
What is required is to keep on doing the good work along with your job so that you are free from the stress of not having any job.  It is important to succeed but it is more important to understand that life is not always about success. So, relax and enjoy the preparation. Don't overburden yourself with too many thoughts and concerns.
I have successfully described how to crack SSC CGL in first attempt and what you need to follow to achieve success in the first attempt. So, just follow the schedule and success will definitely be yours at the end.
Let me know in the comment section what are you going to follow this year to get success in competitive exams.
Keep in touch with Examsbook.com for study material and questions of GK, Current affairs and notifications, Aptitude/Maths, Reasoning, Verbal abilities and Computer awareness. 
All the Best!!