How to prepare GK & Current Affairs for SSC CGL Tier I 2018?
5ade24c997b0ee9a8f41b6f8
5a673ccd63b436e8b899e064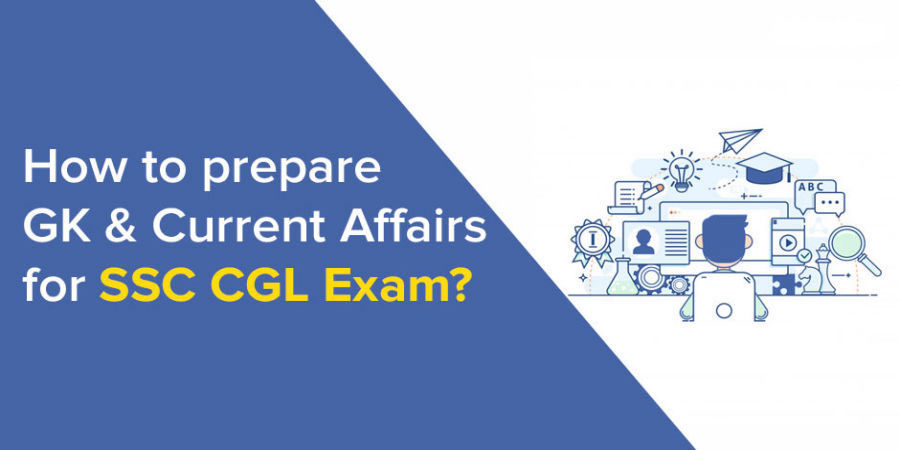 GK and Current Affairs is the important part of SSC CGL exam. So, in this article I am going to show you how to prepare for GK and current affairs for SSC CGL Tier I exam 2018.
Staff Selection Commission Combined Graduate Level Examination is approaching and all of you must be on the last lap of your preparation for the examination. With the opportunity of landing a government job of stability and security, this is indeed a golden chance for all of you.
But with the chance of achieving something, comes the competition. SSC CGL is one of the most fiercely competitive exams in India these days with lakhs of candidates appearing for it every year. Since only graduation is the eligibility criterion, many can apply for this job easily.
This examination starts with the Tier I Examination which has general intelligence and Reasoning, English Language, Quantitative Aptitude and General Awareness. It makes it evident that General Awareness is a very important section in this examination and it is very important that you study well so that you can score in this section easily.
Don't you want to score high in this section so that you can score well in Tier I? Don't you want to stay ahead in the competition from the first round itself? If the answer is yes, here's your gateway to that. Just go through this blog and follow everything diligently so that you can stay way ahead of others in this cut-throat competition.
In this blog, I am going to share the full-proof strategy to prepare for the General Awareness Section in SSC CGL. With the exam dates going to be announced any day now, it is high time that you just start with these tips in mind immediately without wasting any further moment.
What are all asked in the General Awareness Section of SSC CGL?
Though the section is known as General Awareness, the questions are often very tricky and you need to have a deep understanding of concepts in certain cases. This section is mainly known for its vast syllabus and the capacity of the candidate to mug up facts. The syllabus of General Awareness consists of the following?
History – Ancient, Medieval and Modern Indian History (Certain facts from World History should also be referred)
Geography – Indian Geography, Physical Geography and also World Geography (Selected facts and information)
Economics – Basic theories of Economics, Indian Economy and its features, Poverty Alleviation and Unemployment, Five Year Plans, Planning Commission and NITI Ayog, Different sectors of Indian Economy etc.
Polity – Important facts about Indian Constitution starting from the basic facts and formation of the same to the recent important amendments
Physics – Units and Measurement, Light and Sound, Thermodynamics, Electricity and Resistance, Laws of Motion, Liquid, solid and gas laws, laws of gravity etc.
Chemistry – Various elements such as metals, non-metals and metalloids, chemical reactions, diffusion and osmosis, periodic tables and important facts, organic chemistry such as carbon bonding and properties of carbon, chemical reactions in everyday life and their characteristics
Biology – Plants and their parts, animals and their parts, human anatomy, vitamins and their deficiencies along with various diseases, various diseases due to bacteria, fungus etc.
Static General Knowledge – It consists of capitals and currencies of countries, books and authors, national and international organizations, national parks and sanctuaries, rivers and dams, thermal power stations, temples and airports, stadiums, nicknames of famous persons etc.
Current Affairs: National and international events of last 12 months
Computer Awareness: History of computers, input and output devices, computer memory, DBMS system, Important Abbreviations, computer terms, keys of the keyboard, shortcuts of various commands, various generations of computers etc.
Banking Awareness: History of banking, development of banking in India, different types of banks, RBI and its functions, credit appraisal in banks, fund transfer mechanisms such as RTGS and NEFT, important abbreviations used in banking, banking terms etc.
How to go about the General Awareness Section in SSC CGL Tier I?
Now that we are aware of the entire syllabus of the SSC CGL Tier-I Examination and more specifically the General Awareness Section in the examination, here are the expert tips that will help you score well in this examination.
Start with all the subjects at a time: Since there are a lot of subjects in the section, you will have to study more than the other subjects. Some people start with only one subject and think that they will start with one subject at a time only. It will not be useful since you have to finish all the subjects and if you focus on one subject at a time, it will become difficult for you to keep track of all the topics in a subject. It is better to start with all the subjects at a time.
Keep regular timetable for every subject: Since there are so many subjects, you need to have a proper timetable for all the subjects every day. It will help you cover all the subjects in a day.
Don't miss out on this section even for a day: This is very important for this section mainly. Don't stay away from this section for long since you will not be able to make a comeback in this section. Make sure that you go through this section every single day in your preparation phase.
Keep time for weekly revisions: This is very important again mainly for General Awareness Section. Whatever you are studying in a week in various subjects, revise it without fail every week. Don't keep it pending for long. You will forget everything. It is not that you just go through once and you will remember everything. That is not going to happen.
Revise and revise again: It is not enough to revise weekly only. Keep a monthly plan also to revise the topics you have studied in that particular month. It will help you retrieve information without any effort in the examination.
Try to make a relation with something for memorizing: It is really difficult to keep in mind so many things during the examination. Whenever you are studying anything, try to make relation with something else that is very common to you so that whenever you see a question with this piece of information, you will definitely be able to recollect information whenever required.
Make mind maps: It is easier to memorize information if you can make mind maps of those things. It helps you retrieve such information from memory. Making mind maps means relating one information to other so that you can remember everything if you remember only one thing.
Make notes: Going through anything for the first time and revising it should not be the same exercise. While revising, your main objective is to go through the salient points and not the whole thing. It becomes easier if you make notes while going through the chapters while studying them.
Make it interesting: Mugging up facts of various subjects may seem a boring job but you have to find ways to make it interesting by introducing such elements. You can make graphical notes or you can have audio notes so that your interest is sustained in studies.
Taking mocks helps: Since this subject is mainly based on revision and retrieval of information from memory in the examination, it is very helpful if you simulate the same atmosphere many times before the exam. Taking mocks will help you achieve this objective.
Which books should I follow to prepare for General Awareness in SSC CGL Tier I?
There are many books on the market but then it is very important that you do not get misguided by wrong information or unnecessary information. There are some standard books that can be followed for this purpose:
Lucent's General Knowledge (A Must-have book for CGL Aspirants)
GK Today website for daily current affairs + Monthly capsules from sites such as Bankers'Adda / Gradeup etc.
Press Information Bureau website for government schemes
Banking Awareness by Dhankar Publication or Arihant Publications
Objective Computer Awareness by Arihant Publications
NCERT Books of the relevant subjects such as History, Geography, Polity, Economics etc.
The Bottom Line:
SSC CGL exam provides the golden opportunity to get a job in the government sector with decent salary and workload. That is why most of the jobs under SSC CGL offer very good work-life balance.
It is due to the opportunity it provides, many people are after this examination and some even take it year after year only to improve the ranking so that they can get the desired posts.
You can understand from all these, the craze of this exam in India and the efforts that you have to put in to get the desired post through the examination. General Awareness will play a very important role in this journey because it is scoring as well as less time consuming than other subjects.
If you know something, you will be able to answer it and score well but if you don't know, you don't. There's nothing that can be done about it. So, be smart while attempting questions from this section so that you don't lose marks from negative marking.
I sincerely hope that these tips will definitely help you score high in the General Awareness Section in the SSC CGL Tier I Examination 2018. If you have any query or suggestion, you can comment in the comments section.
For more study materials and expert tips, stay tuned to the www.examsbook.com. We will bring to you more of Reasoning, Quantitative Aptitude, English and General Awareness materials that will help you achieve your dream.
All the Best!!