Important Current Affairs Questions December 20
5dff516144100a24a42963d7
595217d8febf4b764b059d3a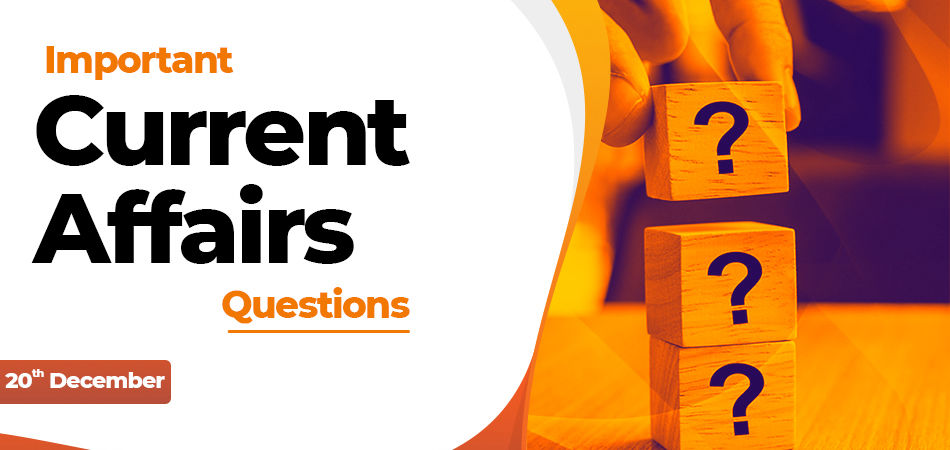 Q :  

In Forbes' List of Most Powerful working women. The first rank has been obtained by -
(A) Zia Modi
(B) Shikha Sharma
(C) Kiran Mazumdar Shaw
(D) Sunita Reddy

Correct Answer : A


Q :  

IMF in its projections in October 2018, forecasted India's growth for 2019 at -
(A) 7.0%
(B) 7.2%
(C) 7.4%
(D) 7.6%

Correct Answer : C


Q :  

India's rank in Global Competitiveness Index 2018 stand at -
(A) 55th
(B) 58th
(C) 60th
(D) 62nd

Correct Answer : B


Q :  

The estimated growth rate of GDP in Indian economy by ADB for 2018-19 stands at -
(A) 7.1%
(B) 7.3%
(C) 7.5%
(D) 7.7%

Correct Answer : B


Q :  

Which newspaper recently announced to stop its print venture and go digital completely?
(A) The Statesman
(B) Daily News & Analysis
(C) Business Today
(D) The Millennium Post

Correct Answer : B


Q :  

Who among the followings has been appointed as Lokpal of Punjab?
(A) Vinod Kumar Sharma
(B) Satish Kumar Mittal
(C) Dilip B Bhosale
(D) Pradip Kumar

Correct Answer : A


Q :  

At which of the following places Indian Institutes of Science Education and Research (IISERs) will be established?
(A) Kerala
(B) Odisha
(C) Manipur
(D) Telangana

Correct Answer : B


Showing page 2 of 4
en
https://www.examsbook.com/important-current-affairs-questions-december-20/2
4
2
important-current-affairs-questions-december-20