Important Current Affairs Questions October 30
5db923e1aec31117bb8912ff
595217d8febf4b764b059d3a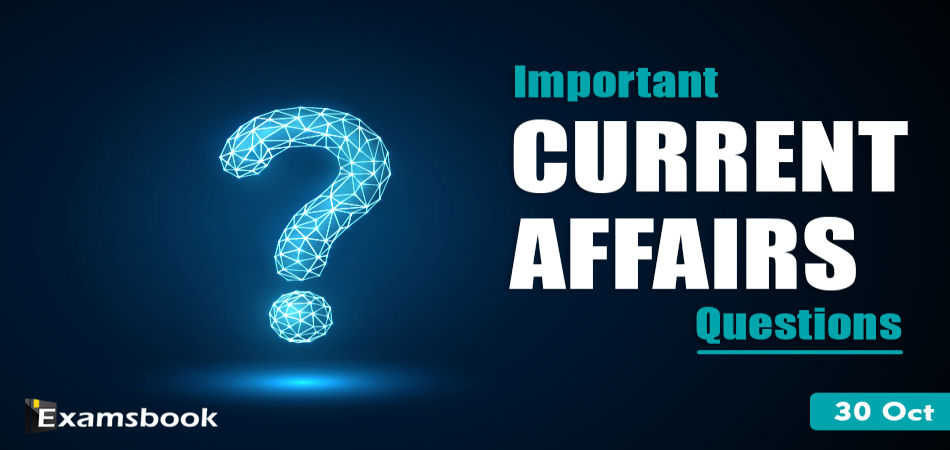 Here, I am providing Important Current Affairs Questions 2019 (October 30) for those learners who are preparing for competitive exams. In this post, I have updated the most important questions answers around the Daily GK with the latest current affairs questions and answers about many topics covered.  
I have prepared Important Current Affairs Questions 2019 for a competitive exam blog to increase your General Knowledge level as well as increase your confidence level for competitive exams. 
Important Current Affairs Questions October 30
Q :  

What is the name of the gold cart-size robot to be sent by NASA to moon in 2022?
(A) CEASER
(B) CARTIS
(C) VIPER
(D) ALEX

Correct Answer : C


Q :  

Who has been appointed as the first Lt Governor of Jammu and Kashmir?
(A) Satya Pal Malik
(B) Girish Chandra Murmu
(C) Rajesh Singh Gahlawat
(D) Radha Krishna Mathur

Correct Answer : B


Q :  

The Vijaya Bank Heritage Museum has been inaugurated at the headquarters of the erstwhile Vijaya Bank in which city?
(A) Bengaluru
(B) Chennai
(C) Ahmedabad
(D) Kolkata

Correct Answer : A


Q :  

As per the relaxed norms of government for setting up petrol pumps, the retailers must set up how much of the total outlets in rural areas within five years?
(A) 5%
(B) 10%
(C) 15%
(D) 25%

Correct Answer : A


Q :  

The Central Government will grant how much subsidies for food processing industries in the North-Eastern states?
(A) 75%
(B) 90%
(C) 50%
(D) 48%

Correct Answer : A


Q :  

Jan Soochna Portal-2019 has been launched by which state?
(A) Gujarat
(B) Bihar
(C) Rajasthan
(D) UP

Correct Answer : C


Q :  

Odisha inked a Letter of Understanding (LOU) on a drink from tap mission with which organization?
(A) UNESCO
(B) World Bank
(C) UNICEF
(D) FAO

Correct Answer : C


Showing page 1 of 3
en
https://www.examsbook.com/important-current-affairs-questions-october-30
3
1
important-current-affairs-questions-october-30