Important Questions of Indian Culture
5a12a5ada1358ab239641804
595217d8febf4b764b059d3a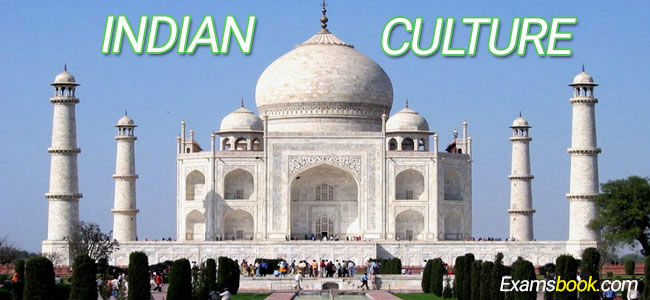 Indian Culture 
Indian culture is one of the oldest known cultures of humanity. Although it is very difficult to cater the unique and vast cultural heritage of India still an attempt has been made to cover some of the most important relevant areas of Indian culture. 
You can read also about List of Parliament of Different Countries.
You can read also about Indian Geography Questions.
You can read also about Basic GK Questions: 2018
The important Sections are as follows:
(A) Literature
(B) Dance
(C) Music
(D) Architecture 
Literature:
The literature of India is one the oldest literature in the world. Here is the collection of some of the famous works on Indian literature.
| | | |
| --- | --- | --- |
| S.R. | Book | Author |
| 1. | Ramayana | Valmiki |
| 2. | Mahabharata | Veda Vyas |
| 3. | Ramcharit Manas | Tulsidas |
| 4. | Ashtadhyayi | Panini |
| 5. | Abhigyan Shakuntalam | Kalidas |
| 6. | Meghdoot | Kalidas |
| 7. | Vikmovarshiyan | Kalidas |
| 8. | Ritusamhar | Kalidas |
| 9. | Mrichchkatika | Shudraka |
| 10. | Geetgovinda | Jayadeva |
| 11. | Arthashastra | Kautilaya |
| 12. | Ratnavali | Harsha |
| 13. | Kamasutra | Vatsyayan |
| 14. | Svapnavasavdattam | Bhaasa |
| 15. | Manusmriti | Manu |
| 16. | Ananda Math | Bankim Chandra Chatterjee |
| 17. | Devdas | Sharat Chandra Chatterjee |
| 18. | Gitanjali | Rabindranath Tagore |
| 19. | Gita Rahasya | B.G. Tilak |
| 20. | Harsha Charita | Banabhatt |
| 21. | Kadambari | Banabhatt |
| 22. | Kamayani | Jai Shankar Prasad |
| 23. | Mudra RAkshas | Vishakhadutta |
| 24. | Panchatantra | Vishnu Sharma |
| 25. | Satyartha Prakash | Swami Dayananda Saraswati |
| 26. | Mitakshara | Vignaneshwara |
Showing page 1 of 4
en
https://www.examsbook.com/important-questions-of-indian-culture
4
1
important-questions-of-indian-culture