Latest and Important Current Affairs Questions 2019 June 18
5d0886197a602751aefd7fd2
595217d8febf4b764b059d3a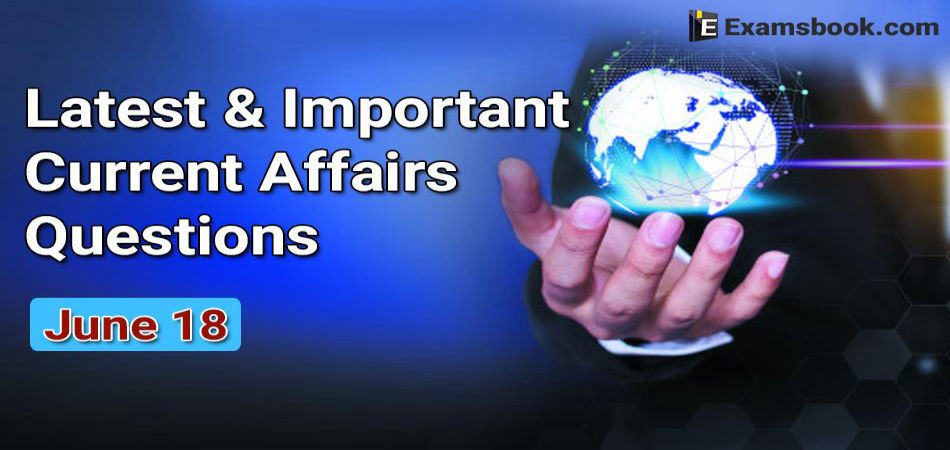 I have prepared Latest and Important Current Affairs Questions 2019 for competitive exam blog to increase your General Knowledge level as well as increase your confidence level for competitive exams.
Here, I am providing Latest and Important Current Affairs Questions 2019 (June 18) for those learners who are preparing for competitive exams. In this post, I have updated the most important questions answers around the Daily GK with latest current affairs questions and answers about many topics covered.
Latest and Important Current Affairs Questions June 18
Q.1 The Union Government has launched the Web- Wonder Women campaign in collaboration with which human rights organization?s
(A) Breakthrough India
(B) AWID
(C) Nirbhaya Vahini
(D) Manab Adhikar Sangram Samiti

Ans .  A

Q.2 Union Minister Nitin Gadkari gave approval to Iran's Pasargad Bank to open a branch in __________.
(A) Pune
(B) New Delhi
(C) Kolkata
(D) Mumbai

Ans .  D

Q.3 The First 'National Consultation on Child Protection' for 2019 was held in __________.
(A) New Delhi
(B) Hyderabad
(C) Chennai
(D) Bengaluru

Ans .  A

Q.4 Who has been appointed as Director General, Fire Services, Civil Defence and Home Guards?
(A) Rakesh Asthana
(B) Alok Verma
(C) Bhim Sain Bassi
(D) Ranjit Sinha

Ans .  B

Q.5 Who inaugurated India's Longest Single Lane Steel Cable Bridge, recently?
(A) Shri Pawan Kumar Chamling
(B) Shri Pema Khandu
(C) Shri Nitish Kumar
(D) Shri Kiren Rijiju

Ans .  B

Q.6 Sydney and Brisbane has chosen to host $15 million 24 team ATP Cup in which year?
(A) 2048
(B) 2030
(C) 2024
(D) 2020

Ans .  D

Q.7 What will be the position of India in Consumer Market By 2030?
(A) 5th
(B) 3rd
(C) 8th
(D) 12th

Ans .  B

If you have any problem or doubt regarding Today GK Current Affairs Questions for Competitive Exams, you can ask me in the comment section. To more practice for Current Affairs Questions, Visit next page.
Showing page 1 of 3
en
https://www.examsbook.com/latest-and-important-current-affairs-questions-2019-june-18
3
1
latest-and-important-current-affairs-questions-2019-june-18