Latest and Important Current Affairs Questions June 06
5d01e07c4c1f675f48622df6
595217d8febf4b764b059d3a
NEW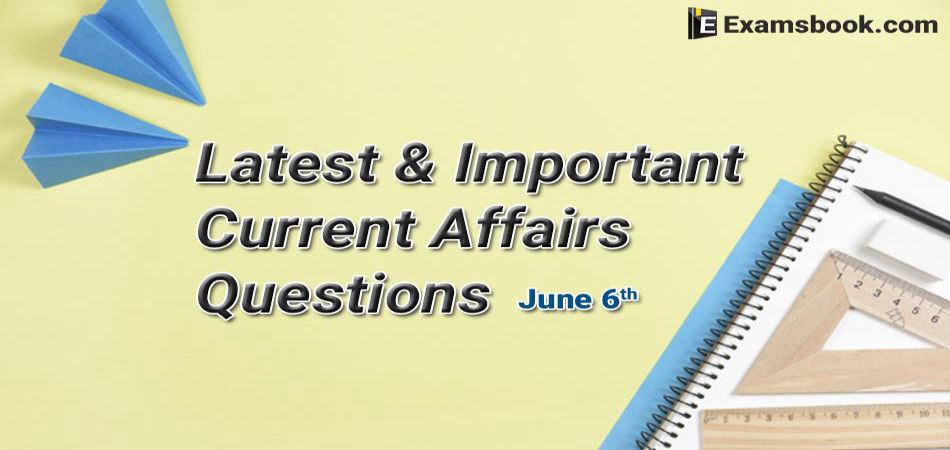 Here, I am providing Latest and Important Current Affairs Questions (June 06) for those learners who are preparing for competitive exams. In this post, I have updated the most important questions answers around the Daily GK with latest current affairs questions and answers about many topics covered.
I have prepared Latest and Important Current Affairs Questions for competitive exam blog to increase your General Knowledge level as well as increase your confidence level for competitive exams.
Latest and Important Current Affairs Questions June 06
Q.1 Where did Indian Army commissioned, air quality monitor "Continuous Ambient Air Quality Monitoring System (CAAQMS)" as a part of 'Go Green' initiative?
(A) Bhujia Fort Military Station, Gujarat
(B) Fort William Military Station, Kolkata
(C) Red Fort Military Station, New Delhi
(D) Sitabuldi Fort Military Station, Maharashtra

Ans .  B

Q.2 The '2nd Global Disability Summit' will be held in __________.
(A) Mexico
(B) Mendoza
(C) Santiago
(D) Buenos Aires

Ans .  D

Q.3 Which High Court has recently declared Animals as legal persons?
(A) Delhi High Court
(B) Bombay High Court
(C) Punjab and Haryana High Court
(D) Madras High Court

Ans .  C

Q.4 The 1st Arctic Train Service was launched by __________.
(A) Russia
(B) Japan
(C) China
(D) Germany

Ans .  A

Q.5 Which state's cabinet has passed a resolution to increase reservation for OBCs to 27 percent?
(A) Rajasthan
(B) Uttar Pradesh
(C) Maharashtra
(D) Madhya Pradesh

Ans .  D

Q.6 RBI approved the appointment of Rakesh Makhija as Chairman of this bank?
(A) Axis Bank
(B) Yes Bank
(C) KVB Bank
(D) HDFC Bank

Ans .  A

Q.7 Who among the following has joined hands with BMW to develop next-generation electric drive systems?
(A) Renault
(B) JLR
(C) Mercedes-Benz
(D) Hyundai

Ans .  B

If you have any problem or doubt regarding Daily GK Current Affairs Questions for Competitive Exams, you can ask me in the comment section. To more practice for Current Affairs Questions, Visit next page.
Showing page 1 of 3
en
https://www.examsbook.com/latest-and-important-current-affairs-questions-june-06/1
3
1
latest-and-important-current-affairs-questions-june-06