SSC MTS Subject-Wise Preparation Tips 2023
6422a4b8b34a0b67fc0bffec
5e5e0683e5ab73709fa28c7b
NEW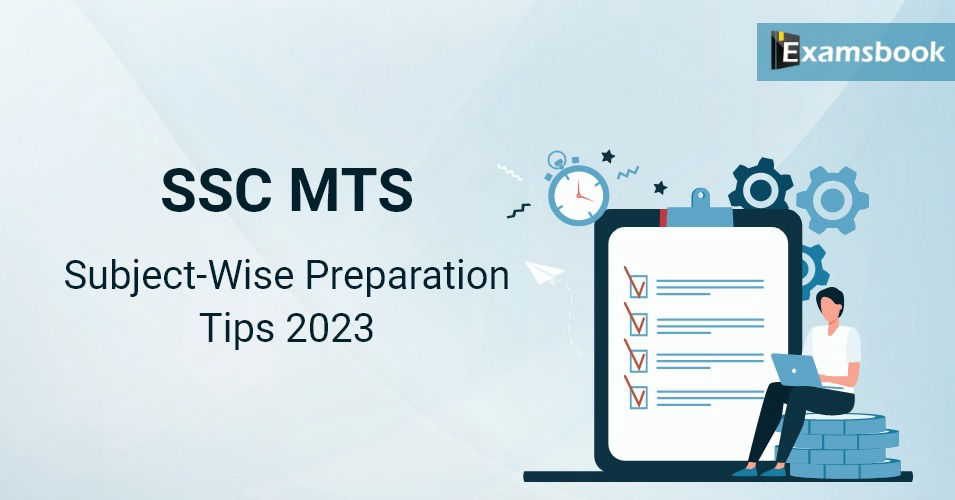 SSC MTS Preparation 2023: SSC recently released SSC MTS Notification 2023 for SSC Multi-Tasking (Non-Technical) Staff, and Havaldar (CBIC & CBN) Examination, 2022 on 18th January 2023 to recruit 11409 posts. Candidates planning to appear for the SSC MTS Exam 2023 must start their preparation with proper study plan and stick to it to cover all the topics on time.
This blog provides proper guidance for subject-wise preparation for the upcoming MTS exam 2023. SSC conducts the Multitasking Staff exam every year to recruit eligible candidates for various posts in the Central Government departments and offices. 
SSC MTS Tier 1 is scheduled to be held in April 2023. For your convenience, we have listed down subject-wise SSC MTS preparation tips to score well in the exam.
Subject Wise Preparation Tips for SSC MTS 2023
As mentioned in the SSC MTS Notification 2023, Staff Selection Commission will select the candidates only through Computer Based Examination and a Physical Efficiency Test (PET)/ Physical Standard Test (PST) (only for the post of Havaldar).
A Computer-Based Examination will be conducted which is divided into 2 Sessions: Session-I and Session-II. It is mandatory for all candidates to attempt both the Sessions.
There are four subjects i.e. Reasoning Ability, Numerical Aptitude, English Language and General Awareness in SSC MTS Paper 1 exam. Candidates must go through the subject-wise preparation strategies from the below sections:
SSC MTS General Intelligence & Reasoning Tips -
Reasoning is high scoring section, the aspirants can obtain a good score from this part. The questions in this part intend to measure the candidates' general learning ability. There will be a total of 60 marks allotted for this section. Candidates can easily achieve a score of 20 or above by following a strategic and dedicated approach. Before moving the preparation strategy, let us first have a look at the list of topics covered in the Reasoning section.
Alpha-Numeric Series
Coding and Decoding
Analogy 
Following Directions
Similarities and Differences
Jumbling
Problem Solving and Analysis
Nonverbal Reasoning based on diagrams
age Calculations
Calendar and Clock, etc.
While covering the Reasoning Ability section, Focus on the topics like analogy, classification, series, coding-decoding, blood relations, direction and distance, etc., which have a high weightage in the exam.
Twenty questions will be posted from this section in the SSC MTS exam, which candidates should try to tackle within 15 minutes.
Read all the directions carefully before you start to answer the questions. Make sure you understand the question before attempting to answer it. 
Don't spend too much time on a single question. If you are stuck, move on and come back to it later.
Work through each question step by step and use logic to determine the answer. 
Use diagrams and visual representations to help you understand and solve the problems. 
Make sure you double-check your answers before submitting them.
SSC MTS General Awareness Tips -
General Knowledge is a crucial section for all SSC exams. The GK section is designed to test and determine the general intelligence and awareness of the participating candidates. Twenty-five questions with 75 marks will be asked from the General Awareness section of the exam.
The broad coverage of the test will be on Social Studies (History, Geography, Art and Culture, Civics, Economics), General Science and Environmental studies up to 10th Standard.
1. Stay updated with current events: Read newspapers and magazines and watch the news; It will help you stay abreast of all the news and happenings worldwide.
2. Read books: Reading books is a great way to stay informed about a wide range of topics, including history, geography, politics, and culture.
3. Use online resources: Examsbook is a great website and app designed to help you stay informed and be well-versed with general knowledge.
4. Take practice tests: Taking practice tests is a great way to identify the areas you need to work on and help you prepare for the real exam.
5. Use mnemonics: Mnemonics are a great way to remember facts and figures. They help you remember large chunks of information in a short amount of time.
SSC MTS Numerical Aptitude Tips -
Numerical aptitude is a critical component of the SSC MTS exam. It will be easy, and any candidate with basic knowledge of numbers can clear this section. To prepare for the numerical aptitude section of the exam, you should focus on the following spots -
1. Practice: The best way to improve your numerical aptitude is to practice as much as possible. Use online resources such as mock tests, quizzes and online tutorials to get the most out of your practice.
2. Understand the Basics: Understanding the basics of numerical aptitude is essential. Ensure you are familiar with the basic concepts and formulas related to the tested topics.
3. Learn the Shortcuts: Learning the shortcuts and tricks to solve numerical aptitude questions quickly and accurately is essential. It will help save time and ensure you can solve problems accurately.
4. Analyze: Analyze the questions carefully and identify the right approach to solve them. It will help you identify the quickest way to solve the questions.
5. Time Management: Make sure you manage your time properly to finish the test on time. Set a timer for yourself and practice solving questions within the allotted time.
6. Read the Questions Carefully: Make sure you read the questions carefully and understand the exact requirement before attempting the questions. It will help you avoid any mistakes and save time.
Mathematical Ability will include questions on problems relating to Integers and Whole Numbers, LCM and HCF, Decimals and Fractions, Relationship between numbers, Fundamental Arithmetic Operations and BODMAS, Percentage, Ratio and Proportions, Work and Time, Direct and inverse Proportions, Averages, Simple Interest, Profit and Loss, Discount, Area and Perimeter of Basic Geometric Figures, Distance and Time, Lines and Angles, Interpretation of simple Graphs and Data, Square and Square roots etc.
SSC MTS English Language Tips -
If the aspirants have a good hold over vocabulary and Grammar, they can easily get good scores in this section. Candidates' understanding of the basics of English Language , its vocabulary, grammar, sentence structure, synonyms, antonyms and its correct usage, etc. and to test comprehension, a simple paragraph may be given and question based on the paragraph to be asked.
1. Read as much as possible: Reading is the best way to improve your English language skills. Read books, newspapers, magazines, newspapers, and Passage. Before attempting the questions related to the Passage, it is important to read them carefully. It will help you understand the main idea, identify the main points, and determine the Passage's tone.
2. Listen to English: Listen to English language radio, TV, and podcasts. It will help you understand spoken English.
3. Take practice tests: Take practice tests to get used to the English language questions and the exam format.
4. Learn new words: Learning new words will help you improve your English language skills. Also, use a dictionary to check the meaning of unfamiliar words.
5. Analyze the Questions: It is important to analyze the questions before attempting them. It will help you identify the keywords and phrases in the questions.
6. Eliminate the Wrong Answers: Eliminate the wrong answers by reading the questions and answer choices carefully. It will help you find the correct answer quickly.
7. Use English language apps: Many mobile apps can help you practice English grammar, spelling, and vocabulary.
Best SSC MTS Preparation Books
SSC MTS Preparation Books are essential for any candidate preparing for the SSC MTS Exam 2023. These books provide comprehensive coverage of the syllabus and are designed to equip the candidate for the examination in the best possible manner. Furthermore, it delivers tips and strategies to help the candidate to score better on the exam. 
English -
| | |
| --- | --- |
| SSC MTS English Books | Author |
| Word Power Made Easy | Norman Lewis |
| Objective General English | S.P. Bakshi |
| A Mirror of Common Errors | Dr Ashok Kumar Singh |
Reasoning -
| | |
| --- | --- |
| SSC MTS Books for Reasoning | Author |
| A Modern Approach to Verbal & Non-Verbal Reasoning | Dr R.S Aggarwal |
| Test of Reasoning | Edgar Thorpe |
Mathematics -
| | |
| --- | --- |
| SSC MTS Books for Maths | Author/Publication |
| Fast-track Objective Arithmetic | Arihant Publication |
| Quantitative Aptitude for Competitive Examinations | R.S. Aggarwal |
| Quickest Mathematics | Kiran Publication |
General Awareness -
| | |
| --- | --- |
| SSC MTS General Awareness Book | Author/Publication |
| Lucent General Knowledge | Lucent Publication |
| Pratiyogita Darpan | Upkar Publication |
| Manorama Yearbook | Manorama |
Steps to Attempt Free SSC MTS Test Series at Examsbook
Candidates can follow the following steps to take the SSC MTS mock test & Practice Test:
Open the official website of Examsbook e.i. https://www.examsbook.com/. 
Click on the Test Series tab shown at the top bar of the home page.
Choose the SSC MTS Test Series 2023 and click on the View Tests button.
Then, SSC MTS Full Mock Test & Practice Test will appear on the screen where click on Start Now at the bottom.
After which the login page will open, where you can log in yourself by Mobile number or E-mail ID.
Read some general instructions carefully before starting the quiz.
Finally attempt

SSC MTS Mock Test & Practice Test

by signing the checkbox knowing the instructions.
SSC MTS 2023: Important Links
| | |
| --- | --- |
| Apply Online | |
| SSC MTS Admit Card 2023 | Click Here |
| SSC MTS Notification 2023 | |
| SSC MTS Eligibility Criteria | Click Here |
| SSC MTS Test Series 2023 | |
| Old SSC MTS Exam Pattern | Click Here |
| Official Website | |

We hope this article supports you with your SSC MTS Preparation. Finish the syllabus at the earliest and take mock tests. Stay tuned to Examsbook for the latest updates on SSC MTS Exam 2023!