Surds and Indices Problems with Solution for Competitive Exams
5c2b3ac19fd00135a4b20d51
5a673ccd63b436e8b899e064
NEW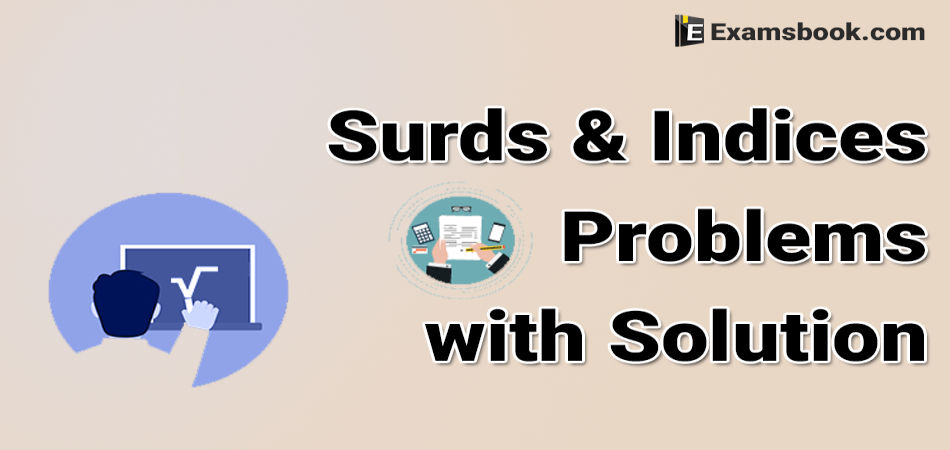 Surds and indices is a popular topic in competitive exams which questions are frequently asked in the exam. Some of the students face problems while solving these questions.
So, here are given surds and indices problems with solutions, from which you can understand properly to problem levels of these questions. So, you should practice these questions for better performance in the competitive exams.
Solutions of Surds and Indices Problems
What is surds and indices?
Surds:
Let a and n are rational number and a positive integer, respectively. If a1/n is an irrational number, then a1/n is known as surds of power n.
a1/n = n√a = nth root of a.
Sign n√ is known as radical sign and n and a are known as radical power and radicand, respectively.
e.g., √2, √5, √5, a+√3 etc.
Indices:
When a number P is multiplied by itself n times, then the product is called n the power P and is written as Pn. Here, P is called the base and n is known as the index of the power.
Problems with Solutions:
$$Q.1.\ 81^{2.5}×8^{4.5}÷3^{4.8}=9^?$$
$$(A) \ 7.1 $$
$$(B) \ 9.4 $$
$$(C) \ 4.7 $$
$$(D) \ 4.5 $$
$$Q.2.\ 5\sqrt {5 }×5^3 ÷ 5^{-3/2}=5^{a+2}\ , then\ a\ is \ equal \ to $$
$$(A) \ 4 $$
$$(B) \ 5 $$
$$(C) \ 6 $$
$$(D) \ 8 $$
$$Q.3.\ 2^{x-1}+2^{x+1}=2560 \ , then\ find\ the \ value \ of \ x $$
$$(A) \ 10 $$
$$(B) \ 12 $$
$$(C) \ 9 $$
$$(D) \ 8 $$
$$Q.4.\ \sqrt {2^n }=64, then\ n \ is \ equal \ to $$
$$(A) \ 2 $$
$$(B) \ 4 $$
$$(C) \ 6 $$
$$(D) \ 12 $$
$$Q.5.Simplify\ \left( ^3\sqrt {^6\sqrt { 2^9} \ } \ \right)^4 × \left( ^6\sqrt {^3\sqrt { 2^9} \ } \ \right)^4 $$
$$(A) \ 2^4 $$
$$(B) \ 2^9 $$
$$(C) \ 2^3 $$
$$(D) \ 2^{16} $$
$$Q.6.\ 17^{3.5}×17^{7.3}÷17^{4.2}=17^? $$
$$(A) \ 8.4 $$
$$(B) \ 8 $$
$$(C) \ 6.6 $$
$$(D) \ 6.4$$
$$ Q.7.\ If \ a = {\sqrt {3} \ \over2}, then \ the \ value \ of \ \sqrt { 1+a} \ +\sqrt {1-a} \ is $$
$$(A) \ 2-\sqrt {3} \ $$
$$(B) \ 2+\sqrt {3} \ $$
$$(C) \ {\sqrt {3} \over2} $$
$$(D) \ \sqrt {3} \ $$
$$Q.8.\ {1\over(216)^{-2/3}}+{1\over(256)^{-2/3}}+{1\over(243)^{-1/5}} $$
$$(A) \ 103 $$
$$(B) \ 105$$
$$(C) \ 107 $$
$$(D) \ 109$$
$$ Q.9. \ If \ \left(\sqrt {2} \ ^\sqrt {2 } \ \right)^\sqrt {2 } \ = 2^x, then \ x \ is \ equal\ to $$
$$ (A) \ 4 $$
$$ (B)\ 2 $$
$$ (C) 1 $$
$$ (D) \sqrt {2} \ $$
$$Q.10.\ \left( {32\over243}\right)^{-4/5} $$
$$(A) \ {4\over9}$$
$$(B) \ {9\over4}$$
$$(C) \ {16\over81}$$
$$(D) \ {81\over16}$$