Today GK Current Affairs Questions June 08
5d01e0bd7bdbb32f4fd598ca
595217d8febf4b764b059d3a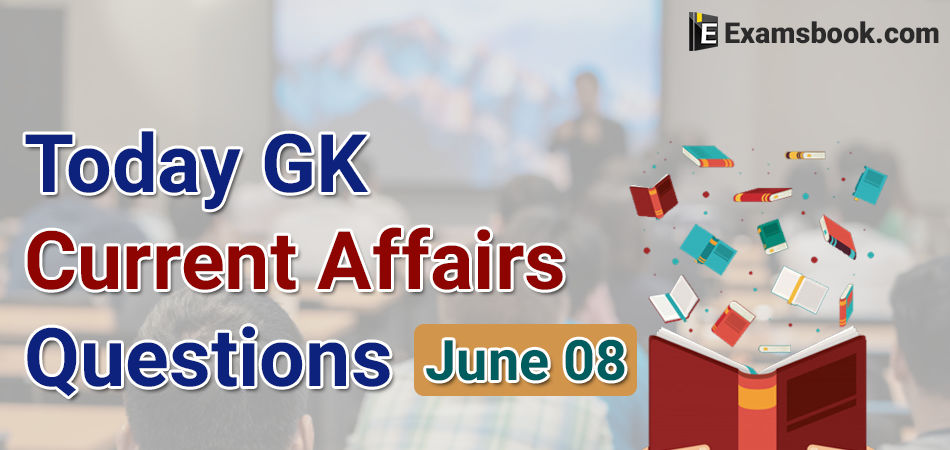 Current Affairs Questions
Q.8 Virat Kohli and __________ has recently received the honorary membership of the Sydney Cricket Ground (SCG).
(A) CheteshwarPujara
(B) Shikhar Dhawan
(C) K. L. Rahul
(D) Ravi Shastri

Ans .  D

Q.9 Which municipal corporation has teamed up with NGO under the concept 'Feed the need' to feed the hungry?
(A) Tamil Nadu
(B) Kerala
(C) Telangana
(D) Karnataka

Ans .  C

Q.10 Which city is the venue of the 25th edition of Partnership Summit 2019?
(A) Kolkata
(B) Mumbai
(C) Hyderabad
(D) Lucknow

Ans .  B

Q.11 With which country, the Union cabinet approved an MoU on the Development of Advanced Model Single Window?
(A) Denmark
(B) France
(C) Japan
(D) Spain

Ans .  C

Q.12 Which state government plans to introduce caravans in major spots to boost tourism?
(A) Himachal Pradesh
(B) Tamil Nadu
(C) Kerala
(D) Uttarakhand

Ans .  D

Q.13 This IPL team donates IPL opener proceeds to families of Pulwama attack.
(A) CSK
(B) RCB
(C) Delhi Capitals
(D) Kolkata Knight Riders

Ans .  A

Q.14 World Down Syndrome Day 2019 focuses on;
(A) Leave no one behind
(B) Reviving the Millennial Partnership
(C) Shaping a New World
(D) One World One Sun One Grid

Ans .  A

If you have any problem or doubt regarding Today GK Current Affairs Questions for Competitive Exams, you can ask me in the comment section. To more practice for Current Affairs Questions, Visit next page.
Showing page 2 of 3
en
https://www.examsbook.com/today-gk-current-affairs-questions-08/2
3
2
today-gk-current-affairs-questions-08