Today GK Current Affairs Questions November 09
5dc7e4ce54f77a2c5d348104
595217d8febf4b764b059d3a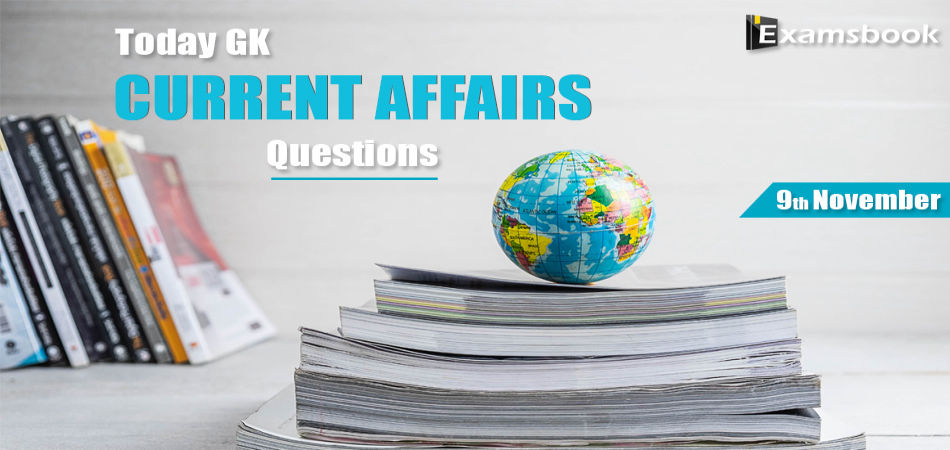 Here, I am providing Today GK Current Affairs Questions 2019 (November 09) for those learners who are preparing for competitive exams. In this post, I have updated the most important questions answers around the Daily GK with the latest current affairs questions and answers about many topics covered.  
I have prepared Today GK Current Affairs Questions 2019 for a competitive exam blog to increase your General Knowledge level as well as increase your confidence level for competitive exams. 
Today GK Current Affairs Questions November 09  
Q :  

This state government declares 2020 as Artificial Intelligence year.
(A) Bihar
(B) Karnataka
(C) Maharashtra
(D) Telangana

Correct Answer : D


Q :  

Which country has won 125 medals and topped in the Western Asian Youth and Junior Chess Championships 2019?
(A) Sri Lanka
(B) India
(C) Bangladesh
(D) Kazakhstan

Correct Answer : B


Q :  

Export Credit Guarantee Corporation of India (ECGC) has introduced a scheme to ease the lending process and enhance loan availability for exporters. What's the name of the scheme?
(A) YOJNA
(B) NIYATI
(C) NIRVIK
(D) NIRMAN

Correct Answer : C


Q :  

Who among the following has been appointed as the cheif justice of Punjab and Haryana High Court?
(A) Hrishikesh Roy
(B) Krishna Murari
(C) V. Ramasubramanian
(D) S. Ravindra Bhat

Correct Answer : B


Q :  

Jaldapara National Park is located in which state?
(A) Jharkhand
(B) West Bengal
(C) Rajasthan
(D) Karnataka

Correct Answer : B


Q :  

London police returned which image to the Indian High Commission?
(A) Bodhidharma
(B) Buddha
(C) Ashoka
(D) Mahavira

Correct Answer : B


Q :  

Recently, India Post expands speed post service to how many foreign countries?
(A) 6
(B) 4
(C) 3
(D) 8

Correct Answer : A


Showing page 1 of 3
en
https://www.examsbook.com/today-gk-current-affairs-questions-november-09
3
1
today-gk-current-affairs-questions-november-09